PLENK2010: Week 10 Readings
FiedlerValjataga
Words are a pain. Especially when they obscure underlying concepts of value. Take Personal Learning Environments (PLE) or Networks as an example.
PLE Nominalism?…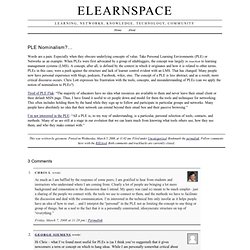 The Representative Student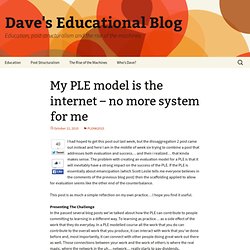 I had hoped to get this post out last week, but the dissaggregation 2 post came out instead and here I am in the middle of week six trying to combine a post that addresses both evaluation and success… and then i realized… that kinda makes sense. The problem with creating an evaluation model for a PLE is that it will inevitably have a strong impact on the success of the PLE. If the PLE is essentially about emancipation (which Scott Leslie tells me everyone believes in the comments of the previous blog post) then the scaffolding applied to allow for evaluation seems like the other end of the counterbalance. This post is as much a simple reflection on my own practice… I hope you find it useful. Presenting The Challenge In the passed several blog posts we've talked about how the PLE can contribute to people committing to learning in a different way. To learning as practice… as a side effect of the work that they do everyday.
My PLE model is the internet – no more system for me @ Dave's Educational Blog
ERB0813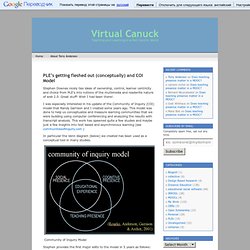 PLE's getting fleshed out (conceptually) and COI Model | Virtual Canuck
Stephen Downes nicely ties ideas of ownership, control, learner centricity and choice from PLE's into notions of the mutlimedia and readwrite nature of web 2.0. Great stuff! Wish I had been there!. I was especially interested in his update of the Community of Inquiry (COI) model that Randy Garrison and I created some years ago. This model was done to help us conceptualize and measure learning communities that we were building using computer conferencing and analyzing the results with transcript analysis. This work has spawned quite a few studies and maybe just a few insights into text based and asynchronous learning (see communitiesofinquiry.com )
What is a PLN? Or, PLE vs. PLN? | open thinking
I am currently writing a chapter regarding open and networked learning. I have used the term Personal Learning Network (PLN) dozens of times over the last few years, and have seen it mentioned countless times in blog and microblog posts, and other forms of media. However, I cannot seem to find a solid reference or definition for the concept of PLN. I sent out several email messages asking people if knew of an existing article or reference for the PLN definition, and I have yet to receive a response. About the best lead I could find was a post from Stephen Downes that mentioned "Dave Warlick has taken the concept of the Personal Learning Environment, renamed it (to Personal Learning Network)."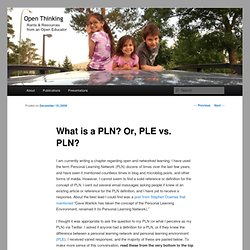 Personal learning environments: concept or technology?