Players
Machine2Machine | datamobile
Datamobile ist Experte für automatisierten Austausch von Informationen zwischen Geräten, Maschinen, Computern etc. mit einem zentralen Server. Mit DATENKARTE.m2m erhalten Sie eines der leistungsfähigsten Produkte im Machine-2-Machine-Bereich und genießen folgende Vorteile: Passende M2M-Lösungen für alle BranchenPermanenter Überblick über alle Anlagen, Fahrzeuge, MaschinenManagementtool zur Kontrolle und Verwaltung aller SIM KartenAbrechnung in 1 KB-SchrittenJederzeit in Betriebs- und Produktionsabläufe eingreifenSensationell günstigkein MindestumsatzVPN Verbindung (dataguard)Verständlich, flexibel, transparent, kostensparend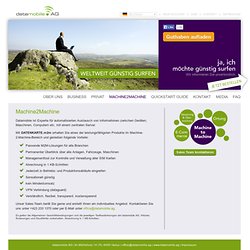 My Library
Licorize videos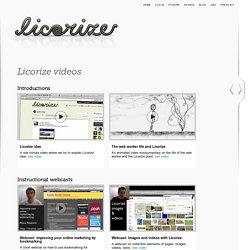 Introductions Licorize idea The web worker life and Licorize Instructional webcasts
BREAKFAST - "You guys are like the Mythbusters of Advertising"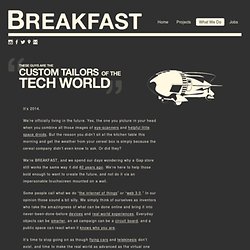 It's 2014. We're officially living in the future. Yes, the one you picture in your head when you combine all those images of eye-scanners and helpful little space droids. But the reason you didn't sit at the kitchen table this morning and get the weather from your cereal box is simply because the cereal company didn't even know to ask. Or did they? We're BREAKFAST, and we spend our days wondering why a Gap store still works the same way it did 40 years ago.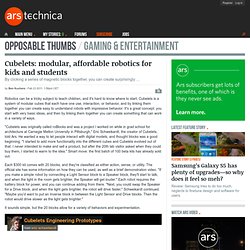 Cubelets: modular, affordable robotics for kids and students
Robotics can be a tricky subject to teach children, and it's hard to know where to start. Cubelets is a system of modular cubes that each have one use, interaction, or behavior, and by linking them together you can create easy to understand robots with impressive behavior. It's a great concept: you start with very basic ideas, and then by linking them together you can create something that can work in a variety of ways.
The Web 2.0 Summit Points of Control Map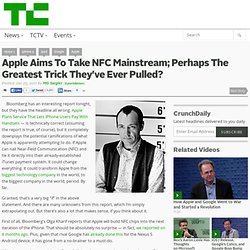 Apple Aims To Take NFC Mainstream; Perhaps The Greatest Trick They've Ever Pulled?
Bloomberg has an interesting report tonight, but they have the headline all wrong. Apple Plans Service That Lets IPhone Users Pay With Handsets — is technically correct (assuming the report is true, of course), but it completely downplays the potential ramifications of what Apple is apparently attempting to do. If Apple can nail Near-Field Communication (NFC) and tie it directly into their already-established iTunes payment system.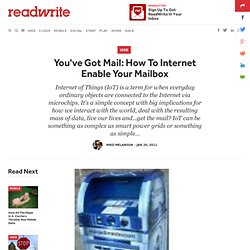 You've Got Mail: How To Internet Enable Your Mailbox
Internet of Things (IoT) is a term for when everyday ordinary objects are connected to the Internet via microchips. It's a simple concept with big implications for how we interact with the world, deal with the resulting mass of data, live our lives and...get the mail? IoT can be something as complex as smart power grids or something as simple as - as evidenced by the object-hacking folks over at Make Magazine - getting push notifications every time a letter arrives. That's right, it's "You've Got Mail" for the real world, via push notifications for your iPhone. The project uses a switch in the mailbox to sense whenever the door is opened using a switch connected to an Arduino, which is an open-source platform that makes it easy to connect hardware to a software solution, and vice versa. As Matt Richardson, the project's creator, points out, "it's very easy to adapt this project to whatever suits your needs."
IBM RFID Commercial - The Future Market
Stephan Seitz "Die Zukunft der Entwicklung von umweltfreundlichen und energieeffizienten Technologien hat gerade erst begonnen. Innovative Technologien haben schon immer mein Leben begleitet und eine große Faszination ausgeübt. Seitz Smart Technologies - Stephan Seitz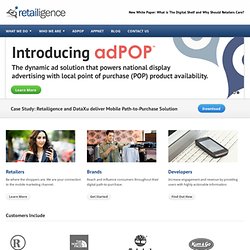 Retailers Be where the shoppers are. We are your connection to the mobile marketing channel. Brands Reach and influence consumers throughout their digital path-to-purchase. Developers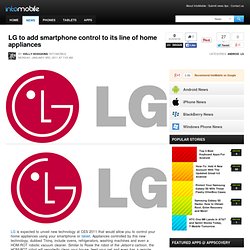 LG is expected to unveil new technology at CES 2011 that would allow you to control your home appliances using your smartphone or tablet. Appliances controlled by this new technology, dubbed Thinq, include ovens, refrigerators, washing machines and even a HOM-ROT robotic vacuum cleaner. Similar to Rosie the robot of the Jetson's cartoon, the HOM-BOT robot will reportedly clean your house, feed your pet and even has a remote viewing function to let you watch your house while you are gone. According to LG, this is only the beginning of its Thinq technology. The Korean company plans to add new appliances and new ways of controlling them in the future. The system requires owners to have a Thinq-compatible appliance and a compatible smartphone.
LG Thinq will add smartphone control to its home appliances
Bye Bye Standby Control My Home
Bye Bye Standby Home Energy-Saving Product Range
Ethersex - zerties.org
Internet of Things 2010 Conference November 29 - December 1 Tokyo, Japan
Nabto nabs $1 million in funding for tiny web servers
Nabto makes web technology for devices like medical appliances (see Medotech's Grindcare) and building automation devices. The Danish startup just closed a new funding round combining funds from previous investor Østjysk Innovation, the Danish government-backed fund Vækstfonden and some private investors. The new financing will mainly be used to boost Nabto's sales and marketing. Nabto's target market is home or industrial devices that are remotely controlled or whose data needs to be queried from a web browser. More broadly it applies to the type of interconnected device that will form the upcoming "Internet of Things". Many of the target devices will be located behind a firewall and have dynamically assigned IP addresses, which is problematic when it comes to locating and connecting to them.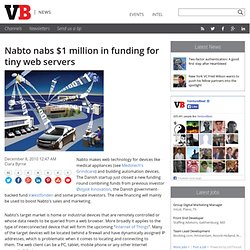 Team « Berlin
Wir arbeiten als Team am betahaus. Dabei stoßen immer wieder Leute hinzu und entwickeln Teilbereiche weiter oder helfen einfach durch ihren objektiven Blick. Das aktuelle operative Team besteht aus: Lisa Debus, Ceva Barut, Maximilian v.d. Ahé, Peer Warnke (1.Reihe von links nach rechts). Christoph Fahle, Elizaveta Barsegova, Madeleine Gummer v.
Transform businesses (and lives) Xively helps unlock and expand business potential by removing the barriers inhibiting the complete comprehension and control of your business. Continuous, 360-degree interaction with your business-connected objects delivers real-time insights that drive intelligent action.
The page you are looking for might have been removed, had its name changed, or is temporarily unavailable. Please try the following: Make sure that the Web site address displayed in the address bar of your browser is spelled and formatted correctly.
Shop Smart with your Mobile
4Home - Connected Home Services
People Power | happy people, happy planet
Apple's iPhone set to become your Mobile 'Shopping' Assistant | Touch Reviews
Secure Remote Computer Access to Firewall Protected Network Devices Without a VPN
Technology New Product Information