Kinect
Installing and Using the Kinect Sensor (Kinect Windows SDK)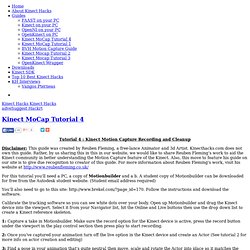 Kinect Motion Capture Tutorial
Tutorial 4 : Kinect Motion Capture Recording and Cleanup
Kinect for Android, Mac, iOS and Windows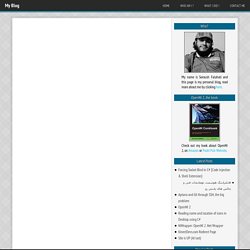 Hi,
Kinect Developers • Index page
iPi Soft
Quick Start Guide for Dual Kinect Sensor Configuration - iPiSoft Wiki
Coding4Fun Kinect Projects
Kinect Paint
Projects | Coding4Fun
Kinect for Windows Quickstart Series
Kinect Tutorials | Kinect for Windows
OpenNI - OpenNI > Home
OctoMap - 3D occupancy mapping
This page discusses both the precision and the accuracy of the Kinect sensor.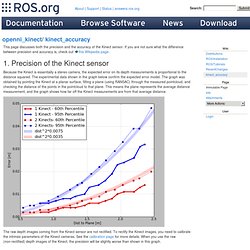 openni_kinect/kinect_accuracy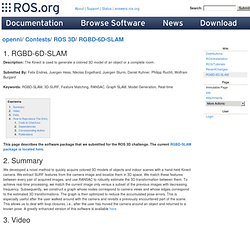 openni/Contests/ROS 3D/RGBD-6D-SLAM
Description: The Kinect is used to generate a colored 3D model of an object or a complete room.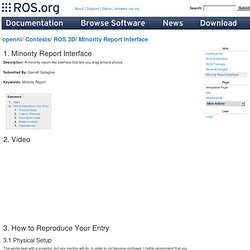 Minority Report Interface Description: A minority report-like interface that lets you drag around photos
openni/Contests/ROS 3D/Minority Report Interface
Kai Kostack's Home
NI mate Documentation (last update 22.1.2012) | NI Mate
General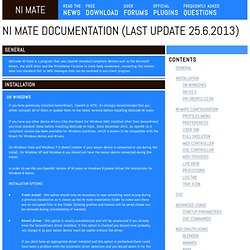 Kinect Nation
SkiRangerGame - Home
applications téléchargeables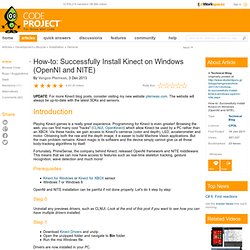 How-to: Successfully Install Kinect on Windows (OpenNI and NITE)
Playing Kinect games is a really great experience. Programming for Kinect is even greater!
Microsoft Kinect for Xbox 360 - Xbox: Project Natal Blog
Kinect
Kinect is a motion sensing input device by Microsoft for the Xbox 360 video game console and Windows PCs .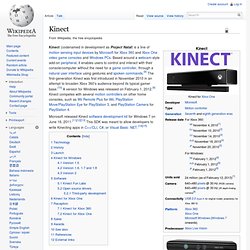 Un article de Wikipédia, l'encyclopédie libre. Kinect , initialement connu sous le nom de code Project Natal [ 1 ] est un périphérique destiné à la console de jeux vidéo Xbox 360 permettant de contrôler des jeux vidéo sans utiliser de manette et aussi à Microsoft Windows depuis septembre 2008 [ 2 ] .
Kinect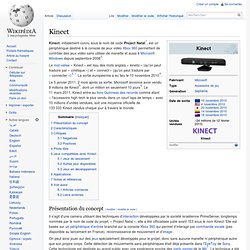 As we approach the one year anniversary of the Kinect launch, Microsoft has announced that the Kinect for PC Commercial SDK will be released in early 2012 ( http://majornelson.com/2011/10/31/xbox-360-celebrates-one-year-anniversary-of-the-kinect-effect/ ). More than 200 businesses worldwide, including Toyota, Houghton Mifflin Harcourt and Razorfish, are involved in a pilot program to explore the commercial possibilities of the Kinect. Until now, most companies working with the Kinect have been working within the constraints of a research license for the Kinect SDK.
Razorfish + Emerging Experiences - Microsoft Kinect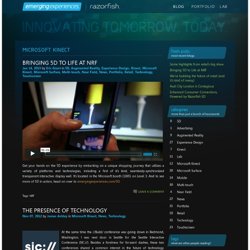 The launch of Xbox Kinect has caused much excitement in the open source community.
Razorfish + Emerging Experiences - DaVinci Goes Touchless With XBox Kinect
The 9 Best Kinect Hacks To Date (VIDEO)
Puppet Parade is an interactive installation by Emily Gobeille and Theo Watson of Design I/O that allows children to use their arms to puppeteer larger than life creatures projected on the wall in front of them.
Puppet Parade by Emily Gobeille and Theo Watson of @design_io #openframeworks
Arbeitsgruppe Digitale Medien: Bloop
Kinect
Augmented Reality with Kinect Fusion - Point Cloud Library
Kinect to help the blind 'see' in augmented reality | ImmersiveTech
Nicolas Burrus Homepage - Nicolas Burrus homepage
Processing - V // Pixelnerve
Kinect and Processing
kinect | Search Results
Kinect dans le Blender Game Engine
Bloop: Blender Motion Capture with Kinect
FAAST Video Gallery
View topic - GlovePIE vs FAAST
OpenNI - OpenNI > Home
HOWTO: Kinect + OpenNI/NITE skeleton tracking and gesture recognition in gentoo
Kinect OpenNI-NITE ofxOpenNI Skeleton with openFrameworks on Linux
Using Kinect + OpenNI to Embody an Avatar in Second Life
PPJoy 0.83 – Télécharger gratuit
Using Kinect in Glovepie with OSC messages and OpenNi framework
View topic - Kinect integration with Glovepie (Download link and sample)
Kiretu: Kiretu: Kiretu – A Kinect reconstruction tutor
Introducing Kiretu - A Kinect reconstruction tutor - OpenKinect | Google Groupes
OpenKinect | Google Groupes
OpenKinect | Google Groupes
WIN&I - Precise gesture control | Software Development Kit
kinect open PC
The Kinect Accelerator
Télécharger - Logiciel gratuit Emulation | CommentCaMarche
Download the Developer SDK for the Kinect | Kinect for Windows
WIN&I - Precise gesture control | Software Development Kit
Kinect for Windows – Building the Future - Kinect for Windows Blog
Kinect : mise à jour beta du SDK pour Windows
Microsoft outlines Code Space, looks to include Kinect in conference rooms, PTA meetings (video)
Animal | Jeux Kinect
'Fabricate Yourself' by Karl D.D. Willis (@KarlDD) allows visitors to print 3d models of themselves #openFrameworks #Kinect
Search Results for "kinect": SourceForge
FUBI - Full Body Interaction Framework