ㆍ• •Planet
About World Time Clock & Map Flash Map of World Time displays current local time in any place around the world right now. World Time Clock & Map is an indispensable utility for everyone who deals with people abroad or anybody who is keen on knowing what time it is further than locally. This advanced Flash application is very helpful for travelers who need to know time difference around the world and want to be aware of world time zone they are traveling to, as well as for businesses which are located in different time zones and want to know current local time of their partners and customers.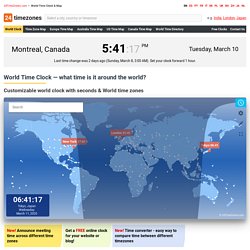 Description 3D simulation of the Solar System and night sky in real time - the Sun, planets, dwarf planets, comets, stars and constellations. - Heliocentric view with real-time positions of planets and planetary orbits - Schematic and realistic sizes of the planets and distances between them - Movement of the planets in time to see how they move in relation to each other - Virtual Orrery - Planetary exploration with info texts and additional views such as structure - Dwarf planets (Pluto, Ceres, Haumea, Makemake. Eris) and their orbits - Comets (Siding Spring, Lovejoy 2013, Lovejoy 2011, Panstarrs, ISON, Halley) - positions and trajectories - Stars and constellation of the night sky as viewed from a given location - Changes in the night sky during night, month and year - Searching of the stars and constellation, ecliptic line, grid lines and more
Discover the cosmos! Each day a different image or photograph of our fascinating universe is featured, along with a brief explanation written by a professional astronomer. 2014 April 17 Waterton Lake Eclipse Image Credit & Copyright: Yuichi Takasaka / TWAN / www.blue-moon.ca Explanation: Recorded on April 15th, this total lunar eclipse sequence looks south down icy Waterton Lake from the Waterton Lakes National Park in Alberta, Canada, planet Earth. The most distant horizon includes peaks in Glacier National Park, USA.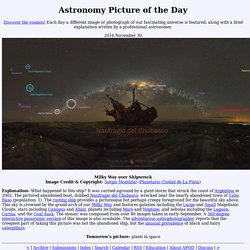 Science Fiction & Fantasy addicts love it: Galaxiki is the award winning wiki based science fiction galaxy created, maintained and owned by its Community. Membership is free - sign up now and start naming and editing stars, planets and moons, or get your own personal solar system. Go ahead and take the tour. As a visitor you may explore the galaxy or read science fiction and fantasy stories written by our community.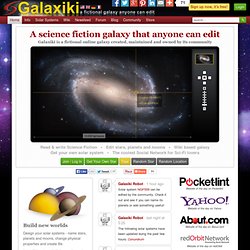 Galaxiki