Placemaking
Millennials
Research & Resources. Community Groups & Crowdsourcing. Communications. Planning. Maps. Dream City. Is Gentrification Always Bad for Revitalizing Neighborhoods? - Neighborhoods. I undertake today's topic with more than a little trepidation, since it is by its nature emotionally and, not infrequently, racially charged.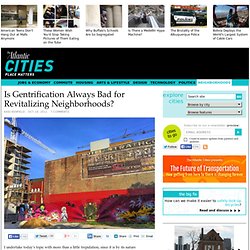 The title is deliberately chosen but somewhat rhetorical, since the answer ultimately depends on one's definition. Most urban thinkers agree that the massive abandonment and resulting disinvestment of large areas of our cities by the (largely white) middle class, beginning in the 1960s and only now beginning to be reversed in many places, was terrible for cities, for populations left behind, and for the environment. But many residents whose families remained through those years of disinvestment and until the present day are understandably fearful that addressing these problems by bringing new residents and economic activity into their neighborhoods will only benefit the newcomers while disadvantaging the existing community. The biggest fear is that current residents will be displaced to make room for redevelopment. Detroit and New Orleans: Twin cities from different mothers.
Frank Arvan | Tuesday, June 14, 2011 Creating close togther in New Orleans Related Images What can we learn about Detroit from the history and character of another place?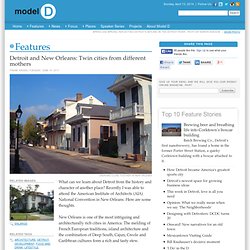 Recently I was able to attend the American Institute of Architects (AIA) National Convention in New Orleans. Here are some thoughts. House & Home - Liveable v lovable. Vancouver is Hollywood's urban body double.
It is famously the stand-in for New York, LA, Seattle and Chicago, employed when those cities just get too tough, too traffic-clogged, too murderous or too bureaucratic to film in. It is almost never filmed as itself. That is because, lovely as it is, it is also, well ... a little dull. Who would want to watch a film set in Vancouver? To see its skyscrapers destroyed by aliens or tidal waves, its streets populated by cops and junkies, its public buildings hosting romantic reunions? The Integration Initiative. Detroit.
---