In English
Get flash to fully experience Pearltrees
This is a rush transcript.
The Stop Online Piracy Act is an American piece of legislation, and as a general rule, American legislation has only limited influence outside US borders. My fellow Europeans might, for example, marvel at the almost proud dysfunction that led to the creation of some American legislation, but ultimately it was irrelevant to us; a sideshow to be watched with bemusement. SOPA is a little different from most legislation, however, in that it has an explicit focus on websites that are, in some sense, "foreign."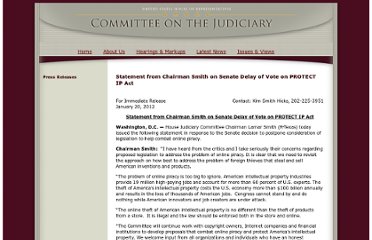 Statement from Chairman Smith on Senate Delay of Vote on PROTECT IP Act
[Editor's Note: The Stop Online Piracy Act , the House bill that wants to give content holders vast new powers to block web sites in the name of copyright protection, has been delayed despite an extensive lobbying campaign. The reason was widespread online opposition. Hunter Walk, co-creator of #BlackoutSOPA, explains in the article below how his site was able to help rally web users to the cause -- and hit upon the new reality of activism in the process.]
Un article de Wikipédia, l'encyclopédie libre.
Earlier this month, I detailed at some length why claims about the purported economic harms of piracy, offered by supporters of the Stop Online Piracy Act (SOPA) and PROTECT-IP Act (PIPA), ought to be treated with much more skepticism than they generally get from journalists and policymakers.
The number of high-quality services that "compete with free" is growing—and some of the credit is certainly due to the major content conglomerates, which have made it easier to license and use their digital material.