Ping.fm 5
Uitvalsbasis van TwitterRadio op Radio1 — TwitterRadio. Wave Machines - The Greatest Escape We Ever Made. Etymologic: the toughest etymology (word origin) game on the Web. Panda Cloud Antivirus FREE - The first free cloud antivirus agai. Dickensurl.com. Simple Spark. Kings of Code - Web Developers Conference - June 29-30 - Amsterd. Convert files and data online. CaptionTube: Home. SwineUpdates.com. HootSuite-ultimate-Twitter-profile-management-toolbox. iLearn Technology eyePlorer. Posted by admin | Posted in Interactive Whiteboard, Language Arts, Middle/High School, Primary Elementary, Science, Secondary Elementary, Social Studies, Teacher Resources, web tools, Websites | Posted on 31-03-2009 Tags: classroom, explore, eyePlorer, google, note taking, notebook, notes, research, teacher, tenkely, visual, wikipedia What it is: eyePlorer is a really cool site that allows students "explore and process knowledge."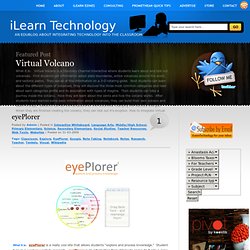 Student type in a word or words to research. eyePlorer pulls information from Wikipedia and puts it into a color wheel of information. When students hover over the different areas of the color wheel, they get a sentence or two about their subject. The Hyperwords Company. Glue: The Next Marketing Tool for Creatives | TechWatch | Fast C. Glue is a free Firefox add-on that lets you take your social network to every major site you visit.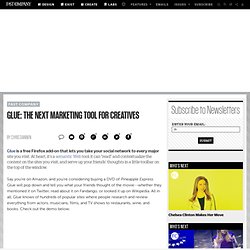 At heart, it's a semantic Web tool: it can "read" and contextualize the content on the sites you visit, and serve up your friends' thoughts in a little toolbar on the top of the window. Say you're on Amazon, and you're considering buying a DVD of Pineapple Express. Glue will pop down and tell you what your friends thought of the movie--whether they mentioned it on Twitter, read about it on Fandango, or looked it up on Wikipedia. All in all, Glue knows of hundreds of popular sites where people research and review everything from actors, musicians, films, and TV shows to restaurants, wine, and books.
Norby's Photostream. Digital Concert Hall. Tynt Tracer: What's being copied from your site? DUB Is Your Mobile Business Card | DubMeNow | Home. YoutubeTweeter. DigInfo : Daily Video News from Japan. The Sound Advice Project. HootSuite-ultimate-Twitter-profile-management-toolbox. FlippingBook flash page flip engine - flash component or xml-swf. Hey, It's Free! | Daily freebies, free stuff, and free samp. Smub: Shorten, Personalize, Bookmark, Share URLs on Any Browser. Banksy Barely Legal. Futuro Primitivo. H1N1 Swine Flu. My $23/month iPhone (updated) The server encountered an internal error or misconfiguration and was unable to complete your request.
Please contact the server administrator, webmaster@mediumjones.com and inform them of the time the error occurred, and anything you might have done that may have caused the error. More information about this error may be available in the server error log. Additionally, a 500 Internal Server Error error was encountered while trying to use an ErrorDocument to handle the request. 50+ Ways To Create Digital Stories With Students | The Edublogge. Creating stories using web tools is fun and engaging for student while also teaching them new skills.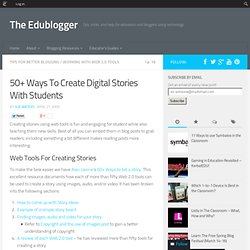 Best of all you can embed them in blog posts to grab readers; including something a bit different makes reading posts more interesting. Web Tools For Creating Stories. Micro Persuasion: The Next Twitter or Facebook is the Open Web. Twenty-Two Interesting Ways to use Twitter in the Classroom - Go. Banish Your Browser With Innovative Adobe AIR Apps - PC World. Adobe AIR adds support for hundreds of cool, cross-platform apps.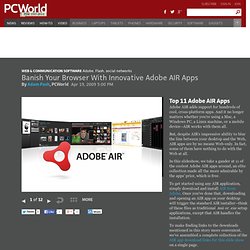 And it no longer matters whether you're using a Mac, a Windows PC, a Linux machine, or a mobile device--AIR works with them all. But, despite AIR's impressive ability to blur the line between your desktop and the Web, AIR apps are by no means Web-only. HootSuite-ultimate-Twitter-profile-management-toolbox. Leo.lobato.org - Blipster - A desktop player for Blip.fm. Subprime. TypoGenerator. Web 2.0 Tools for Teachers by Nik Peachey. Me On Mag - Create Fake Magazine Covers with your Photo! Convez - Currency Conversion! Format Factory - Download. Flickery - the flickr.com desktop client for Mac OS X Leopard. Start Panicking! Noteboek. VISIONAIRE | HOME.
---