Ping.fm 5
Uitvalsbasis van TwitterRadio op Radio1 — TwitterRadio
Wave Machines - The Greatest Escape We Ever Made on Vimeo
Etymologic: the toughest etymology (word origin) game on the Web
Panda Cloud Antivirus FREE - The first free cloud antivirus agai
Dickensurl.com
Simple Spark
Every year The Next Web and its developer brand Kings of Code team up to host a prestigious hack battle during TNW Conference. For 36 hours we bring together an exclusive group of international coders, some of the world's leading platforms and the expertise needed to build amazing hacks. Joining means two days of coding, networking and learning from our API partners. Spotify, SendGrid, Facebook, Deezer, Shutterstock, Dropbox and Microsoft are just a few of the amazing companies that have helped shape our previous Hack Battles.
Kings of Code - Web Developers Conference - June 29-30 - Amsterd
Convert files and data online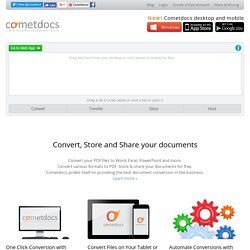 Convert your PDF files to Word, Excel, PowerPoint and more. Convert various formats to PDF. Store & share your documents for free. Cometdocs prides itself on providing the best document conversion in the business. Learn more »
CaptionTube: Home
SwineUpdates.com
HootSuite-ultimate-Twitter-profile-management-toolbox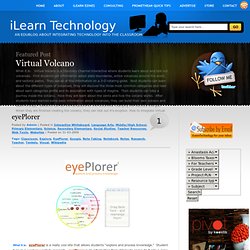 iLearn Technology eyePlorer
Posted by admin | Posted in Interactive Whiteboard, Language Arts, Middle/High School, Primary Elementary, Science, Secondary Elementary, Social Studies, Teacher Resources, web tools, Websites | Posted on 31-03-2009 Tags: classroom, explore, eyePlorer, google, note taking, notebook, notes, research, teacher, tenkely, visual, wikipedia What it is: eyePlorer is a really cool site that allows students "explore and process knowledge." Student type in a word or words to research. eyePlorer pulls information from Wikipedia and puts it into a color wheel of information. When students hover over the different areas of the color wheel, they get a sentence or two about their subject.
In detail: Doing the keyboard shortcut for Liquid (by default cmd-shift-2 but it's entirely customizable) produces the Liquid interface, a control bar, as shown in the video above. You can now click on menu items, or for more speed, as shown in step 3 above, use the keyboard shortcuts which you can see next to the commands. For example next to References you'll see (R) and once 'r' is activated you can do (W) which is the shortcut for Wikipedia, as shown to the right of Wikipedia. This takes just one second for an even moderately familiar user compared to the usual 10 seconds. Is this really a big difference?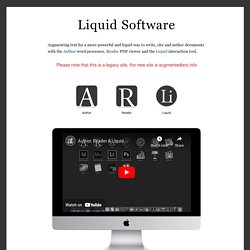 The Hyperwords Company
Glue: The Next Marketing Tool for Creatives | TechWatch | Fast C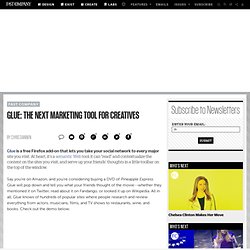 Glue is a free Firefox add-on that lets you take your social network to every major site you visit. At heart, it's a semantic Web tool: it can "read" and contextualize the content on the sites you visit, and serve up your friends' thoughts in a little toolbar on the top of the window. Say you're on Amazon, and you're considering buying a DVD of Pineapple Express. Glue will pop down and tell you what your friends thought of the movie--whether they mentioned it on Twitter, read about it on Fandango, or looked it up on Wikipedia. All in all, Glue knows of hundreds of popular sites where people research and review everything from actors, musicians, films, and TV shows to restaurants, wine, and books.
Flickr: Norby's Photostream
Digital Concert Hall
Tynt Tracer: What's being copied from your site?
ClickZ | Are Publishers Only Getting Social "Half Right"? While publishers are getting much better at using social media to distribute their content, many are struggling to understand the impact of this social activity. ZDNet | New research highlights that social sharing is driven by ego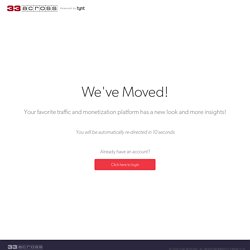 DUB Is Your Mobile Business Card | DubMeNow | Home
YoutubeTweeter
Backboard Affixing Machine April 5, 2014 Yokohama City's Nippon Automatic Fine Machinery develops and manufactures a machine for affixing a backboard, used in suspending products displayed in drugstores and other stores, onto product boxes. "This machine can affix 35 backboards in one minute. The speed of this machine designed for pharmaceutical manufacturers is set at 35 per minute, but another machine for a different manufacturer that has already been ordered is capable of 90 backboards per minute.
DigInfo : Daily Video News from Japan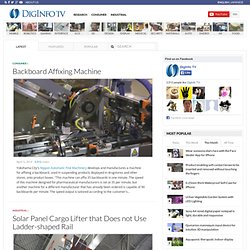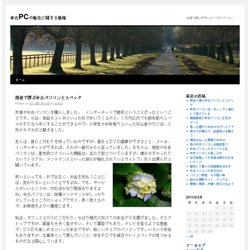 用途で選ぶ中古パソコンとスペック 友達が中古パソコンを購入しました。 インターネットで激安ということだったということです。今は、保証も3ヶ月といった形で付いてくるのと、1万円以内でも数年前のレベルのPCなら手にすることができるので、小学生やお年寄りといった初心者の方には、人気のモデルだと聞きました。 友人は、音にこだわりを持っていたのですが、意外とDVD鑑賞ができること、メール、インターネットができれば、それが一番だからと言っていました。
The Sound Advice Project
HootSuite-ultimate-Twitter-profile-management-toolbox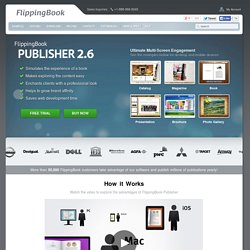 FlippingBook flash page flip engine - flash component or xml-swf
Why is FlippingBook Publisher your choice? Because you care about your clients. You want to deliver your content in the best way possible – fast, readable and classy. Whether on a desktop computer, tablet or smartphone, people appreciate the feel of a "real book" on their screen, so they will love your digital publishing style.
Living Sasquatch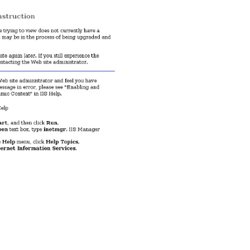 The site you are trying to view does not currently have a default page. It may be in the process of being upgraded and configured. Please try this site again later. If you still experience the problem, try contacting the Web site administrator. If you are the Web site administrator and feel you have received this message in error, please see "Enabling and Disabling Dynamic Content" in IIS Help. To access IIS Help
Free Huggies Diapers and Wipes You'll need to copy and paste the link below to snag the following freebies: Three free Huggies Snug & Dry Plus diapersOne free pack of Huggies Natural Care Plus wipes
Hey, It's Free! | Daily freebies, free stuff, and free samp
Smub: Shorten, Personalize, Bookmark, Share URLs on Any Browser.
Banksy Barely Legal
Futuro Primitivo
H1N1 Swine Flu
The server encountered an internal error or misconfiguration and was unable to complete your request. Please contact the server administrator, webmaster@mediumjones.com and inform them of the time the error occurred, and anything you might have done that may have caused the error. More information about this error may be available in the server error log. Additionally, a 500 Internal Server Error error was encountered while trying to use an ErrorDocument to handle the request.
My $23/month iPhone (updated)
Creating stories using web tools is fun and engaging for student while also teaching them new skills. Best of all you can embed them in blog posts to grab readers; including something a bit different makes reading posts more interesting. Web Tools For Creating Stories
50+ Ways To Create Digital Stories With Students | The Edublogge
Micro Persuasion: The Next Twitter or Facebook is the Open Web
The Clip Report: An eBook on the Future of Media In the early 1990s when I began my career in PR there were clip reports. These were physical books that contained press clips. It seems downright archaic now but that's how I learned about the press - by cutting, pasting up and photocopying clippings. My fascination with the media never abated. Today my role is to form insights into how the entire overlapped media landscape - the pros, social channels, and corporate content - is rapidly evolving and to help Edelman clients turn these learnings into actionable strategies.
Twenty-Two Interesting Ways to use Twitter in the Classroom - Go
Banish Your Browser With Innovative Adobe AIR Apps - PC World
HootSuite-ultimate-Twitter-profile-management-toolbox
subprime on Vimeo
typoGenerator
Web 2.0 Tools for Teachers by Nik Peachey
Me On Mag - Create Fake Magazine Covers with your Photo!
Convez - Currency Conversion!
Format Factory - Download
flickery - the flickr.com desktop client for Mac OS X Leopard
Start Panicking!
Noteboek on Vimeo
VISIONAIRE | HOME