Graphic Design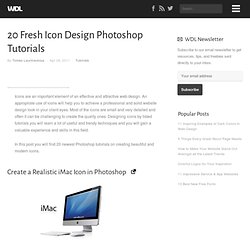 20 Fresh Icon Design Photoshop Tutorials | Tutorials
Icons are an important element of an effective and attractive web design. An appropriate use of icons will help you to achieve a professional and solid website design look in your client eyes. Most of the icons are small and very detailed and often it can be challenging to create the quality ones.
Ok, so this is about icon design Photoshop tutorials … Here, you will find some of the tutorials gathered from the Internet that will help you get the basics and, with some effort, master the techniques of designing your own icon sets for your website or some applications you use. Of course there are various high quality icons already designed and ready to use, free or premium, but it would be more representative for your website to use your own ones, made by yourself while bearing in mind the idea, the concept and scope of your activity. It's sometimes hard to learn a new thing from the start, not having some skills to rely on, but accepting this challenge can sometimes be very interesting and rewarding, if you succeed in accomplishing it. Also you acquire new, useful skills and techniques that would make you more experienced in the field of design.
20+ New Icon Design Photoshop Tutorials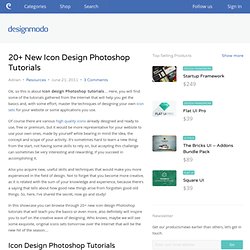 Photoshop Tutorial ›› Abstract Lines Background || psd.tu-torial.com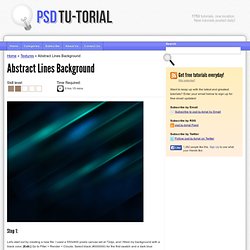 Home » Textures » Abstract Lines Background Skill level: Time Required: 0 hrs 15 mins Step 1: Let's start out by creating a new file.
33 Brand New Icon Tutorials with Freebie Sets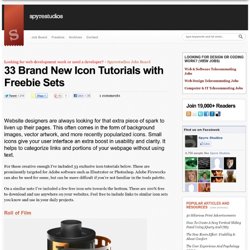 Website designers are always looking for that extra piece of spark to liven up their pages. This often comes in the form of background images, vector artwork, and more recently popularized icons. Small icons give your user interface an extra boost in usability and clarity.
40 Poster Design Tutorials In Photoshop | Pixel Curse | Visual inspiration for creative professional
30 Photoshop Tutorials For Creating Nice Portfolio Layouts | Pixel Curse | Visual inspiration for creative professional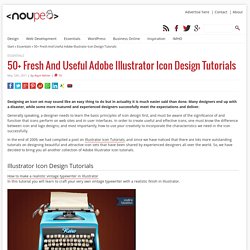 May 12 2011 Designing an icon set may sound like an easy thing to do but in actuality it is much easier said than done. Many designers end up with a disaster, while some more matured and experienced designers successfully meet the expectations and deliver.
50 Fresh And Useful Adobe Illustrator Icon Design Tutorials - Noupe Design Blog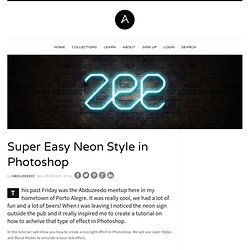 This past Friday was the Abduzeedo meetup here in my hometown of Porto Alegre. It was really cool, we had a lot of fun and a lot of beers! When I was leaving I noticed the neon sign outside the pub and it really inspired me to create a tutorial on how to acheive that type of effect in Photoshop. In this tutorial I will show you how to create a nice light effect in Photoshop. We will use Layer Styles and Blend Modes to simulate a neon text effect.
Super Easy Neon Style in Photoshop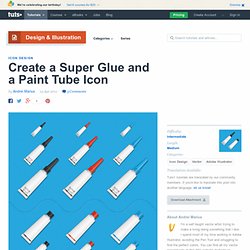 Create a Super Glue and a Paint Tube Icon
In the following tutorial you will learn how to create a super glue and a paint tube icon. These shiny icons are simple to create, we'll cover a complete workflow, and show you techniques that will speed up your work process. Let's get started!
Create an Open Book Icon In Photoshop
Most people don't realize how much time and effort goes into creating something like an icon. Icons can take many hours to complete and the techniques used can take a long time to perfect. In this tutorial we will demonstrate how to create an open book icon in Photoshop. Let's get started! Tutorial Assets
Tutorial da Arte Ganhadora do World Collabs 3 by François Hoang
Este é o primeiro tutorial que escrevo, então sejam calmos comigo! Primeiro gostaria de agradecer ao Abduzeedo pela oportunidade. Vou mostrar para vocês como fiz a arte que enviei para o World Collabs 3 : James White.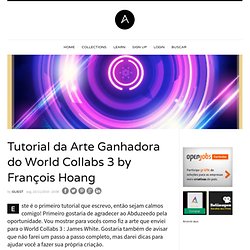 In this Photoshop tutorial we're going to learn how to create a web 2.0 layout, As we go through the tutorial we'll deal with so many Photoshop techniques. Seems kind of long? that's because it's very detailed. I assure you'll find easy to follow and to get done, just give it a try! Step 1 To keep everything aligned we're going to use 960s Grid System (Get it from here ) once downloaded open up the file "960_grid_24_col.psd".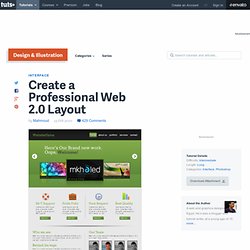 Create a Handmade "Back to School" Style Postcard
In this tutorial you will learn some easy methods to create a realistic looking corkboard composition for a back to school sale postcard. We'll go over how to create cool paper letters, add some cutouts, realistic shadows, and add bleeds for printing. Let's get started!