Using Photoshop Features
How to use the Contrast Checker Technique to Give Your Images More Punch. A Post By: Blake Rudis I am about to reveal a technique that will have your images looking awesome in seconds every time you use it.
I am even going to share the Photoshop Action with you so you can edit in lazy mode, I mean efficiency mode! Before I bare all, I need to give you some background information, and I am pretty sure you have been in the exact same position at some point in your photography hobby or career. 3 Easy Steps Using Photoshop to Making your Images POP. A Post By: Gavin Hardcastle Having taught in-depth image post-processing workshops for Photoshop users, I've found that three of the simplest techniques are the ones that people love the most.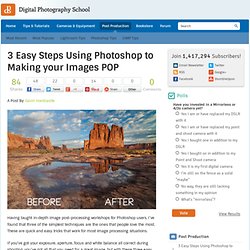 These are quick and easy tricks that work for most image processing situations. 12 Beginner Tutorials for Getting Started With Photoshop. This series is supported by Ben & Jerry's Joe, Ben & Jerry's new line-up of Fair Trade and frozen iced coffee drinks.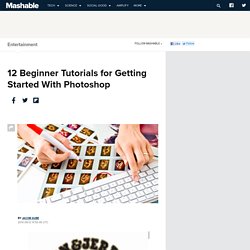 Learn more about it here. Adobe Photoshop, the ubiquitous and industry standard graphics software for photographers, designers, digital artists, as well as casual enthusiasts, can be a baffling application to understand the first time you fire it up. Luckily, littered across the vast space of the web are tutorials in all shapes and sizes that will help you get up and running in no time. In this post, I've pieced together 12 excellent Photoshop tutorials geared toward beginners. If you're a complete novice or a casual user of this software, you've stopped by the right place.
3 Uses for the Radial Filter Tool in Lightroom 5. A Post By: John Davenport One of the most powerful new tools in Lightroom 5 is the Radial Filter tool.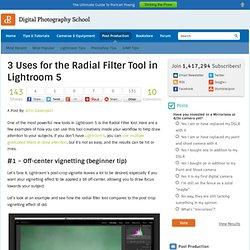 Here are a few examples of how you can use this tool creatively inside your workflow to help draw attention to your subjects. If you don't have Lightroom5, you can use multiple graduated filters to draw attention, but it's not as easy, and the results can be hit or miss. #1 – Off-center vignetting (beginner tip) Scott's Photoshop MicroTips (30-second little nuggets)
A few days ago, just for fun, I started doing these short little Photoshop tips, between 20 and 30-something seconds long (well, that's the goal anyway), and I've gotten a lot of great feedback on them.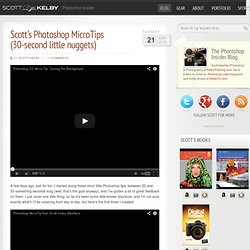 I just cover one little thing; so far it's been some little-known shortcuts, and I'm not sure exactly what'll I'll be covering from day to day, but here's the first three I created. I don't talk on these (a big bonus for some) — I do it all using text (that way I can just bang these out right when I think of them, without having to go to the studio). You should hear the "click" sound from my computer, but for some reason the 2nd one didn't include the click audio. Anyway, here they are — hope you find 'em helpful. A Detailed Explanation of How Photoshop Blend Modes Work - Photoshop Blend Modes Explained | Photo Blog Stop. Working with blend modes is almost always an experimental process.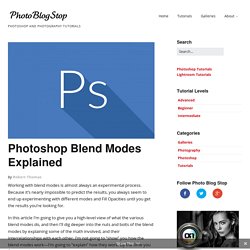 Because it's nearly impossible to predict the results, you always seem to end up experimenting with different modes and Fill Opacities until you get the results you're looking for. In this article I'm going to give you a high-level view of what the various blend modes do, and then I'll dig deeper into the nuts and bolts of the blend modes by explaining some of the math involved, and their interrelationships with each other. I'm not going to "show" you how the blend modes work—I'm going to "explain" how they work.
10 Photoshop Filters You Should Definitely Know. If you've worked with Photoshop for any significant amount of time, you will know that the application comes packed with a broad range of different filters, which can be used to create some really awesome effects.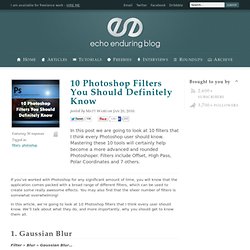 You may also find that the sheer number of filters is somewhat overwhelming! In this article, we're going to look at 10 Photoshop filters that I think every user should know. We'll talk about what they do, and more importantly, why you should get to know them all. 1.
---