Image Search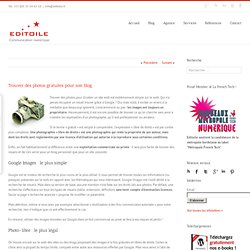 Trouver des photos pour illustrer un site web est extrêmement simple sur le web. Qui n'a jamais récupéré un visuel trouvé grâce à Google ? Oui mais voilà, il existe un revers à la médaille que beaucoup ignorent, consciemment ou pas : les images ont toujours un propriétaire. Heureusement, il est encore possible de trouver ce qu'on cherche sans avoir à craindre les représailles d'un photographe, qu'il soit professionnel ou amateur. Si le terme « gratuit » est simple à comprendre, l'expression « libre de droits » est par contre plus complexe.
ImageGlitcher
In case you are confused after reading the title, that is what exactly Pixolu does. It's an image search engine which lets you go deeper into the mechanism of image search and lets you find more relevant images using the image results it displays the first time you search. It uses Google, Flickr and Yahoo as the underlying image search engines.
Pixolu: Search for Similar Images Using an Image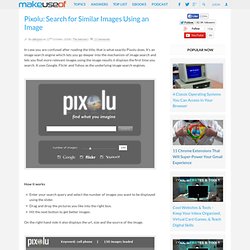 Picitup - Color Search - Visual Search - API Services - Image Recognition
What is Psbot? Picsearch indexes images from the web. To do this we use a web-crawler which identifies itself as 'Psbot'. Load Spreading Technique Picsearch utilizes a load spreading technique which reduces the load on the indexed domains' web-servers.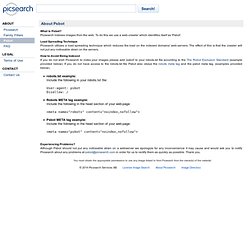 Image Search for pictures and images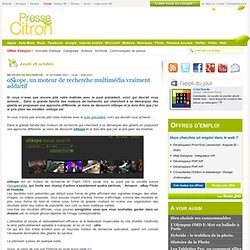 oSkope, un moteur de recherche multimédia vraiment addictif
Jeudi 18 octobre Moteurs de recherche - 18 octobre 2007 :: 10:50 :: Par Eric Si vous n'avez pas encore plié votre matinée avec le post précédent, voici qui devrait vous achever… Dans la grande famille des moteurs de recherche qui cherchent à se démarquer des géants en proposant une approche différente, je viens de découvrir oSkope et je dois dire que j'en ai pris plein les mirettes. oSkope est Si vous n'avez pas encore plié votre matinée avec le post précédent, voici qui devrait vous achever…