To Sort (or to put in trash)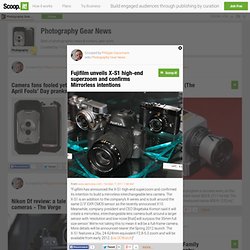 SLR Magic is an interesting young chinese lens brand. They are manufacturing manual focus lenses for various mounts including Micro-Four-Thirds and Sony NEX. So far most of their lenses were found on the cheaper end of the food chain but they are keen of delivering more prestigious products. One of their latest releases is the Hyperprime LM 50mm T/0.95, which is ambitious in two ways: it's their first lens to feature a Leica M mount with rangefinder coupling, and it obviously targets and competes with the "king" of that eco system, the Leica Noctilux 50mm f/0.95 ASPH. Interestingly, SLR Magic provides a T-number in the lens name instead of a f-number. The T-number refers to the effective light transmission characteristic rather than the calculated f-number of the lens.
Fujifilm unveils X-S1 high-end superzoom and confirms Mirrorless intentions | Photography Gear News
sand tales
marés
traped outside
Ein Polfilter erscheint zunächst unscheinbar grau, aber blicken Sie einmal hindurch und drehen ihn langsam vor Ihrem Auge, dann sehen Sie, wie Reflexe auf Glasflächen, lackierten Möbeln und anderen glänzenden Oberflächen verschwinden und wieder auftauchen. Dies wird in der Fotografie für effektvolle Aufnahmen genutzt. Entdecken Sie hier das Geheimnis des Polarisationsfilters. weiterlesen » Artikel bookmarken Sie haben aus dem vergangenen Urlaub einige spannende oder lustige Schnappschüsse machen können.
Foto Blog - News über Fotografie, Digitalkameras und Objektive
red (vermelho)