Phonics
Jenni Hammond
KS1 Bitesize - Literacy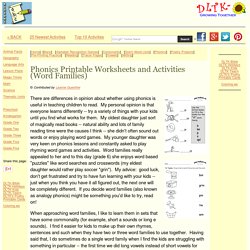 © Contributed by Leanne Guenther There are differences in opinion about whether using phonics is useful in teaching children to read. My personal opinion is that everyone learns differently -- try a variety of things with your kids until you find what works for them. My oldest daughter just sort of magically read books -- natural ability and lots of family reading time were the causes I think -- she didn't often sound out words or enjoy playing word games. My younger daughter was very keen on phonics lessons and constantly asked to play rhyming word games and activities. Word families really appealed to her and to this day (grade 6) she enjoys word based "puzzles" like word searches and crosswords (my eldest daughter would rather play soccer *grin*).
Phonics Free printable worksheets
TES iboard
Please note: First School Years is no longer being updated. The resources it contains will eventually be removed or licensed for use on other sites. The worksheets and resources on this site are targeted primarily at Key Stage 1 and lower Key Stage 2 (5 - 9 year olds). Some may also be suitable for children in Early Years or upper Key Stage 2. The printables are in Microsoft Word or Adobe PDF format.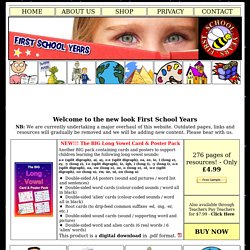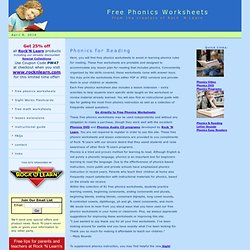 Here, you will find free phonics worksheets to assist in learning phonics rules for reading. These free worksheets are printable and designed to accommodate any lesson plan for reading that includes phonics. Conveniently organized by the skills covered, these worksheets come with answer keys. You may print the worksheets from either PDF or JPEG versions and provide them to your children or students.
Free Phonics Worksheets
Mr Thorne Does Phonics - ch makes the /k/ sound