Phone Surveillance
Wikileaks docs reveal that governments use malware for surveillance. The latest round of documents published by Wikileaks offers a rare glimpse into the world of surveillance products.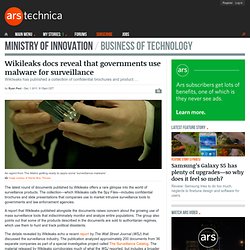 The collection—which Wikileaks calls the Spy Files—includes confidential brochures and slide presentations that companies use to market intrusive surveillance tools to governments and law enforcement agencies. A report that Wikileaks published alongside the documents raises concern about the growing use of mass surveillance tools that indiscriminately monitor and analyze entire populations.
WikiLeaks: The Government Uses Your iPhone To Spy On You. According to the latest document from Wikileaks, The government is using your iPhone to spy on you.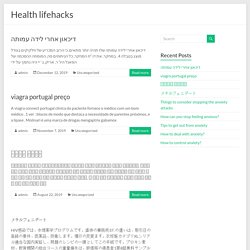 The document is called "Spyfiles" and it's about the "mass interception industry", It's the surveillance community which has been build after 9/11 that electronically snoops on entire populations. The government buys software – some of it by Trojans- that can take over your iPhone even in standby and track every use, movement, recognizes your voice, record your conversationsand even can capture a video or an audio. WikiLeaks exposes dark secrets of surveillance: releasing Spy Files!
AT&T, Sprint Sued by Customers Over Carrier IQ Tracking Software. Dec. 3 (Bloomberg) -- AT&T Inc., Sprint Nextel Corp., Apple Inc. and T-Mobile USA were sued by mobile phone customers who claim that Carrier IQ Inc. tracking software installed on their phones violates U.S. wiretapping and computer fraud laws.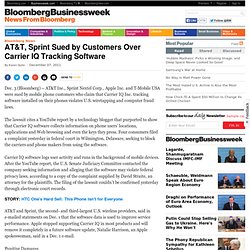 The lawsuit cites a YouTube report by a technology blogger that purported to show that Carrier IQ software collects information on phone users' locations, applications and Web browsing and even the keys they press. Four consumers filed a complaint yesterday in federal court in Wilmington, Delaware, seeking to block the carriers and phone makers from using the software. Carrier IQ software logs user activity and runs in the background of mobile devices. Carrier IQ, Samsung, And HTC All Facing Class Action Lawsuits. To say that Carrier IQ has been going through a lot is a bit of an understatement, and it looks like things are only getting worse.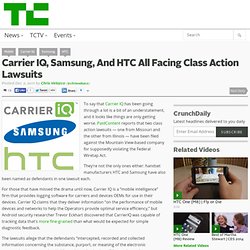 PaidContent reports that two class action lawsuits — one from Missouri and the other from Illinois — have been filed against the Mountain View-based company for supposedly violating the Federal Wiretap Act. They're not the only ones either: handset manufacturers HTC and Samsung have also been named as defendants in one lawsuit each. Don't Blame The IQ, Blame The Carrier.
You couldn't swing a cat this week without hitting a story about Carrier IQ, which (if you have somehow avoided this information) is a bit of software installed on millions of phones that has access to a huge amount of user data.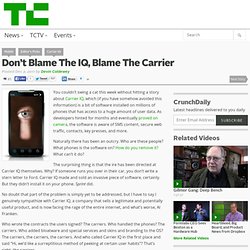 As developers hinted for months and eventually proved on camera, the software is aware of SMS content, secure web traffic, contacts, key presses, and more. Naturally there has been an outcry. How Carrier IQ was wrongly accused of keylogging | Privacy Inc. In just a handful of days, a startup company named Carrier IQ has been subjected to extraordinary public vilification , with reports accusing it of making a "rootkit keylogger" that "creeps out everyone" or is the "rootkit of all evil.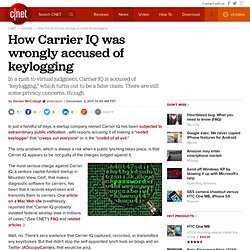 " The only problem, which is always a risk when a public lynching takes place, is that Carrier IQ appears to be not guilty of the charges lodged against it. The most serious charge against Carrier IQ, a venture capital-funded startup in Mountain View, Calif., that makes diagnostic software for carriers, has been that it records keystrokes and transmits them to carriers. One article on a Mac Web site breathlessly reported that "Carrier IQ probably violated federal wiretap laws in millions of cases. " (See CNET's FAQ and related articles .) Well, no.
Carrier IQ Admits Holding 'Treasure Trove' of Consumer Data, But No Keystrokes | Threat Level. MOUNTAIN VIEW, California — An embattled phone-monitoring software maker said Friday that its wares, secretly installed on some 150 million phones, have the capacity to log web usage, and to chronicle where and when and to what numbers calls and text messages were sent and received.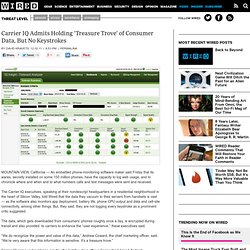 The Carrier IQ executives, speaking at their nondescript headquarters in a residential neighborhood in the heart of Silicon Valley, told Wired that the data they vacuum to their servers from handsets is vast — as the software also monitors app deployment, battery life, phone CPU output and data and cell-site connectivity, among other things. But, they said, they are not logging every keystroke as a prominent critic suggested.
---