Bioethics
Late-term abortion and fetal development: My debate with Ann Furedi
A 28-week fetus in the "Body Worlds" exhibit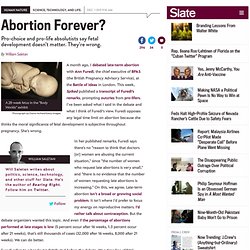 On 12 April, the governor of Arizona approved a bill banning most abortions after 20 weeks of pregnancy.
Arizona decrees pregnancy starts before conception - health - 20 April 2012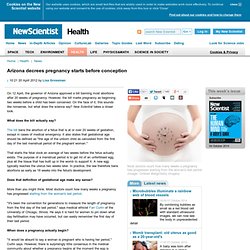 A Dutch baby born on Feb. 29, 2012 Photograph by Robin Utrecht/AFP/Getty Images. Just when you thought the religious right couldn't get any crazier, with its personhood amendments and its attacks on contraception, here comes the academic left with an even crazier idea: after-birth abortion.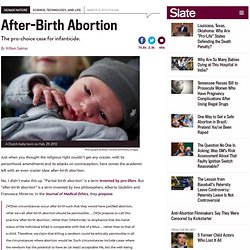 After-Birth Abortion: The pro-choice case for infanticide
Is there no moral distinction between killing a newborn baby and aborting a fetus?
ABORTION, INFANTICIDE, HUMANITY, FREE SPEECH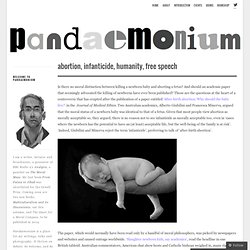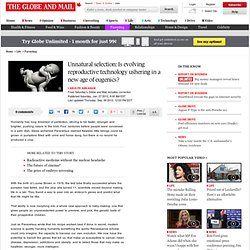 Unnatural selection: Is evolving reproductive technology ushering in a new age of eugenics?
Humanity has long dreamed of perfection, striving to be faster, stronger and brighter, pushing nature to the limit.
Sex-selection, abortion, and the pro-choice movement: Why liberals shouldn't gulp
The goal.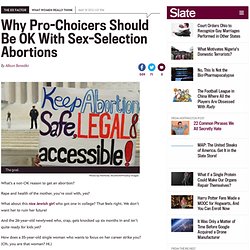 Natera is one of several companies vying to commercialize fetal DNA tests, or noninvasive prenatal diagnosis Photograph by Comstock. In 2003, back when such things remained unpredictable, a woman gave birth to a baby boy with Down syndrome.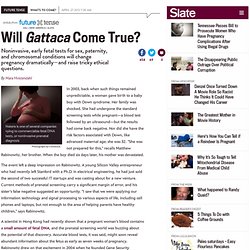 Noninvasive prenatal diagnostic tests, ethics, abortion, and insurance coverage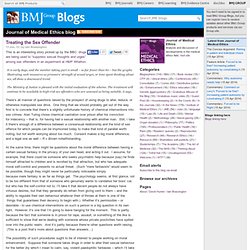 Group blogs: Journal of Medical Ethics blog » Blog Archive » Treating the Sex Offender
13 Jun, 12 | by Iain Brassington This is an interesting story picked up by the BBC: drugs are being used to "suppress sexual thoughts and urges" among sex offenders in an experiment at HMP Whatton .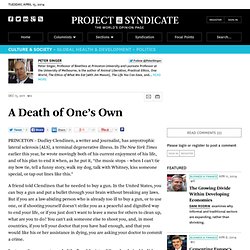 Exit from comment view mode.
A Death of One's Own - Peter Singer - Project Syndicate
John Stuart Mill and the Right to Die | Against the New Taboo
Brendan O'Neill - Why society should never institutionalise a "right to die"
Too impaired to rock and roll – time to die? Lynne Bowyer and Grant Gillett Too Impaired to Rock and Roll - Time to Die? Lynne Bowyer and Grant Gillett on the Tony Nicklinson case - The Bioethics Centre Blog
A Life Worth Ending
Molecules to Medicine: When Religion Collides with Medical Care: Who Decides What Is Right for You? | Guest Blog
San Carlos Church - Vince Alongi The recent presidential candidate debates, fights over insurance coverage for contraceptives, and the Virginia and Texas legislatures' imposition of intrusive, unnecessary ultrasounds prior to any abortions are highlighting the fundamental issue of the role of religion in health care and the separation of Church and State. While the emphasis has been on reproductive care, the imposition of religious beliefs on access to medical care is far more wide reaching in its deleterious effect on the ability of people to choose their care and have their medical needs met.
+ Author Affiliations
What makes killing wrong? -- Sinnott-Armstrong and Miller -- Journal of Medical Ethics
17 January 2012 Last updated at 00:00 ET By Katia Moskvitch Technology reporter, BBC News A researcher monitors a sedated rat as part of the research project at Tel Aviv University
Controversial cyborg rat tests target brain treatments
More Than Human? The Ethics of Biologically Enhancing Soldiers - Patrick Lin - Technology
Our ability to "upgrade" the bodies of soldiers through drugs, implants, and exoskeletons may be upending the ethical norms of war as we've understood them.
Alex Byrne: Cheating Death
Cheating Death Philosophers Ponder the Afterlife Alex Byrne Angus Clyne
The Case for Enhancing People
Bioconservatives vs. Bioprogressives
Should We Want To Be Immortal?
Should we erase painful memories?
The ethics of brain boosting
David Edmonds on Ethical Problems
"Biomedicine's Democratic Revolution" by Stephen H Friend
Motherhood: Immaculate gestation | The Last Word On Nothing
'Three-parent babies' cure for illness raises ethical fear | Science
Do You Really Want to Live Forever? - Reason.com
The Population Control Holocaust
Procreation vs. Overpopulation
Regulations proposed for animal–human chimaeras : Nature News
The Two-Minus-One Pregnancy
Eating Animals - Nicolette Hahn Niman - Health
Europe's Ethical Eggs - Peter Singer - Project Syndicate