Caral - Supe: The oldest civilization in the Americas
Norte Chico civilization
The Norte Chico civilization (also Caral or Caral-Supe civilization)[1] was a complex pre-Columbian society that included as many as 30 major population centers in what is now the Norte Chico region of north-central coastal Peru.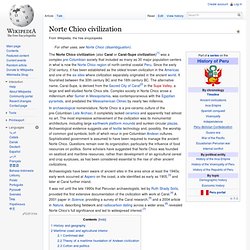 A visit to Caral-Supe, oldest civilization of ancient Peru (Includes first-hand account)
Lima - The Caral-Supe culture of Peru, the oldest civilization in the Americas, developed almost simultaneously with those of Mesopotamia, Egypt, China and India and about 1500 years before the Mesoamerican civilizations. The archaeological site of Caral in the Supe River Valley is located about 180 kilometers north of Lima. It developed about 5000 years ago and is considered the oldest city in the Americas. Unlike the cultures of the Middle East and Asia which carried out exchange of knowledge and experience, Caral would have developed in almost complete isolation. Among the greatest expressions of the Caral culture are the construction of giant pyramid-shaped structures and a complex and organized society based on religion, agriculture, commerce and musical activities.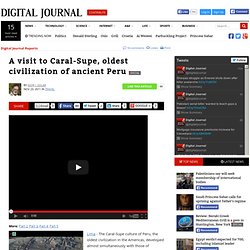 Caral - Supe: The oldest civilization in the Americas - HQ
Peru's Lost Pyramid City - 1/4