Work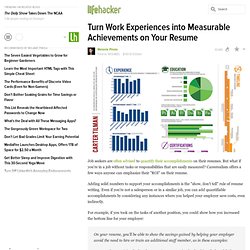 Job seekers are often advised to quantify their accomplishments on their resumes. But what if you're in a job without tasks or responsibilities that are easily measured? Careerealism offers a few ways anyone can emphasize their "ROI" on their resume. Adding solid numbers to support your accomplishments is the "show, don't tell" rule of resume writing. Even if you're not a salesperson or in a similar job, you can add quantifiable accomplishments by considering any instances where you helped your employer save costs, even indirectly.
Turn Work Experiences into Measurable Achievements on Your Resume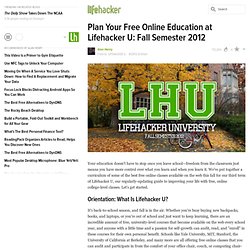 Your education doesn't have to stop once you leave school—freedom from the classroom just means you have more control over what you learn and when you learn it. We've put together a curriculum of some of the best free online classes available on the web this fall for our third term of Lifehacker U, our regularly-updating guide to improving your life with free, online college-level classes. Let's get started. Orientation: What Is Lifehacker U? It's back-to-school season, and fall is in the air. Whether you're busy buying new backpacks, books, and laptops, or you're out of school and just want to keep learning, there are an incredible amount of free, university-level courses that become available on the web every school year, and anyone with a little time and a passion for self-growth can audit, read, and "enroll" in these courses for their own personal benefit.
It's inevitable. After enough time at any job, you have a day that really sucks. Then, eventually, maybe another.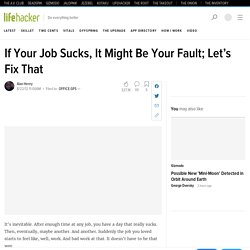 If Your Job Sucks, It Might Be Your Fault; Let's Fix That
The Hardest Job Interview Questions—And How to Ace Them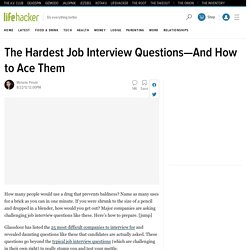 How many people would use a drug that prevents baldness? Name as many uses for a brick as you can in one minute. If you were shrunk to the size of a pencil and dropped in a blender, how would you get out? Major companies are asking challenging job interview questions like these. Here's how to prepare. Glassdoor has listed the 25 most difficult companies to interview for and revealed daunting questions like these that candidates are actually asked.
How to Minimize On-Screen Distractions and Train Yourself to Focus on Your Work
When you've got a lot going on, it's easy to overload your browser with loaded tabs you'll never get to, miss emails, open too many windows, and leave unfinished work in an app for days without realizing it. Computers are made to multitask but you're not. Here's how to train yourself to focus in an environment that's almost built for distraction. Employ a "No Minimization" Rule to Force Yourself to React Minimizing windows is a great way to build clutter you can't see. It's like letting bits of food or dirt drop on the floor with the assumption that you'll clean it up later.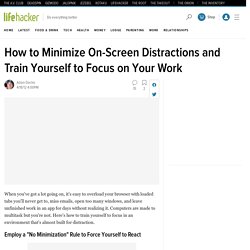 Les 9 secrets de ceux qui sont bien dans leur tête
Pour réussir et s'épanouir , dans la séduction comme dans tous les domaines de la vie, il est primordial d'être bien dans sa tête. Nous allons parler dans cet article de ce que l'on nomme parfois sur FTS « l'innergame » – un concept qui regroupe des choses aussi variées que la confiance en soi , l' estime personnelle , l' affirmation de soi , le bien-être – et que l'on pourrait résumer, pour faire simple, en ce quelques mots : le bon état d'esprit . Un bon innergame est à la fois un atout dans tout ce que nous entreprenons et bien souvent une condition sine qua non pour les mener à bien : difficile en effet d'imaginer bien réussir quelque chose quand nous sommes épuisés, stressés, déprimés, que nous sommes obnubilés à autre chose ou que nous doutons trop de nous-mêmes…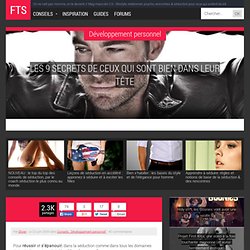 Dans la première partie , je me suis focalisé sur les moyens d'améliorer notre bien-être mental et physique avec la méditation, le sport, l'alimentation, les massages et le sommeil. Je vais à présent me concentrer sur les moyens d'enrichir notre style de vie et même de créer celui que nous voulons vivre , car à part une vie sexuelle moribonde ou inexistante, je pense qu'il n'y a pas de pire obstacle au bonheur qu'un style de vie que l'on n'aime pas. 6 – Se libérer l'esprit de ses pensées parasites avec Getting Things Done
Les 9 secrets de ceux qui sont bien dans leur tête, 2eme partie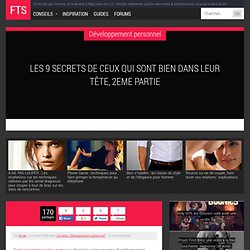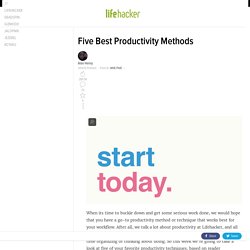 When its time to buckle down and get some serious work done, we would hope that you have a go-to productivity method or technique that works best for your workflow. After all, we talk a lot about productivity at Lifehacker, and all of the different techniques you can use to spend more time doing, and less time organizing or thinking about doing. So this week we're going to take a look at five of your favorite productivity techniques, based on reader nominations. Earlier in the week we asked you what productivity method you used when it was time to get down to business. You responded with a wide array of techniques, mashed-up and remixed productivity methods , and unfortunately we can't look at them all. However, here are the top five based on your votes.
I'm getting ready for job interviews and I want to make sure I'm as prepared as possible. For example, what questions should I be ready to answer in virtually any interview, regardless of the job type? Sincerely, Questioning Mark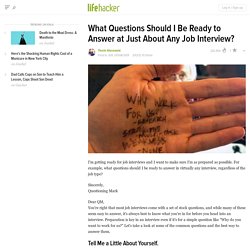 What Questions Should I Be Ready to Answer at Just About Any Job Interview?
The hardest part of doing most things is just starting. We often think about how big of a project we have ahead of ourselves, and that's what makes it hard to start. I know when I was writing my book , it seemed like most of my day was spent fighting the agony of just getting started.
The 10-Minute Hack
Don't Lead With Your Need When Professionally Networking
We all know that creating a strong professional network is a great way to find a job, but it's not always as simple as it sounds. CNN Money talked with career coach Darrell Gurney to come up with some of the most common mistakes and one of the most harmful is leading the discussion with your need. The reasoning is two-fold. First off, you don't want to seem desperate, but you also want to get a good feel for the type of company your pitching yourself to. Gurney offers this advice: Find ways to approach people that call on their knowledge and expertise, and the conversations you have with them will be far more productive.
How to Answer "What Is Your Greatest Weakness?"
The point at which your interviewer asks you to share your greatest weakness is the portion of a job interview that you dread most, and for good reason: Lame answers like "I'm a perfectionist" or "I care too much" are well-worn clichés, but how can you intelligently answer that question? Developer and blogger Ash Moran offers this thoughtful approach. Humans are creatures of habit, and creatures of ritual. These habits and rituals are comforting to us, and give a sense of structure to our lives and how we behave. But these rituals can crystallise, and we often work through them so religiously and mechanically that to an outsider it might well appear that the ritual works us through it , rather than the reverse.
Silicon Valley entrepreneur Jason Freedman has done his share of public speaking, and despite experiencing the same racing heartbeat and anxiety common to all of us, he knows how to deliver a relaxed, natural presentation. Here's how he does it. I just gave a presentation on 42Floors to 150 people.
Public Speaking for Normal People
When you're applying for a new job, you often have to write a cover letter to accompany your resume and serve as an introduction to who you are. These letters must be brief yet compelling so you don't require much of the reader but still appear unique. This can be pretty tough, but if you utilize the principles of good storytelling and concise writing you can put together a letter that won't get lost in the pile. Here's how. Title photo by Wrangler (Shutterstock) . Most cover letters tend to be fairly formulaic and look something like this:
You know that sinking feeling you have when there's too much on your plate? When you try to tackle your tasks by priority, but it feels like everything's important? Don't get overwhelmed—it's a problem that everyone faces at some point or another, and while it's difficult to skillfully juggle multiple priorities and competing responsibilities, it's not impossible. Here's how. It just so happens that there's a career that focuses specifically on juggling competing tasks and priorities: These people are called project managers. And as luck would have it, I was a full time PM for many years, PMP-certified and everything.
How to Prioritize When Everything Is Important
Avoid Making the First Concession When Bargaining to Come Out Ahead in the End
Use a Math Formula to Increase Your Edge in Negotiation (and Other Negotiation Tips)
The Stupid Things You Do at Work (and How to Fix Them)
Jump Start your Productivity, Refine your To-Do List, and Move to the Cloud
Stimulate Creativity with the SCAMPER Mnemonic