Startup
The Best Application Launcher for Windows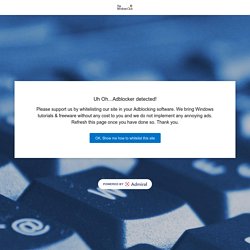 We are pleased to release our Ultimate Windows Tweaker for Windows 7 and Windows Vista. Ultimate Windows Tweaker 2.2 is a freeware TweakUI Utility for tweaking and optimizing Windows 7 & Windows Vista, 32-bit & 64-bit. This Tweaker was first released at the Microsoft South Asia MVP Meet 2008.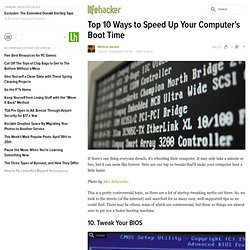 Sry, but you can ignore almost all above given tips and simply follow his last tip, which is to install a Solid State Drive! It's not important if there are 10 or 20 more files, fonts or drivers to load at Windows start.
How Can I Diagnose and Fix My Slow Computer?
Soluto may have improved in the past two months, but it's a trash program. It's filled with memory leaks and errors. It has slowed down every machine I've seen it on. Sure, boot times are reduced at first, but two months late you uninstall it and VOILA full speed ahead. TweakNow Powerpack is free now, and is a great way to optimize and clean up Windows. Layering such free software is good too.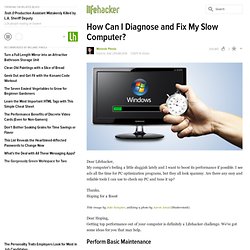 This Is Lifehacker's Summer Series: Keep Your PC Running Cool and Quiet, Home Brew Soda, and Encrypt Your Dropbox
If you use Google's Public DNS server or OpenDNS as your DNS server, you may notice starting today that YouTube videos load faster and other web content comes in quicker. If you're using your ISP's DNS server as the default, now's a good time to try Google's or OpenDNS. The reason behind the speed bump is that OpenDNS and Google are working with Content Delivery Networks (CDNs) to attach location data to the DNS requests, so when you request a web page, it will go to a server near you rather than, as previously mentioned possibly a server that's not closest to you.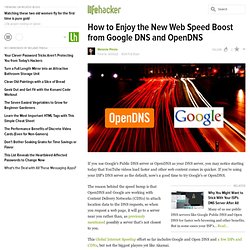 How to Enjoy the New Web Speed Boost from Google DNS and OpenDNS
Dear Lifehacker, Everyone bickers about which browser is faster, but in my experience all of them eventually slow down after I've opened a few tabs and used them for a while. Whether I use Chrome, Firefox, or IE, my CPU spikes, the browser eats my memory, and it slows to a crawl. How can I stop this? Please Help, Need for Speed Photo by William Warby. Dear Need for Speed, That's the trouble with browsers these days-everyone argues over a few seconds of startup and rendering time, but eventually everyone winds up complaining about how slow they get with regular use.
How Do I Stop My Browser from Slowing to a Crawl?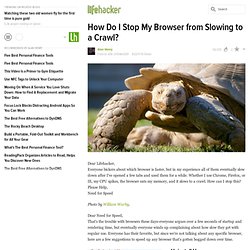 startup manager