Online Biz Helps
Smcheatsheat.png (975×2968) [Infographie] Psychologie des couleurs. Petite infographie pour vous aider à choisir les couleurs et comprendre les marques qui choisissent du rouge pétant (Mc Donald, KFC, Pizza Hut) ou le rose bonbon (Victoria secret's…).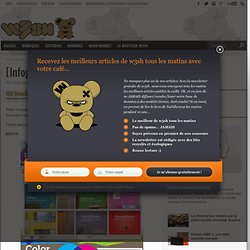 Choisir sa couleur est une question d'affinité mais aussi de psychologie. Passionné par les Nouvelles Technologies, le marketing, le monde du numérique et le luxe, Chihong partage sur w3sh les dernières trouvailles du web. The best tools to help your start-up or small business take off. Online Testing Essentials: An infographic on what online marketing activities to test.
A well-built sales funnel is never complete until every part of it has been tested and optimized.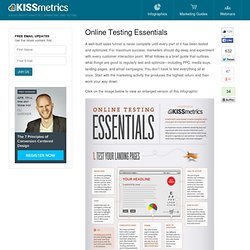 For maximum success, marketers should dig deep and experiment with every customer interaction point. What follows is a brief guide that outlines what things are good to regularly test and optimize—including PPC, media buys, landing pages, and email campaigns. You don't have to test everything all at once. Start with the marketing activity the produces the highest return and then work your way down. Click on the image below to view an enlarged version of this infographic:
The 2011 Web Analytics Review - Infographic based on Google's 2011 Data. Hundreds of thousands of websites across the globe have participated in Google's ongoing study of web browsing behavior.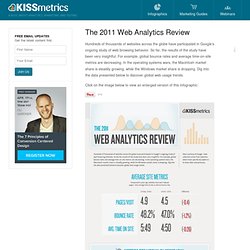 So far, the results of the study have been very insightful. For example, global bounce rates and average time-on-site metrics are decreasing. In the operating systems wars, the Macintosh market share is steadily growing, while the Windows market share is dropping. What Are the Best Web Tools For Running Your Business? [Infographic] For small businesses and startups, the selection of Web-based tools available for things like communication, productivity, finance and IT is seemingly limitless, with new products launching left and right each week.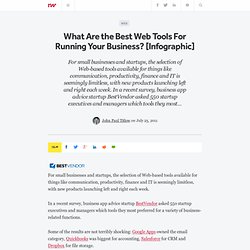 In a recent survey, business app advice startup BestVendor asked 550 startup executives and managers which tools they most preferred for a variety of business-related functions. Some of the results are not terribly shocking: Google Apps owned the email category, Quickbooks was biggest for accounting, Salesforce for CRM and Dropbox for file storage. The survey drilled a bit deeper into categories like productivity, development, finance and and design and also included a few "hidden gems" you may not have been familiar with. What Makes Someone Leave A Website? The Infographic.
---