Malin
Sixty Years Of Memories. For my dad's 60th birthday last week, I wanted to do something really fun.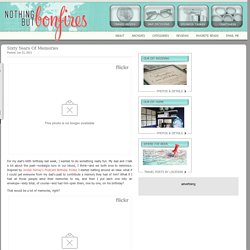 My dad and I talk a lot about the past---nostalgia runs in our blood, I think---and we both love to reminisce. Inspired by Jordan Ferney's Postcard Birthday Poster, I started batting around an idea: what if I could get everyone from my dad's past to contribute a memory they had of him? Turn a playing card into a solar charger for AA batteries. I own loads of rechargeable NiMH AA and AAA batteries, but most always seem to be dead when I need them.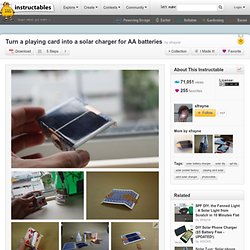 So, I wanted a cheap and fast way to make battery chargers that I can keep on my desk, so that I could have an armada of charged batteries at all times. I didn't want to take up more outlets and have more wire spaghetti with plug-in chargers, so I settled on a solar charger. I'm in the solar business so I had stacks of small pieces of raw lasercut PV silicon cells (solettes) laying around, and I first made a simple battery charger with a few business cards as a backing. Then I found that playing cards were a more stable backing -- and besides, they looked neat. Build Your Own Flashing, LED Light-Up Speakers from Clear PVC and Cheap Speaker Drivers. Although I may always be the first one to jump into some "make some crap using nothing but crap" idea, this seems a bit over the top to me.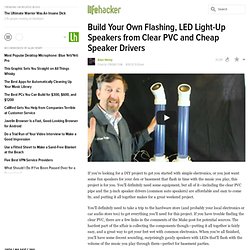 Who, other than oneself, is a bunch of plumbing pieces turned speaker, going to impress? Maybe if your living space is designed to look rather industrial, this might fit in. So, if you live in an old loft type space, with pipes and ducts running through, this could blend in and be pretty cool. Beyond that, it's simply a question of, "What's wrong? Trigger Fireworks Using an Old Cell Phone. There are many things that can potentially have many not so good uses if put into the wrong hands but that should not stop those that want to impress those around them.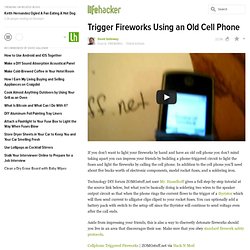 In that case, just to be safe... Better not give people tips on being better drivers...they could use it to drive a truckload of explosives into something Better not show people how to get accurate traffic data...they could use it to get their explosive van to the destination on time. Make Your Own Color-Changing Fireplace Pinecones. Man builds DIY Segway for $434, begins casting 'Arrested Development' fan film (video) This is Petter Forsberg.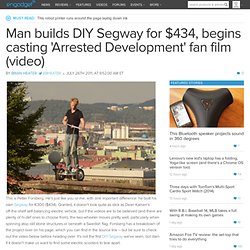 He's just like you or me, with one important difference: he built his own Segway for €300 ($434). Granted, it doesn't look quite as slick as Dean Kamen's off-the-shelf self-balancing electric vehicle, but if the videos are to be believed (and there are plenty of hi-def ones to choose from), the two-wheeler moves pretty well, particularly when spinning atop old stone structures or beneath a Swedish flag.
Forsberg has a breakdown of the project over on his page, which you can find in the source link -- but be sure to check out the video below before heading over. It's not the first DIY Segway we've seen, but darn if it doesn't make us want to find some electric scooters to tear apart. Handheld Air Conditioner Unit. Jambo Instructabrarians!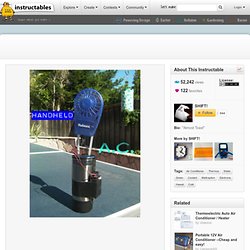 Picture this: It's 87 degrees and scorching outside, you desperately want a Slurpee, but the nearest 7-11establishment is about about 5 blocks down. You could go out for a walk, but the heat is so intense you don't think you can make it there and back. You might be able to take a drive, but- wait a minute- car's impounded. So what do you do- risk burning to a crisp for a delicious drink, or struggle through this insane weather, Slurpeeless? Block and Bar Vinyl Record Cleaner. If you're into vinyl records and you get yours at the same places I do, at flea markets, yard sales and Goodwill, you know how frustrating those "snap, crackle and pops" can be.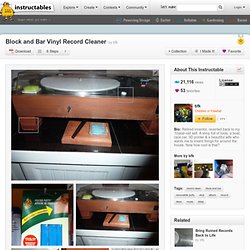 Trying to get the decades-old dust and crud that causes those noises out of the grooves can easily turn into an all-day affair. Here's a device you can easily make, that uses a remarkable polymer sold just about everywhere as "Removable Putty" that can deep clean your vinyl records and return them to their original state.
---