Electronics
Boombox from car stereo. Besta Published on April 2nd, 2013 | by Jules IKEAHacker Materials: BESTA Description: I drew the exact size of each component needed to create the boombox and I cut the door to accommodate the stereo, speakers and other components.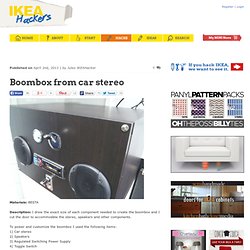 TubeToTV Sends YouTube Videos from Chrome to XBMC. It's not more simple... maybe as simple as...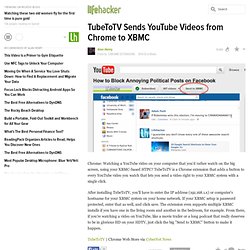 But it's better to click a button and just see it on TV. I do basically the same thing. I have an XBMC playlist that I dump them into.
How I Built the Media Center of My Dreams for Under $500. No TV tuner card...?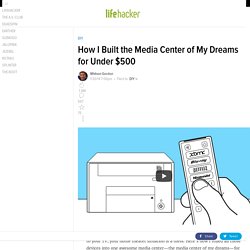 I realize that it adds expense, but it seems worth it considering that a lot of cable companies charge you monthly to rent their box. With my current company, I could go from $15/month for an HD box, to $2/month for a CableCARD - the $13/month I save means that this thing will eventually pay for itself, or at least for some of the premium streaming subscriptions I buy for it. Plus, I can use my 360's Media Center Extender features to use it to watch digital channels and recorded TV downstairs, without having to pay for a second cable box - saving me another $15 every month.
On top of all that, I can get a better overall product - if I splurge for a high-end card I can watch or record up to 4 shows at once, which my current company doesn't offer. I know a lot of people build these specifically so that they can cancel their cable subscription, but if you plan on keeping it, you can get WAY more functionality out of this box with such a simple upgrade. Build a XBMC Media Center with a $35 Raspberry Pi.
Whitson,There are other possibilities for building up a media center for your TV.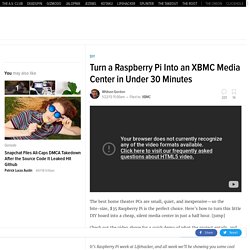 If you already have an Android phone or tablet with MHL (Mobile High-Definition Link), then with the help of an inexpensive (under $40) MHL to HDMI adapter cable, you should be able to plug your device into an HDMI-ready television and turn your TV into a 1080p HD monitor for your device. This does not have Blu-Ray or some of the other peripherals, but any app or game that plays on Android will appear in HD on your TV. Apps include Netflix, Hulu+, ESPN, YouTube, Google Play Movies & TV, Redbox Instant, and Amazon Instant Video to name several. If you add a Bluetooth keyboard/pad or game controller you can run everything from your armchair.
If you want a dedicated box, the possibilities multiply when you substitute a mini Android computer for the Raspberry Pi device. See the Actual Signal Strength on Your iPhone or Android. Charger Windows sans se logger. Charger Windows sans se logger Lorsque vous démarrez votre PC, c'est déjà long...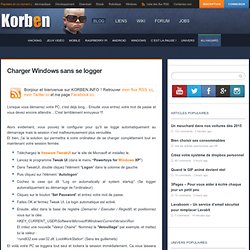 Ensuite vous entrez votre mot de passe et vous devez encore attendre... Turn an Old Computer into a Networked Backup, Streaming, or Torrenting Machine with Ubuntu. How about some tips on using a Rasberry Pi for a really cheap, lower power, low performance home server?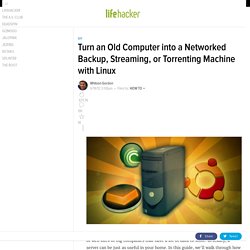 (aka, occasional backups and file storage, not a "home media center") Everyone keeps saying this, but my one question is...where do you put all the drives? The machine is cheap, but the HDD enclosure will dwarf the practicality of the machine. How to build a tin can waveguide antenna. Assemble the probe and mount in can Now you'll need that bit of wire.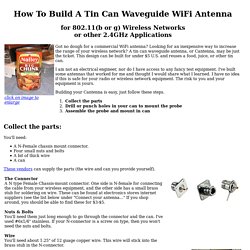 You'll need a soldering iron or a friend with one as well. Cut the wire so that when it is stuck in the connector as shown, the total length of both the brass tube and wire sticking out past the connector is 1.21". Build Your Own Unified, Cordless TV-Plus-Entertainment-Center Combo. Are wires really that in-view anymore?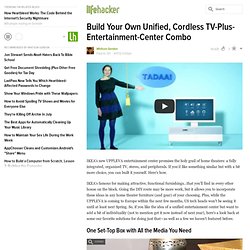 Pretty much every entertainment center on the market, whether it's from Target, Costco, Best Buy or Hammacher Schlemmer is built with pre-drilled access holes (for cabinets and drawers) or come with some sort of clips that hide the wires behind the shelf supports (for an open system). Even if you've got everything just sitting on a table somewhere, aren't all the wires pressed back behind the table anyway before coming up to the TV?
Maybe I'm spoiled, but even the crappy 60 dollar tv stand in my office (that still rocks an SD tube tv) hides wires just fine by itself, having a dvd player, cable box and (dare I admit) a VCR plugged in. Is There Anything Awesome I Can Do with All These Unused Ports on My TV? What Should I Use for My Home Theater PC: Apple TV, Nettop, Old Computer, or Something Else? How to Make a Wi Fi Booster Using Only a Beer Can. Build Wi-Fi Speakers to Stream Music Anywhere. I want to put wireless speakers in 5 places in my house, but I don't have $900 to throw down for 5 squeeze boxes.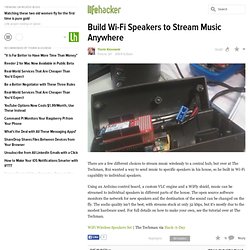 What do you suggest as an alternative? Or are you just a shill for logitech? Wow, that's a little harsh. If you don't have $900, then you're not going to be able to put together the hardware necessary to build the wireless side of your five speaker system. $900 would get you the controllers, encoders and wireless for your five setup, but you would still need the speakers and amplifiers. Bluetooth Headset Hack. My mum wanted to play some music from my desktop computer on her stereo(which doesnt have usb support but has stereo jack audio input) - and I was looking for reasons to hack stuff. so i took old broken bluetooth headset (that my ex broke...bla bla ) and hacked it to include a stereo jack - and now she just plugs it in and plays the tunes(audio streaming) :) Future improvements: 1.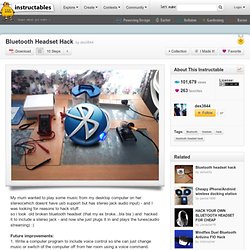 Write a computer program to include voice control so she can just change music or switch of the computer off from her room using a voice command. 2.Hack the stereo to charge the bluetooth headset without unpluging it. (she probably wont let me do that lol ) Velcro + sugru mini cable tidy | sugru | Hack Things Better.
---