Finance
"Move Your Money" Goes Nationwide As Cities Pull Their Money | Economy. Photo Credit: Sasha Kimel March 29, 2012 | Like this article?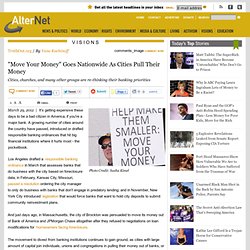 Join our email list: Home. About Co-ops - National Cooperative Business Association. Association Services Pat Brownell Sterner, Chief Operating Officer Click Here To Email Pat 202-638-6222 Bryan Munson, Director, Membership Click Here To Email Bryan 202.442.2318 Tom Decker, Director, Cooperative Development Click Here To Email Tom 202.442.2318 The National Cooperative Business Association CLUSA (NCBA CLUSA) represents a cross-sector co-op community of 29,000 businesses that control over $3 trillion in assets.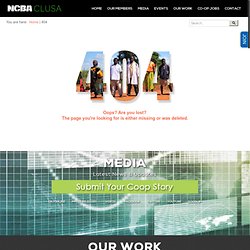 We unite co-ops by promoting the cooperative business model, driving cross-sector collaboration, and being the national 'voice' for cooperatives to raise the profile of co-ops everywhere. Move Your Money Project. Permaculture Design/Financial permaculture. Financial Permaculture is an approach to economics that emphasizes personal investment and community development.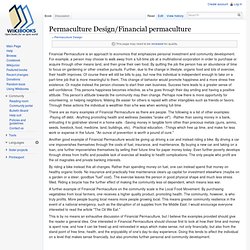 For example, a person may choose to walk away from a full-time job at a multinational corporation in order to purchase or acquire through other means land, and then grow their own food. By quitting the job the person has an abundance of time to focus on gardening or other creative pursuits. Further, due to the change in lifestyle, organic food and lots of exercise, their health improves. Financial Permaculture: 8 forms of Capital « Punk Rock Permaculture E-zine. The eight forms of captial is a excellent foundation for the concepts behind financial permaculture.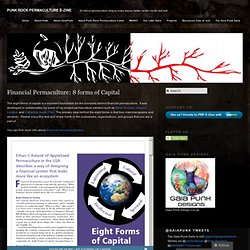 It was developed in collaboration by some of my closest permaculture mentors such as Ethan Roland, Gregory Landua, and Catherine Austin Fitts. The primary idea behind the eight forms is that they interchangeable and dynamic. Please enjoy this text and share it with in the businesses, organizations, and groups that you are a part of. You can find more info about financial permaculture here. Like this: Financial Permaculture. Financial Permaculture-The Solari Report Blog. Financial Permaculture Institute. Permaculture Credit Union.
---