Scalable distributed computing/storage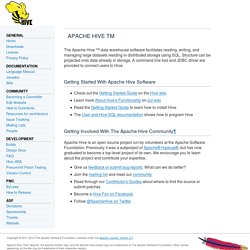 The Apache Hive™ data warehouse software facilitates querying and managing large datasets residing in distributed storage. Hive provides a mechanism to project structure onto this data and query the data using a SQL-like language called HiveQL. At the same time this language also allows traditional map/reduce programmers to plug in their custom mappers and reducers when it is inconvenient or inefficient to express this logic in HiveQL. Getting Started Getting Involved Hive is an open source volunteer project under the Apache Software Foundation.
What Is Apache Hadoop? The Apache™ Hadoop® project develops open-source software for reliable, scalable, distributed computing. The Apache Hadoop software library is a framework that allows for the distributed processing of large data sets across clusters of computers using simple programming models. It is designed to scale up from single servers to thousands of machines, each offering local computation and storage.
lg's murder at master - GitHub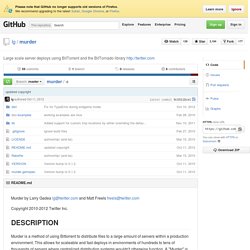 README.md Murder by Larry Gadea lg@twitter.com and Matt Freels freels@twitter.com Copyright 2010-2012 Twitter Inc. Murder is a method of using Bittorrent to distribute files to a large amount of servers within a production environment. This allows for scaleable and fast deploys in environments of hundreds to tens of thousands of servers where centralized distribution systems wouldn't otherwise function.
MirrorBrain - Download Redirector and generates Metalinks, Torrents and crypto-hashes 
If you're new here, you may want to subscribe to my RSS feed and if you have questions related to your ubuntu system post question to our forums. Thanks for visiting! Sponsored Link MirrorBrain is an open source framework to run a content delivery network using mirror servers.