Scalable distributed computing/storage
Welcome to Hive! Welcome to Apache Hadoop! Lg's murder at master - GitHub. MirrorBrain - Download Redirector and generates Metalinks, Torrents and crypto-hashes  If you're new here, you may want to subscribe to my RSS feed and if you have questions related to your ubuntu system post question to our forums.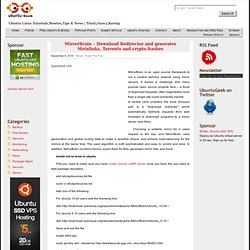 Thanks for visiting! Sponsored Link MirrorBrain is an open source framework to run a content delivery network using mirror servers.
---