Instructional Design Methods & Models
5 Tips to Make Rapid E-Learning Interactive. When building rapid elearning with PowerPoint it can be a challenge to get away from linear courses.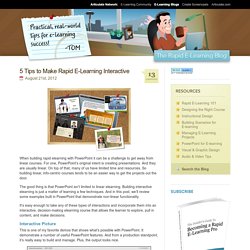 For one, PowerPoint's original intent is creating presentations. And they are usually linear. How to Design Your E-learning Based on the Content Type? As a training manager, before planning your training program, you may take a look at the training content, and plan a training strategy accordingly.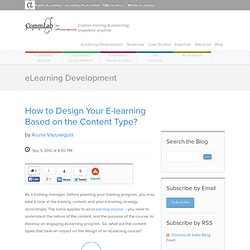 The same applies to an eLearning course – you need to understand the nature of the content, and the purpose of the course, to develop an engaging eLearning program. So, what are the content types that have an impact on the design of an eLearning course? Guide de l'e-learning à l'usage des PME (E-learning, formation, enseignement) Qu'est-ce que l'e-learning?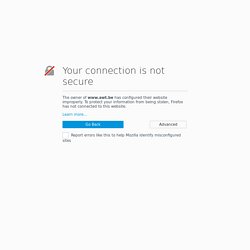 Que peut-il apporter à mon entreprise ou à mon organisme? Quelles solutions adopter? Outil d'aide à la décision, le guide e-learning de l'AWT permet aux décideurs de déterminer leur scénario d'adoption de l'e-learning Formez (ou informez) vos salariés, vos fournisseurs ou même vos clients! L'e-learning présente des potentialités très intéressantes (flexibilité, interactivité, etc.) qui permettent d'atteindre des objectifs variés: E-xcellence - Manual. The Traditional Concept of eLearning ROI is Gone! The Traditional Concept of eLearning ROI is Gone!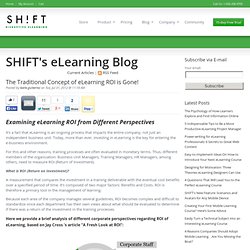 Examining eLearning ROI from Different Perspectives It's a fact that eLearning is an ongoing process that impacts the entire company, not just an independent business unit. The Thing about Multiple-Choice Tests … by Mike Dickinson. "The thing about multiple-choice questions is that the answer is right there on the screen.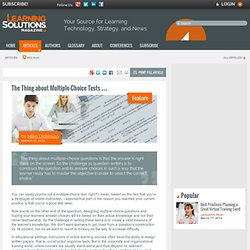 So the challenge as question-writers is to construct the question and its answer choices in such a way that the learner really has to master the objective in order to select the correct choice." You can easily psyche out a multiple-choice test, right? A Tool for Faculty Peer Review of Online Teaching | The Sloan Consortium® The peer review of teaching–like the peer review of research–is a widely accepted mechanism for promoting and assuring quality academic work, and is required the purpose of promotion and tenure at Penn State.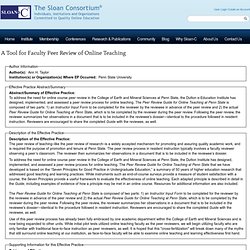 The peer review process in resident instruction typically involves a faculty reviewer observing a peer's classroom. The reviewer then summarizes her observations in a document that is to be included in the reviewee's dossier. To address the need for online course peer review in the College of Earth and Mineral Sciences at Penn State, the Dutton Institute has designed, implemented, and assessed a peer review process for online teaching. The Peer Review Guide for Online Teaching at Penn State that we have developed is based on the "Seven Principles for Good Practice in Undergraduate Education," a summary of 50 years of higher education research that addressed good teaching and learning practices. The process of designing a "Web 2.0″ introduction. The following tells the story of how and why I designed the following "Web 2.0″ (and yes, I am very reluctant to use that term for a range of reasons but will for a range of other reasons) introduction of myself.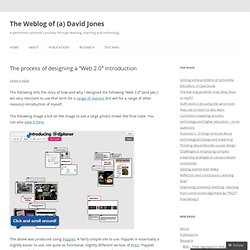 The following image (click on the image to see a large photo) shows the final state. You can also view it here. The above was produced using Popplet. Seven tips for developing an e-learning strategy. Part of my job is to provide e-learning strategy support to clients.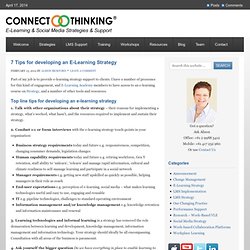 I have a number of processes for this kind of engagement, and E-Learning Academy members to have access to an e-learning course on Strategy, and a number of other tools and resources. Top line tips for developing an e-learning strategy 1. Talk with other organisations about their strategy – their reasons for implementing a strategy, what's worked, what hasn't, and the resources required to implement and sustain their strategy.
7 Strategies to Make Your Online Teaching Better. This GradHacker post is by Andrea Zellner, PhD candidate in Ed Tech/Ed Pysch at Michigan State University, @andreazellner There is no doubt that online education has arrived in Higher Education.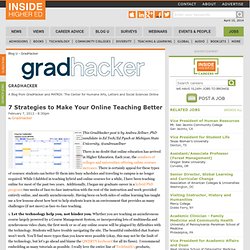 Each year, the numbers of colleges and universities offering online courses increases. There is certainly appeal for these types of courses: students can better fit them into busy schedules and traveling to campus is no longer required. While I dabbled in teaching hybrid and online courses for a while, I have been teaching online for most of the past two years. Méthode apte. Sous licence Creative Commons, la Méthode @pte vous est offerte en partage par le Vice-rectorat aux études de premier cycle et au soutien académique de l'Université du Québec à Trois-Rivières.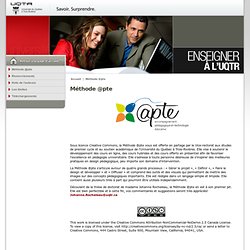 Elle vise à soutenir le développement des cours en ligne, des cours hybrides et des cours offerts en présentiel afin de favoriser l'excellence en pédagogie universitaire. Elle s'adresse à toute personne désireuse de s'inspirer des meilleures pratiques en design pédagogique, peu importe son domaine d'intervention. La Méthode @pte s'articule autour de quatre grands processus : « Gérer le projet », « Définir », « Faire le design et développer » et « Diffuser » et comprend des outils et des visuels qui permettent de mettre des images sur des concepts pédagogiques importants.
Elle est rédigée dans un langage simple et limpide. Elle contient aussi plusieurs tirés à part qui pourront être utilisés indépendamment. Instructional design. Comment bien publier son e-book, pour les nuls. Qui est donc Emma Wright, pour se permettre d'établir une liste des neuf vérités à savoir sur les e-books, ou de prodiguer des conseils sur le design le plus approprié aux livres numériques ?
Il se trouve que la jeune femme sait de quoi elle parle : cela fait plus de deux ans qu'elle conçoit elle-même des e-books. Pas bégueule, elle partage ses conclusions sur son blog. Il y a sans doute quelques gènes pédagogiques qui se sont glissés dans l'ADN d'Emma Wright : on pourra se moquer de sa manie de faire des listes (son site What Emma Learned en est truffé), sûrement pas de l'appel à la réflexion collective qu'elle vient de lancer aux éditeurs ou futurs éditeurs de livres numériques. Philippe Meirieu : accueil et actualité de la pédagogie. Virtual Training: Are You Engaging or Boring? by Jacqueline Beck. "It tends to be very foggy when you are training in the cloud, but remember, if you know your content, and design your training with user engagement and frequent interactivity, you will be sure to attain great results with virtual training from the cloud."
Cloud-based virtual training allows instructors to deliver content without being present in a classroom with the students. In virtual training, when you can't see the participants, how do you compensate for the environment? The answer is to engage learners through the pace of your presentation, skillful use of your voice, and thoughtful employment of the features of your conferencing platform. Here are a few tips for clearing away the fog and holding a successful virtual training session from the clouds. Use pace to engage the learner. Instructional Design Models & Theories | Instructional Design Central. Instructional Design Models and Methods "Models, like myths and metaphors, help us to make sense of our world.
Whether derived from whim or from serious research, a model offers its user a means of comprehending an otherwise incomprehensible problem. An instructional design model gives structure and meaning to an I.D. problem, enabling the would-be designer to negotiate her design task with a semblance of conscious understanding.
Models help us to visualize the problem, to break it down into discrete, manageable units. The value of a specific model is determined within the context of use. Méthode @pte Johanne Rocheleau. ADDIE Process of Instructional Design. The ADDIE Process (sometimes called the ADDIE Model) is a tool that many instructional designers use when creating instructional materials. This process follows five distinct phases and is used to help ensure quality instruction is created. The idea is that a designer should progress systematically from one phase to another as the instruction is conceptualized and created.
In this post, I will provide a basic overview of the ADDIE Process. Click the title of each phase to learn more about each of them.The Analysis Phase-The analysis phase is the foundation of the instructional design process. StoryTelling. Is Design Thinking Missing From ADDIE? Sharebar Even though a crucial part of our jobs involve design, the prevailing instructional design models are based on systems thinking. Systems thinking promotes an analytical or engineering type of mindset. But we also need an approach to help us synthesize, innovate and create. In many design fields today, people who are required to create on demand use a design thinking model for this purpose.
Design Thinking is Human-centered. Instructional Design Models. Scénarisation. How relevant is the ADDIE model in 2009?
---