Instructional Design Methods & Models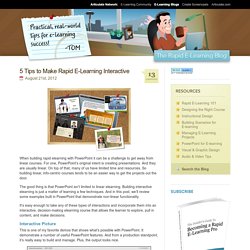 5 Tips to Make Rapid E-Learning Interactive
When building rapid elearning with PowerPoint it can be a challenge to get away from linear courses. For one, PowerPoint's original intent is creating presentations. And they are usually linear.
How to Design Your E-learning Based on the Content Type?
As a training manager, before planning your training program, you may take a look at the training content, and plan a training strategy accordingly. The same applies to an eLearning course – you need to understand the nature of the content, and the purpose of the course, to develop an engaging eLearning program. So, what are the content types that have an impact on the design of an eLearning course?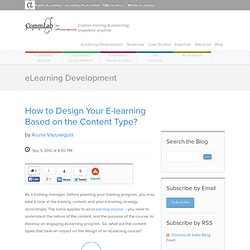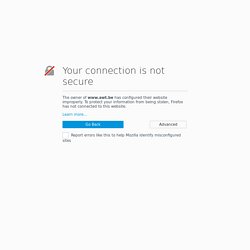 Qu'est-ce que l'e-learning? Que peut-il apporter à mon entreprise ou à mon organisme?
Guide de l'e-learning à l'usage des PME (E-learning, formation, enseignement)
E-xcellence - Manual
The Traditional Concept of eLearning ROI is Gone!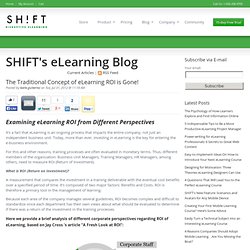 The Traditional Concept of eLearning ROI is Gone! Examining eLearning ROI from Different Perspectives It's a fact that eLearning is an ongoing process that impacts the entire company, not just an independent business unit.
"The thing about multiple-choice questions is that the answer is right there on the screen. So the challenge as question-writers is to construct the question and its answer choices in such a way that the learner really has to master the objective in order to select the correct choice." You can easily psyche out a multiple-choice test, right?
The Thing about Multiple-Choice Tests … by Mike Dickinson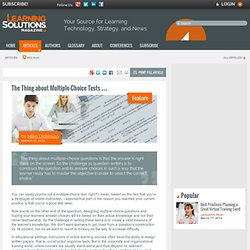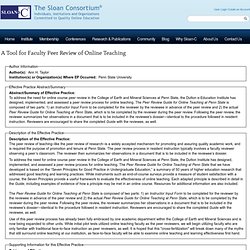 The peer review of teaching–like the peer review of research–is a widely accepted mechanism for promoting and assuring quality academic work, and is required the purpose of promotion and tenure at Penn State.
A Tool for Faculty Peer Review of Online Teaching | The Sloan Consortium®
The following tells the story of how and why I designed the following "Web 2.0″ (and yes, I am very reluctant to use that term for a range of reasons but will for a range of other reasons) introduction of myself.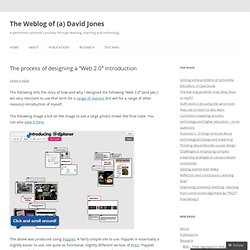 The process of designing a "Web 2.0″ introduction
Part of my job is to provide e-learning strategy support to clients.
Seven tips for developing an e-learning strategy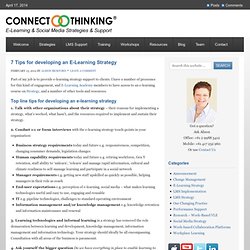 7 Strategies to Make Your Online Teaching Better
This GradHacker post is by Andrea Zellner, PhD candidate in Ed Tech/Ed Pysch at Michigan State University, @andreazellner
Méthode apte
Sous licence Creative Commons, la Méthode @pte vous est offerte en partage par le Vice-rectorat aux études de premier cycle et au soutien académique de l'Université du Québec à Trois-Rivières. Elle vise à soutenir le développement des cours en ligne, des cours hybrides et des cours offerts en présentiel afin de favoriser l'excellence en pédagogie universitaire.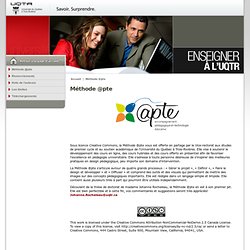 Comment bien publier son e-book, pour les nuls
Qui est donc Emma Wright, pour se permettre d'établir une liste des neuf vérités à savoir sur les e-books, ou de prodiguer des conseils sur le design le plus approprié aux livres numériques ?
Philippe Meirieu : accueil et actualité de la pédagogie
"It tends to be very foggy when you are training in the cloud, but remember, if you know your content, and design your training with user engagement and frequent interactivity, you will be sure to attain great results with virtual training from the cloud." Cloud-based virtual training allows instructors to deliver content without being present in a classroom with the students.
Virtual Training: Are You Engaging or Boring? by Jacqueline Beck
Instructional Design Models & Theories | Instructional Design Central
Instructional Design Models and Methods "Models, like myths and metaphors, help us to make sense of our world.
Méthode @pte Johanne Rocheleau
ADDIE Process of Instructional Design
The ADDIE Process (sometimes called the ADDIE Model) is a tool that many instructional designers use when creating instructional materials.
Sharebar Even though a crucial part of our jobs involve design, the prevailing instructional design models are based on systems thinking.
Is Design Thinking Missing From ADDIE?
Instructional Design Models
How relevant is the ADDIE model in 2009? | CreateDebate