Articles
e-learning : mobilité et simplicité pour 2012
ID and Other Reflections: From Instructional Design to Enterprise Community Facilitation | Technologie Éducative
The UIS publishes a broad range of publications, including analytical reports, technical papers and statistical frameworks.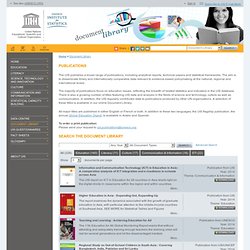 Publications
Historique La mission première de la cellule TICE de TELECOM & Management Sudparis -ex INT- étant d'accompagner les enseignants dans leur apprentissage et leur usage des TICE, nous avons conçu la version 1 de ce guide en 2001 en nous basant sur les technologies du web.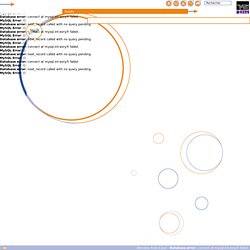 Guides - TÉLUQ – Programmes en technologie éducative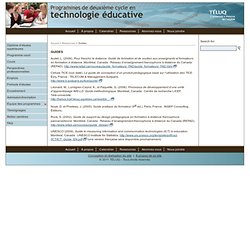 Audet, L. (2006). Pour franchir la distance: Guide de formation et de soutien aux enseignants et formateurs en formation à distance.
Book Review: 100 Things Every Online Student Ought to Know by Bill Brandon
The sections on online learning and study skills and strategies, and on how to benefit from online student support, might well be of some value for students with weaker abilities in those specific areas. The concept might also be adaptable for use with training programs in business and government.
E-Learning-Storyboarding-and-Design-Tips.pdf (Objet application/pdf)
Sharebar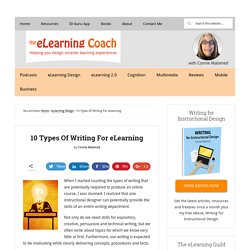 The New Learning Architect: A Book Review
Sharebar Clive Shepherd's latest book, The New Learning Architect, starts out where many books for training professionals end.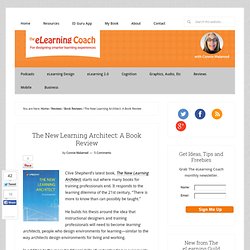 11 Ways to Learn in 2011
Sharebar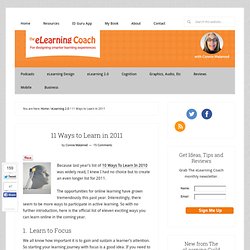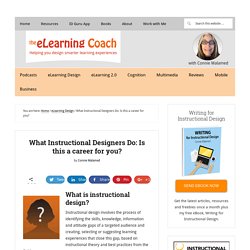 What Instructional Designers Do-Updated
Sharebar What is instructional design?
curriculumdeliveryfinalreport.pdf (application/pdf Object)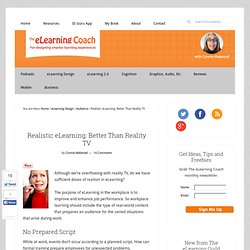 Sharebar
Reality eLearning
http://staff.science.uva.nl/~maarten/Think-aloud-method.pdf
http://fon.fon.rs/~devedzic/IC2007.pdf
http://www.wallacehannum.com/ISD%20Retrospective.pdf
No Significant Difference - Presented by WCET
apprentissage_et_sciences_cognitives
A Cognitive Theory of Multimedia Learning: Implications for Design Principles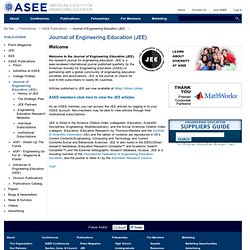 JEE: Journal of Engineering Education
Welcome to the Journal of Engineering Education (JEE), the research journal for engineering education. JEE is a peer-reviewed international journal published quarterly by the American Society for Engineering Education (ASEE) in partnership with a global community of engineering education societies and associations. JEE is the journal of choice for over 8,500 subscribers in nearly 80 countries. Articles published in JEE are now available at Wiley Online Library.
T1 complet Rocheleau pdf free ebook download from www.uquebec.ca
Instructional matérials and activities should
Le concept de média d'apprentissage
Johanne Rocheleau
2011_Rocheleau
Research Library Guild Research delivers four specific types of research reports whose single goal is helping you make sense of the depth of our field. We work with great thinkers to analyze existing and new sources of knowledge and bring you concise reports that you can use to make important decisions, inform practice, and keep up-to-date. This is where you will find out about research in the field, new technologies, and what your peers are doing and thinking, in practical language. More Info >
What Guild Research Has to Say about e-Learning Trends : Online Forums Archive
Richard F.
A Review of What Instructional Designers Do: Questions Answered and Questions Not Asked | Kenny
XEnvoyer cet article par e-mail
e-learning – Le temps du 3.0
Précis de recherche en EIAH
L'objet des travaux de recherche relatifs aux Environnements Informatiques pour l'Apprentissage Humain (EIAH) est d'étudier les situations pédagogiques informatisées et les logiciels qui permettent ces situations. L'utilisation de l'informatique pour l'apprentissage et l'enseignement se développe et évolue sous le coup de différents facteurs inter-reliés comme la poussée technologique (faible coût des technologies, facilité et banalisation de leurs usages), l'évolution des connaissances scientifiques, la demande sociale ou encore l'évolution des pratiques des enseignants et des élèves. Au sein des travaux et actions liés aux EIAH, les travaux de recherche ont un rôle particulier à jouer : élaborer des connaissances.
How Interactive are YOUR Distance Courses
On Design » Sustainability Research by Designers: An Anthology