Second Life
The Future of Virtual Worlds: A Prelude. My last posts discussed how Linden Lab's Enterprise-focused business strategy between 2008-2010 helped derail Second Life's fast-track growth and contributed to the subsequent history of grid contraction and active user stagnation.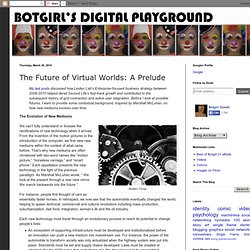 Before I look at possible futures, I want to provide some contextual background, inspired by Marshall McLuhan, on how new mediums evolves over time. The Evolution of New Mediums We can't fully understand or foresee the ramifications of new technology when it arrives. From the invention of the motion pictures to the introduction of the computer, we first view new mediums within the context of what came before. That's why new mediums are often christened with two-word names like "motion picture," "horseless carriage," and "smart phone."
SLOODLE. Blog » Tutorials. For more SLOODLE videos, visit the SLOODLE Channel on YouTube: Contents: SLOODLE 1.x videos SLOODLE Awards videos SLOODLE 0.4 videos, plus… SLOODLE 1.x.
:: The know|age - La formation eLearning chez Symetrix :: Cours: Projet sloodle : Moodle et Second Life. Sloode GRICS. Educational Uses. Mondes virtuels. Rémi Sussan nous invite à nous plonger dans l'histoire et le futur des mondes virtuels.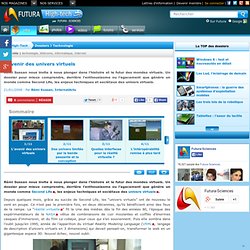 Un dossier pour mieux comprendre, derrière l'enthousiasme ou l'agacement que génère un monde comme Second Life, les enjeux techniques et sociétaux des univers virtuels. Depuis quelques mois, grâce au succès de Second Life, les "univers virtuels" ont de nouveau le vent en poupe. Ce n'est pas la première fois, en deux décennies, qu'ils bénéficient ainsi des feux de la rampe.
---