Second Life
Blog » Tutorials
For more SLOODLE videos, visit the SLOODLE Channel on YouTube: Contents:
:: The know|age - La formation eLearning chez Symetrix ::
Tous ceux qui s'intéressent au e-Learning ont entendu parler de Moodle , la plateforme LMS (Learning Management System) libre (licence GPL). C'est sans doute la plateforme la plus utilisée dans l'enseignement, notamment en raison de son orientation pédagogique spécifique : la pédagogie socio-constructiviste . Tout le monde a également entendu parler des mondes virtuels dont le plus connu est Second Life. Mais connaissez-vous Sloodle ? Aujourd'hui, on parle beaucoup des jeux vidéos et simulations et de leur utilisation à des fins sérieuses : les Serious Games .
Cours: Projet sloodle : Moodle et Second Life
Sloode GRICS
Rémi Sussan nous invite à nous plonger dans l'histoire et le futur des mondes virtuels. Un dossier pour mieux comprendre, derrière l'enthousiasme ou l'agacement que génère un monde comme Second Life , les enjeux techniques et sociétaux des univers virtuels . Depuis quelques mois, grâce au succès de Second Life, les "univers virtuels" ont de nouveau le vent en poupe. Ce n'est pas la première fois, en deux décennies, qu'ils bénéficient ainsi des feux de la rampe.
Mondes virtuels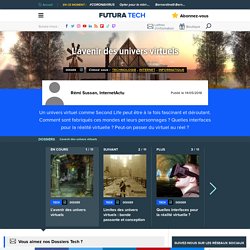 Linden Lab Announces Co-Winners of Inaugural Linden Prize | Lind