Pédagogie et soutenabilité
Education au développement durable : l'oeil expert de Francine Pellaud. Ni une ni deux, elle s'inscrit et c'est parti.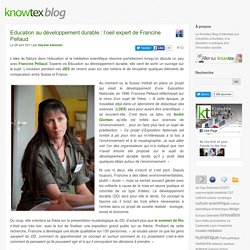 Depuis toujours, Francine a des idées environnementalistes, plutôt « écolo », mais se sentait souvent gênée avec les militants à cause de la mise en œuvre pratique et concrète de ce type d'idées. Le développement durable (DD) sera pour elle le déclic. Ce concept la fascine car il inclut les trois piliers nécessaires à l'entrée dans un projet de société réaliste : écologie, social et économie. Du coup, elle orientera sa thèse sur la présentation muséologique du DD, d'autant plus que le sommet de Rio n'était pas très loin, avec le but de finaliser une exposition grand public sur ce thème. Profitant de cette recherche, Francine a développé une étude qualitative sur 150 personnes. New Approaches to Education for Sustainability 10th-16th October 2010 – Shrewsbury, UK | Sense and Sustainability training.
" Oh my!
This is 'must have' have book for educators and business. This book really does set the bench mark for what is to come in ESD and boy is it optimistic in it's message (that's right, you heard me, OPTIMISTIC!)!..." -a review of the book Sense&Sustainability by an Eco Schools Coordinator in the UK An opportunity to spend a week looking at ESD in depth with leading thinkers and practitioners in the UK.
A shared vision for sustainable development in higher education | SD Scene. Higher education has a unique contribution to make towards sustainable development.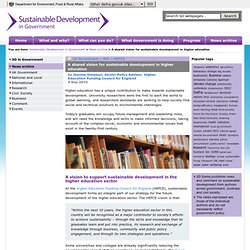 University researchers were the first to alert the world to global warming, and researchers worldwide are working to help society find social and technical solutions to environmental challenges. Today's graduates will occupy future management and leadership roles, and will need the knowledge and skills to make informed decisions, taking account of the complex social, economic and environmental issues that exist in the twenty-first century. A vision to support sustainable development in the higher education sector. Explore. Ecoliterate view all content > How can teaching and learning advance academic achievement; address today's important ecological challenges; and help develop strength, hope and resiliency in young people?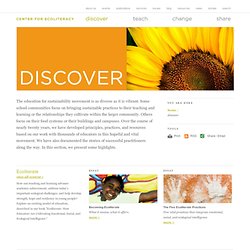 Explore an exciting model of education, described in our book "Ecoliterate: How Educators Are Cultivating Emotional, Social, and Ecological Intelligence. " Education for sustainability - 2009 .pdf. The Handbook of Sustainability Literacy - University of Brighton - Faculty of Arts. The Handbook of Sustainability Literacy: multimedia version.
Edited by Poppy Villiers-Stuart and Arran Stibbe You can browse this online resource by chapters from the paperback, additional chapters as well as Video interviews. In this ground-breaking book, leading sustainability educators are joined by literary critics, permaculturalists, ecologists, artists, journalists, engineers, mathematicians and philosophers in a deep reflection on the skills people need to survive and thrive in the challenging conditions of the 21st century.
Responding to the threats of climate change, peak oil, resource depletion, economic uncertainty and energy insecurity demands the utmost in creativity, ingenuity and new ways of thinking in order to reinvent both self and society. Course - Environnement and sustainable development. Educating for a circular economy - 2010 .pdf.
United Nation University
Education. We aim to influence education policy and practice, ensuring all young people develop the understanding and skills required to play an informed role in society.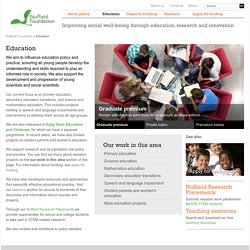 We also support the development and progression of young scientists and social scientists. Our current focus is on foundations for learning; secondary education transitions; science and mathematics education; and women's education and student parents. We support research and its translation into policy and practice. Teachers. Find out about our education projects and free teaching resources from the links on this page.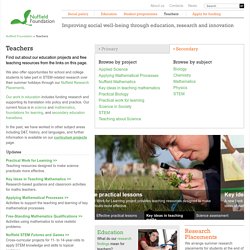 We also offer opportunities for school and college students to take part in STEM-related research over their summer holidays through our Science Bursaries programme . Our work in education includes funding research and supporting its translation into policy and practice. Our current focus is in science and mathematics , foundations for learning , secondary education transitions and women's education and student parents . In the past, we have worked in other subject areas including D&T, history, and languages, and further information is available on our past projects page. Cells to systems - Areas - Practical Biology.
Environmental Learning. Clear implications for enhancing environmental learning practice, policy and research Grounded in everyday practice with rich, detailed examples from school and university classrooms Clear focus on learner perspective and experience, i.e. what environmental education looks and feels like for students Environmental education and education for sustainable development have become features of many countries' formal education systems.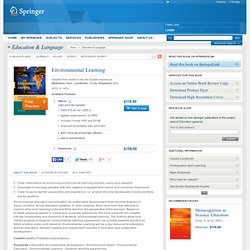 To date, however, there have been few attempts to explore what such learning looks and feels like from the perspective of the learners. Based on in-depth empirical studies in school and university classrooms, this book presents rich insights into the complexities and dynamics of students' environmental learning. The authors show how careful analysis of students' environmental learning experiences can provide powerful pointers for future practice, policy and research.
---