Ludification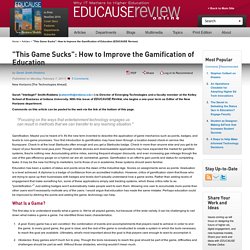 Sarah "Intellagirl" Smith-Robbins (sabsmith@indiana.edu) is Director of Emerging Technologies and a faculty member at the Kelley School of Business at Indiana University. With this issue of EDUCAUSE Review, she begins a one-year term as Editor of the New Horizons department.
"This Game Sucks": How to Improve the Gamification of Education (EDUCAUSE Review
Motivate. Play. - Eight Mechanics to Enhance Cooperation in Multiplayer Games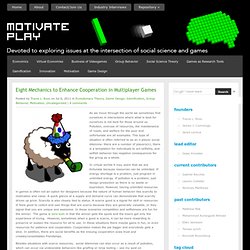 As we move through the world we sometimes find ourselves in interactions where what is best for ourselves is not best for those around us. Pollution, overuse of resources, the maintenance of roads, and welfare for the poor and unfortunate are all examples. This type of situation is often referred to as an n-player social dilemma: there are a number of players(n), there is a temptation for individuals to act selfishly, and selfish behavior has negative consequences for the group as a whole. In virtual worlds it may seem that we are fortunate because resources can be unlimited.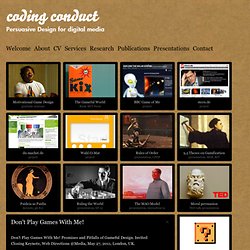 coding conduct
Don't Play Games With Me! Don't Play Games With Me!
sebastian-deterding
How Social Media & Game Mechanics Can Motivate Students
Patrick Supanc is the President of College and Career Readiness at Pearson, where he focuses on new market development, digital innovation and product strategy. He has been a teacher in Indonesia, an education policy adviser at the World Bank and UN, and led K-12 market development at Blackboard. Social media and online games have the potential to convey 21st century skills that aren't necessarily part of school curricula — things like time management, leadership, teamwork and creative problem solving that will prepare teens for success in college and beyond. Making the transition between a highly structured environment in high school to a self-driven, unstructured environment in college can prove a huge challenge for many kids. Educators spend a lot of time thinking about how to fix this problem.