Références anglophones
CEFAS DEFRA 12/10/11 Présentation : The role of the Fish Health Inspectorate in the NSS for Veterinary Residues in Farmed Fish. IFREMER - 1992 - Monitoring of pollutant biochemical effects on marine organisms of the French coasts. QUEEN'S UNIVERSITY BELFAST - NOV 012 - safefood - Chemical Residues Network eNewsletter November 2012. JOURNAL OF EXPOSURE ANALYSIS AND ENVIRONMENTAL EPIDEMIOLOGY - 2001 - The association between local fish consumption and DDE, mir. MARINE ENVIRONMENT & HEALTH SERIES - 2013 - Chemical residues in Irish farmed finfish, 011. CHEMOSPHERE - 2003 - Study on PCBs, PCDD/Fs, organochlorine pesticides, heavy metals and arsenic content in freshwater fish spec.
Références universitaires
CENTRAL MARINE FISCHERIES RESEARCH INSTITUTE (Inde) - Fishery Environment Management. Coastal marine ecosystems all over the world are under unrelenting stress caused by anthropogenic activities such as urban development, dumping of hazardous or toxic substances, habitat destruction and coastal aquaculture.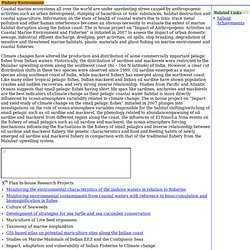 Information on the state of health of coastal waters due to toxic trace metal pollution and other human interference becomes an obvious necessity to evaluate the extent of marine habitat disruption along the Indian coast. The in house project on "Impact of Anthropogenic Activities on Coastal Marine Environment and Fisheries" is initiated in 2007 to assess the impact of urban domestic sewage, industrial effluent discharge, dredging, port activities, oil spills, ship breaking, degradation of sensitive and threatened marine habitats, plastic materials and ghost fishing on marine environment and coastal fisheries.
Climate changes have altered the production and distribution of some commercially important pelagic fishes from Indian waters. EHP 12/10/11 Seafood Contamination After the BP Gulf Oil Spill and Risks to Vulnerable Populations: A Critique of the FDA Risk A. Sign in to NCBI US National Library of Medicine National Institutes of Health Display Settings: Summary Send to: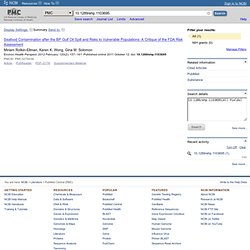 ENVIRONMENTAL SCIENCE & TECHNOLOGY 28/07/11 Veterinary drug residues in seafood inspected by the European Union, United States, Johns Hopkins Center for a Livable Future, Johns Hopkins Bloomberg School of Public Health, Baltimore, Maryland 21205, United States Department of Environmental Health Sciences, Johns Hopkins Bloomberg School of Public Health, Baltimore, Maryland 21205, United States Department of Health Policy and Management, Johns Hopkins Bloomberg School of Public Health, Baltimore, Maryland 21205, United States Environ.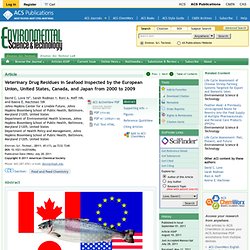 Sci. Technol., 2011, 45 (17), pp 7232–7240. DG SANCO 18-06-2008 Residues of Veterinary Medicinal Products - Third Countries - An example of a completed specimen plan for aq. 2005 - Responsible use of antibiotics in aquaculture. As. J. Food Ag-Ind. 2009, 2(04), 440-444 Studies on toxic elements accumulation in shrimp from fish feed used in Bangladesh. PAKISTAN JOURNAL OF BIOLOGICAL SCIENCES - 2008 - Chemical composition of raw fish consumed in Bahrain. VIRGINIA DEPARTMENT OF HEALTH 30/07/11 Consumption Advisories and Restrictions in Effect for Virginia Waterways. Consumption Advisories and Restrictions in Effect for Virginia Waterways Download a PDF of the fish advisory fact sheet Fishing in Virginia waters provides many benefits including food and recreational enjoyment.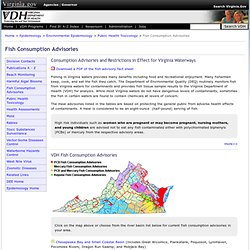 Many fishermen keep, cook, and eat the fish they catch. The Department of Environmental Quality (DEQ) routinely monitors fish from Virginia waters for contaminants and provides fish tissue sample results to the Virginia Department of Health (VDH) for analysis. While most Virginia waters do not have dangerous levels of contaminants, sometimes the fish in certain waters are found to contain chemicals at levels of concern. CLIMATE AND POLLUTION AGENCY (Norvege) 11/01/11 Hazardous substances in fjords and coastal waters - 2009. Levels, trends and eff. This report is part of the Norwegian contribution to OSPAR¿s Coordinated Environmental Monitoring Programme (CEMP).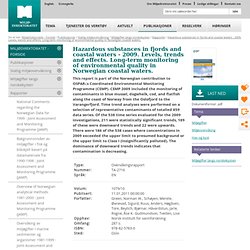 CEMP 2009 included the monitoring of contaminants in blue mussel, dogwhelk, cod, and flatfish along the coast of Norway from the Oslofjord to the Varangerfjord. Time trend analyses were performed on a selection of representative contaminants of totalled 859 data series. Of the 538 time series evaluated for the 2009 investigations, 211 were statistically significant trends, 189 of these were downward trends and 22 were upwards. There were 186 of the 538 cases where concentrations in 2009 exceeded the upper limit to presumed background or the upper limit to Class I (insignificantly polluted).
Références NIFES
ALBERTA ENVIRONMENT - SEPT 2007 - OVERVIEW OF FISH CONTAMINANT MONITORING PROGRAMS IN JURIDICTIONS AND SUMMARY OF ALBERTA STUDIE.
---