US community evangelists
Salaries benchmark. Online Community Manager Salaries - Free Salary Search | Indeed. Average salaries. How much does employee insurance (health, vision, dental) cost p. On the move « Web Strategy by Jeremiah Owyang | Social Media, We. There was an increased set of job moves this past month, primarily Both the submissions on this job announcement board, as well as available social media positions at corporations continue to pour in.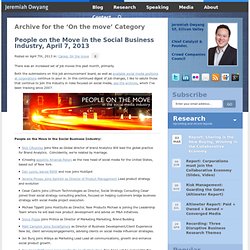 In this continued digest of job changes, I like to salute those that continue to join the industry in roles focused on social media, see the archives, which I've been tracking since 2007. People on the Move in the Social Business Industry: List of Social Computing Strategists and Community Managers for. If you're interested in jobs for this space, please read the "on the move" posts.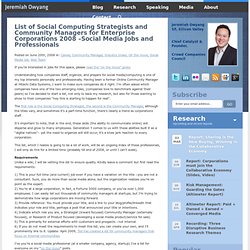 Understanding how companies staff, organize, and prepare for social media/computing is one of my top interests personally and professionally. Having been a former Online Community Manager at Hitachi Data Systems, I want to make sure companies do it right. I'm often asked which companies have one of the two emerging roles, (companies love to benchmark against their peers) so I've decided to start a list, not only to back my research, but also for those wanting to show to their companies "hey this is starting to happen for real". Web Strategy and Social Media Jobs. The Senior Community Manager at Reputation.com will: Manage daily social media activities for Reputation.coms social accounts Help shape and execu... more Community Manager | Full-time Direct cross-functional, cross-organizational teams and agencies in the development and execution of GTM web and Marketing database?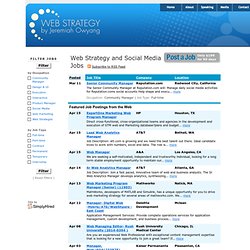 Free applicant tracking system, Recruiting software to post jobs. Community evangelist jobs. Social Media Jobs. Jobs In Social Media. Position TitleCampus Marketing Manager Position SummaryUnder the direction of Antioch University Executive Director of Marketing and the Campus President the Marketing Manager is... more Our client is seeking a Social Media Strategy Manager in Plano, Texas (TX).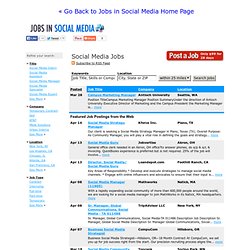 Overall Purpose: As Community Manager, you will play a vital role in defining the goals and strategy... more General office clerk needed in an Akron, OH office? To answer phones, do a/p & a/r, & invoicing. New Media, Social Media, Digital Media Community and Jobs - New. Social Media Resources - The Altimeter.
Paycheck Calculator. How much does employee insurance (health, vision, dental) cost p.
---