Document services
Scribd. RockYou. RockYou's mission is to engage the world through social applications.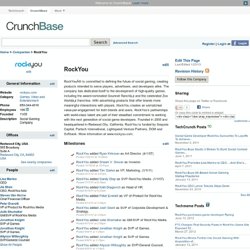 RockYou builds the most popular social experiences on the web through properties like Zoo World, Pieces of Flair, and Birthday Cards. With over 215MM users a month, RockYou Media helps advertisers build a more personal connection with social media consumers and their friends. RockYou's social media advertising platform serves over 400MM impressions a day across the leading social networks like Facebook and MySpace, offering innovative ad products like Deal of the Day and social video ads to a wide range of publishers.
Headquartered in Redwood City, California, RockYou is funded by Sequoia Capital, Partech International, Lightspeed Venture Partners, Doll Capital Management, SoftBank, and SK Telecom. SlideShare. Docstoc. Docstoc is the premier online business for the best quality and widest selection of documents used to start, grow, and manage your professional life and small business.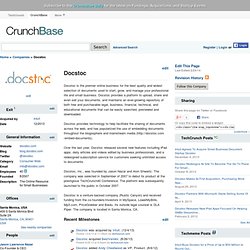 Docstoc provides a platform to upload, share and even sell your documents, and maintains an ever-growing repository of both free and purchasable legal, business, financial, technical, and educational documents that can be easily searched, previewed and downloaded. Docstoc provides technology to help facilitate the sharing of documents across the web, and has popularized the use of embedding documents throughout the blogosphere and mainstream media ( Calameo. Calaméo is a program that instantly creates interactive web publications.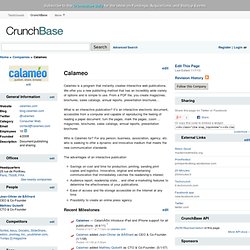 We offer you a new publishing method that has an incredibly wide variety of options and is simple to use. From a PDF file, you create magazines, brochures, sales catalogs, annual reports, presentation brochures… Edocr. DoXtop. Doxtop is a free, open social content publisher that puts the power of a full-blown virtual publishing house at your fingertips.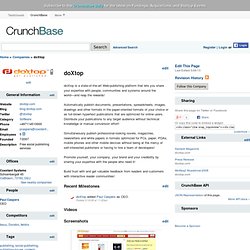 With doxtop, you can author and publish just about anything onto the Web in a split-second: short stories, novels, brochures, white papers, newsletters, magazines, resumes, job descriptions, educational materials, annual reports, research studies, e-books and much more! Then publish, distribute, discuss, and market your publications online in any format for the viewing pleasure of any person, group, community or network on the Web—with the click of a button, and without having to understand Web technology. doxtop enables you to: Cut out all the middlemen and accelerate your time to market: doxtop puts you in control of the fastest, easiest and yet most comprehensive online publishing process on the planet.
Publish what you want, where you want, when you want—for free! Twidox. Bookgoo. Bookgoo allows you to upload, annotate, and collaborate with your documents.
The site allows you highlight and annotate your documents in the same way you would mark up a piece of paper with a highlighter and pen. Bookgoo allows you to then share your annotated documents with friends & colleagues. In turn, the people you share your documents with can highlight and annotate your document and provide comments on your annotations. Issuu. Issuu is digital publishing and discovery platform that connects people to content for which they have great passion, created by publishers large and small, that share that passion.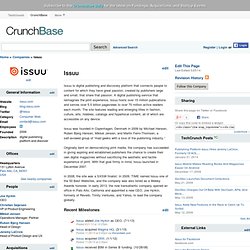 A digital publishing service that reimagines the print experience, Issuu hosts over 15 million publications and serves over 5.5 billion pageviews to over 70 million active readers each month. The site features leading and emerging titles in fashion, culture, arts, hobbies, catalogs and hyperlocal content, all of which are accessible on any device. Issuu was founded in Copenhagen, Denmark in 2006 by Michael Hansen, Ruben Bjerg Hansen, Mikkel Jensen, and Martin Ferro-Thomsen, a self-avowed group of "mad geeks with a love of the publishing industry."
---