Blog & website platforms
Blogger Developers Network. Blogger APIs - Google Code. The Blogger API v3 allows client applications to view and update Blogger content.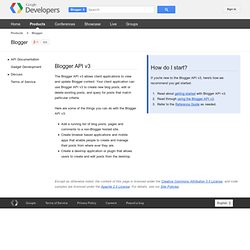 Your client application can use Blogger API v3 to create new blog posts, edit or delete existing posts, and query for posts that match particular criteria. Here are some of the things you can do with the Blogger API v3: Add a running list of blog posts, pages and comments to a non-Blogger hosted site. Create browser based applications and mobile apps that enable people to create and manage their posts from where ever they are. Create a desktop application or plugin that allows users to create and edit posts from the desktop.
TypePad - Widgets - Become a Widget Developer. Gallery. Plugins. Plugins Languages: العربية • English • Español • Français • 日本語 • 한국어 • Македонски • Português • Português do Brasil • Русский • Slovenčina • ไทย • 中文(简体) • 中文(繁體) • (Add your language) Introduction Plugins are tools to extend the functionality of WordPress.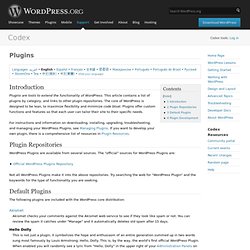 This article contains a list of plugins by category, and links to other plugin repositories. The core of WordPress is designed to be lean, to maximize flexibility and minimize code bloat. Writing a Plugin. Writing a Plugin Languages: English • বাংলা • Español • 日本語 • 한국어 • Português do Brasil • Русский • ไทย • 中文(简体) • (Add your language) WordPress Plugins allow easy modification, customization, and enhancement to a WordPress blog.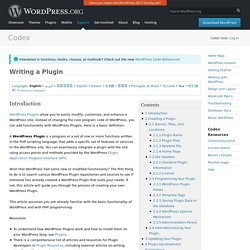 Instead of changing the core programming of WordPress, you can add functionality with WordPress Plugins. Here is a basic definition: Plugin API. Plugin API Languages: বাংলা • English • Español • Français • 日本語 • 한국어 • Português do Brasil • ไทย • 中文(简体) • Русский • (Add your language) Introduction This page documents the API (Application Programming Interface) hooks available to WordPress plugin developers, and how to use them.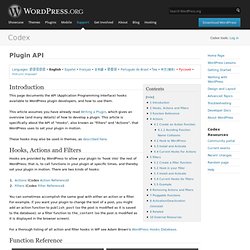 WordPress Plugins. Plugins can extend WordPress to do almost anything you can imagine.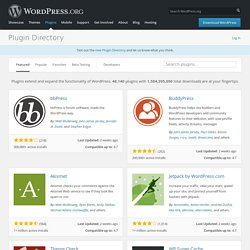 In the directory you can find, download, rate, and comment on all the best plugins the WordPress community has to offer. WP Super Cache Download A very fast caching engine for WordPress that produces static html files. Most Popular. WordPress Plugins » Most Popular Akismet Akismet checks your comments against the Akismet web service to see if they look like spam or not.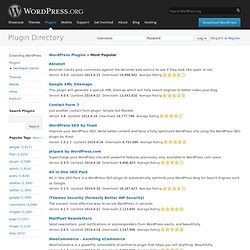 API - The place to post everything. About. API. Welcome to the Tumblr API!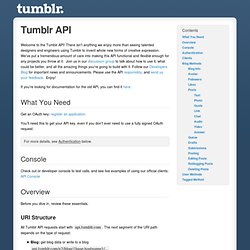 There isn't anything we enjoy more than seeing talented designers and engineers using Tumblr to invent whole new forms of creative expression. We've put a tremendous amount of care into making this API functional and flexible enough for any projects you throw at it. Join us in our discussion group to talk about how to use it, what could be better, and all the amazing things you're going to build with it. What's your flavor? Flavors.me. One example.
---