Pearls to be checked/sorted
INFOGRAPHIE • Ce qui arrivera… ou pas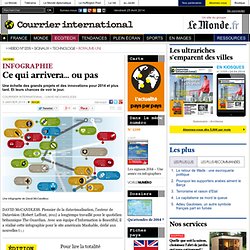 Une échelle des grands projets et des innovations pour 2014 et plus tard. Et leurs chances de voir le jour. 3 janvier 2014 | Partager :
La boite à outils
Visuwords™ online • Visual Dictionary, Visual Thesaurus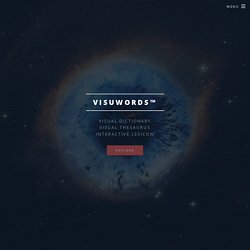 Visuwords™ online graphical dictionary — Look up words to find their meanings and associations with other words and concepts. Produce diagrams reminiscent of a neural net. Learn how words associate. Enter words into the search box to look them up or double-click a node to expand the tree. Click and drag the background to pan around and use the mouse wheel to zoom.
newsmap
WikiMindMap
La Campagne Infolab a été lancée le jeudi 11 avril à l'occasion de la première rencontre du groupe de travail national, portant sur le thème " Culture de la donnée et médiations". Acteurs associatifs (Libertic, Open Street Map, collectifs citoyens Open Data Tours, Poitiers, Les Petits-Débrouillards, Décider Ensemble, La Fonderie…), membres de collectivités territoriales (Région PACA, Communauté urbaine de Bordeaux, CG Gironde, CG Hauts-de-Seine, CG Manche, Mairies de Paris et de Rennes…) et grands comptes (Alcatel Lucent, La Poste, La Caisse des dépôts, Gemalto…) étaient rassemblés pour entamer une réflexion sur la culture de la donnée et ses différentes formes de "médiation". Retour sur cette journée… Dans ce 2e atelier "main dans le cambouis", Vincent Mandinaud de l'ANACT et Hervé Paris d'AlterCarto/ Cité Publique ont présenté une méthode originale - et éprouvée ! - de mise en discussion des données articulant des approches quantitatives et qualitatives des données.
Amandine Brugière - #Infolab Mettre les données en débat, via des cartes délibératives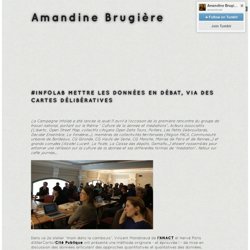 CourseWiki - CS448B Data Visualization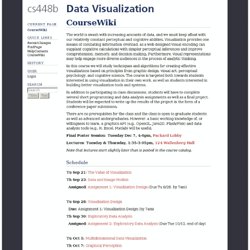 The world is awash with increasing amounts of data, and we must keep afloat with our relatively constant perceptual and cognitive abilities. Visualization provides one means of combating information overload, as a well-designed visual encoding can supplant cognitive calculations with simpler perceptual inferences and improve comprehension, memory, and decision making. Furthermore, visual representations may help engage more diverse audiences in the process of analytic thinking. In this course we will study techniques and algorithms for creating effective visualizations based on principles from graphic design, visual art, perceptual psychology, and cognitive science.
Data Visualization "Quadrant" « Data Visualization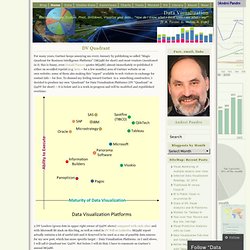 For many years, Gartner keeps annoying me every January by publishing so called "Magic Quadrant for Business Intelligence Platforms" (MQ4BI for short) and most vendors (mentioned in it; this is funny, even Donald Farmer quotes MQ4BI) almost immediately re-published it either on so-called reprint (e.g. here – for a few months) area of Gartner website or on own website; some of them also making this "report" available to web visitors in exchange for contact info – for free. To channel my feeling toward Gartner to a something constructive, I decided to produce my own "Quadrant" for Data Visualization Platforms (DV "Quadrant" or Q4DV for short) – it is below and is a work in-progress and will be modified and republished overtime: 3 DV Leaders (green dots in upper right corner of Q4DV above) compared with each other and with Microsoft BI stack on this blog, as well as voted in DV Poll on LinkedIn.
The happiest city in America is Napa, California -- and the saddest all swear too much. Red states are relatively happier. Blue states are relatively less happy.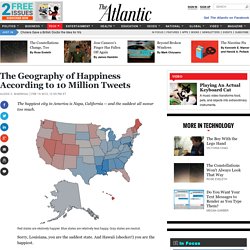 The Geography of Happiness According to 10 Million Tweets - Alexis C. Madrigal
Data Visualizations | Institute for Health Metrics and Evaluation
Smart Data >>(vidéo) Les données des cinq premiers millions de trajets du service de vélos en libre service de Londres ont été traitées, et rendues visuellement. Un document étonnant, qui est aussi une aide à la décision pour les services de transport. par Tyler Falk Le système de vélos en libre service de Londres (appelé Barclays Cycle Hire), équivalent de Vélib' à Paris et Vélov' à Lyon, est extrêmement populaire.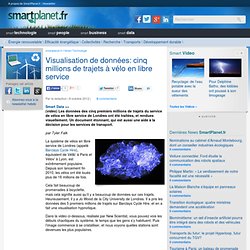 Visualisation de données: cinq millions de trajets à vélo en libre service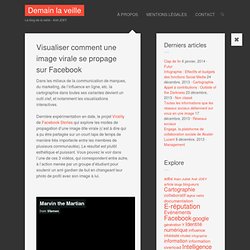 Visualiser comment une image virale se propage sur Facebook
Dans les milieux de la communication de marques, du marketing, de l'influence en ligne, etc. la cartographie dans toutes ses variantes devient un outil clef, et notamment les visualisations interactives. Dernière expérimentation en date, le projet Virality de Facebook Stories qui explore les modes de propagation d'une image dite virale (c'est à dire qui a pu être partagée sur un court laps de temps de manière très importante entre les membres de plusieurs communautés). Le résultat est plutôt esthétique et puissant.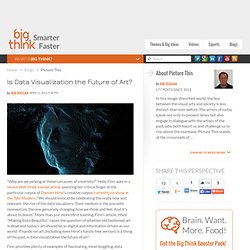 Is Data Visualization the Future of Art? | Picture This
"Why are we picking at these carcasses of creativity?" Holly Finn asks in a recent Wall Street Journal article, pointing her critical finger at the particular corpse of Damien Hirst's creative corpus currently on show at the Tate Modern. "We should instead be celebrating the really new and relevant: the rise of the data visualizers. Their medium is the one with momentum, the one genuinely changing how we think and feel. And it's about to boom." More than just more Hirst bashing, Finn's article, titled "Making Data Beautiful," raises the question of whether old fashioned art is dead and today's art should be as digital and information driven as our world.
Projects | timeplots.com
5 Interactive JavaScript charts for your website | The Interactive Wall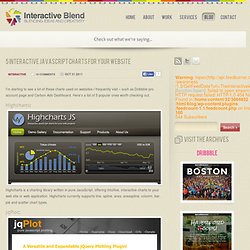 I'm starting to see a lot of these charts used on websites I frequently visit – such as Dribbble pro account page and Carbon Ads Dashboard. Here's a list of 5 popular ones worth checking out. Highcharts: Highcharts is a charting library written in pure JavaScript, offering intuitive, interactive charts to your web site or web application.
Visualization
Pantheon, a project from the Macro Connections group at The MIT Media Lab, explores cultural influences across countries and domains. To make our efforts tractable, Pantheon will not focus on culture, as it is understood in its broadest sense, but on cultural production. In a broad sense, culture can be understood as all of the information that humans—or animals [1]—generate and transmit through non-genetic means [2]. At Pantheon, however, we do not focus on the entire range of cultural information, but in a subset of this information that we define narrowly as cultural production.
We all know that everything you see on TV, and much of what you read online, is ultimately owned by a few mega corporations. But if you were pressed about how much those companies actually own, I'd bet you'd be off by about a factor of 2. Frugal Dad--the same company behind that Walmart infographic we did recently--took it upon themselves to show exactly how concentrated our media landscape actually is. As the chart rather alarmingly points out, the revenue for those six companies is $275.9 billion. Which sounds like an awfully big number--and starts to set your bullshit detector off. (For one, GE's revenues alone are $150 billion, and almost all of that comes from heavy industry and finance.
The Mega Companies Behind 90% Of Media
"When to use which chart" is the first question you may ask to yourself when building an application. In this application, you may get an idea of what data can be displayed in the most effective way. This application will walk you through on when to use which chart in which mode etc.
Data Visualization
Outside of the nonsensical urban tesseract known as the West Village, Manhattan's street grid system is famously simple: Avenues run north/south(ish), streets run east/west. A phrase like "5th Avenue and 33rd Street" isn't just an arbitrary address, it's a cartesian coordinate that can actually help you get to where you're going as well as recognize when you've gotten there. With a system this easy, it's hard not to wish the whole world used it. Harold Cooper's brilliant Google Maps mashup, ExtendNY, gives you an idea of what such a world would look like: Punch in any address or location on the globe, and it tells you what its NYC-style address is. [Click to visit interactive version] For example: My apartment in Brooklyn is near the imaginary corner of S. 46th Street and East 15th Avenue.
What If The NYC Grid Took Over The World?
How dare they! Well, actually, it's a fun exercise. Declared by Tufte to be one of the best statistical graphics ever drawn, Joseph Minard's graph of Napoleon's march on Russia is definitely a classic (a copy hangs in my bathroom). John Boykin recently took a crack at redesigning the classic, and goes into quite a bit of detail on his website about the choices he made:
Improving on Minard?!?
Plotting the Expansion of the US Through Post Offices
Um mapa com as 48 emoções que alguém pode sentir
Interactive Dynamics for Visual Analysis
Ranking the Autonomy of Universities in Europe
Hand Jive
The Functional Art: An Introduction to Information Graphics and Visualization
Refugee Migration Flow Map
40 Extremely Interesting Infographic Poster Designs
Data Visualizations, Challenges, Community
h5chart | Free software downloads at SourceForge
America's Problem With Second Languages
Backbone of the flavor network
WebGL Globe
Spatial Analysis
Best of the visualisation web… April 2012 (part 1)
Infographic Of The Day: The Right Chart Can Make Boring Data Pop | Co.Design
How to Create Infographics Part I
How to Create Infographics Part II
Blog Posts > The Art of Dashboard Design
The Anatomy of an Experience Map
Journalism in the Age of Data: A Video Report on Data Visualization by Geoff McGhee - StumbleUpon
WebGL Bookcase
A Map Of NYC's Design Scene
A History of Western Typefaces [INFOGRAPHIC]
Wanted: Yearlight Calendar Unveils The Mysteries Of Dusk And Dawn | Co. Design
YEARLIGHT :: HOME
Timeplots Poster Sale
The Timeline of Doctor Who
Chartball: Sports data visualized
LSR Online | vizLib
The Anatomy of a perfect Website [Infographic]
Human Cloning in Japan
A Case Study In How Infographics Can Bend The Truth
dk.filmomania.pl/j/Scale_of_Universe_In93570.swf
2000-EHI-map_final.jpg (2000×2000)
A Beautiful Timeline Visualisation: TimelineJS by VéritéCo
Travel Time and Housing Prices Map on Datavisualization
Sci² Tool
FlowingData | Data Visualization, Infographics, and Statistics
Looking 4 data visualization
Amazing Old (and Free) Visualization Books
graphical dictionary and thesaurus
Vastgoedcommunicatie | Multivision 3D
Migrants moving money
3-Visualizations & mapping
Arguments for Police Reform
CrowdFunding/CrowdSourcing