Payment systems
A new report by DigitalRiver shows that companies need to be cognizant of new business models and payment methods worldwide as the market shifts towards free-to-play gaming. According to estimates by SuperData Research, $15.9 billion in revenue will come from boxed game product, while $7.1 billion will come from online and mobile. Within that space, SuperData expects free-to-play games and virtual goods sales to make up over 50 percent of online gaming revenues by 2017.
Free-to-play gaming: Finding the right payment methods worldwide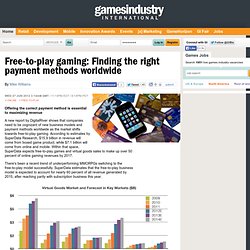 Paris, le 08 décembre 2011 – PriceMinister retient SlimPay, établissement de paiement agréé par la Banque de France, pour sa solution « SEPA Direct Debit ». Cette solution permet l'encaissement des sommes dues par les vendeurs professionnels abonnés aux services « SuperBoutiques » de la place de marché, depuis n'importe quel compte-bancaire de la zone SEPA, qui inclut 32 pays. Successeur du prélèvement automatique français qui disparaitra en 2014, le SEPA Direct Debit (SDD) est une solution novatrice que PriceMinister est un des premiers acteurs de l'hexagone à déployer. Il s'agit d'un moyen de paiement entièrement dématérialisé et fiable dans le temps, au contraire de l'encaissement par carte bancaire qui génère des incidents pour date de validité échue, dépassement de plafond ou du chèque qui reste une solution nationale.
PriceMinister retient SlimPay pour l'encaissement des abonnements « SuperBoutiques » de sa plateforme de marché - SlimPay - Prestataire de Services de Paiement
Criterias for an online payment solution
Supported Payment Gateways - Chargify
Is there a UK equivalent to Samurai/Stripe/Braintree (a full stack payment merchant/processor)
E-Commerce: Aside from Paypal, which credit card processing services do e-commerce companies prefer? Why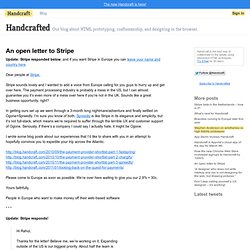 Update: Stripe responded below , and if you want Stripe in Europe you can leave your name and country here Dear people at Stripe , Stripe sounds lovely and I wanted to add a voice from Europe calling for you guys to hurry up and get over here. The payment processing industry is probably a mess in the US, but I can almost guarantee you it's even more of a mess over here if you're not in the UK. Sounds like a great business opportunity, right? In getting ours set up we went through a 3-month long nightmare/adventure and finally settled on Ogone+Spreedly.
An open letter to Stripe « Handcrafted
App55 wants to bring easy payments to every online retailer
One of the reasons that Amazon and Apple are so successful as online retailers is that it's so easy to buy from them. Once you're signed up, it's as simple as a click (or at most, entering your password) to buy anything. Other businesses would no doubt love to be able to make life that simple their customers, and UK startup App55 wants to help them do just that.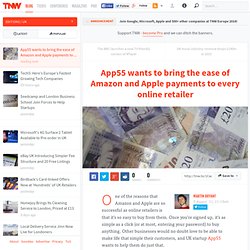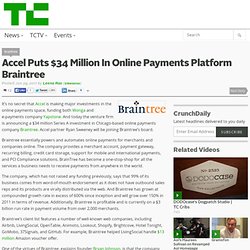 Accel Puts $34 Million In Online Payments Platform Braintree
It's no secret that Accel is making major investments in the online payments space, funding both Wonga and e-payments company Yapstone. And today the venture firm is announcing a $34 million Series A investment in Chicago-based online payments company Braintree. Accel partner Ryan Sweeney will be joining Braintree's board.
Accept Payments From Your Site in Minutes With PintPay
PintPay - Add recurring billing to your site in 5 minutes | PintPay
Fondée en 2005 par Florent Guibert et Stéphane Wallart, Up&Net vient de finaliser une levée de fonds de 3 millions d'euros auprès de CM-CIC Capital Privé et CapDécisif Management, investisseur historique dans la société. Up&Net a développé la 1ere plateforme de paiement dématérialisé en marque blanche permettant de faire accepter tout type de moyens de paiement sur des centaines de sites e-commerce. Cette levée de fonds va permettre d'industrialiser cette plateforme, de consolider les équipes techniques et commerciales et de développer de nouveaux produits monétiques en marque blanche en s'appuyant sur une technologie inédite.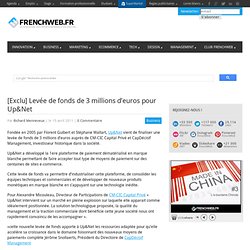 [Exclu] Levée de fonds de 3 millions d'euros pour Up&Net
Dans le cadre du développement du projet, j'ai été amené à choisir une solution de paiement en ligne. L'exercice étant nouveau pour moi et n'ayant pas de connaissances spécifiques sur le sujet, voici comme je m'y suis pris. La première étape est bien sûr de procéder à une recherche sur Internet. Je n'ai pas trouvé grand chose : quelques échanges dans des forums et un bon e-book . C'était assez toutefois pour dégrossir le sujet.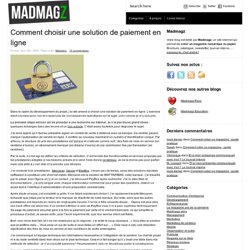 Le blog de Madmagz » Comment choisir une solution de paiement en ligne
There is an inevitable and unavoidable point in the life of many successful web applications where you, as the creator of your amazing app, are going to have to accept your customers' money. As fantastic as this is, it is also a complete headache. PlayNice.ly went through this process last year and it is only just getting entirely sorted out. There are bank accounts, merchant accounts, payment gateways and recurring billing systems… and they all have to talk to each other!
Web apps, credit cards, merchant accounts and PayPalPlayNice.ly | PlayNice.ly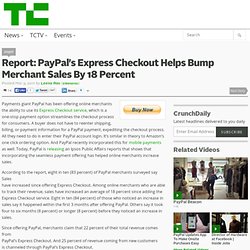 Report: PayPal's Express Checkout Helps Bump Merchant Sales By 18 Percent
Payments giant PayPal has been offering online merchants the ability to use its Express Checkout service , which is a one-stop payment option streamlines the checkout process for consumers. A buyer does not have to reenter shipping, billing, or payment information for a PayPal payment, expediting the checkout process. All they need to do is enter their PayPal account login. It's similar in theory to Amazon's one click ordering option. And PayPal recently incorporated this for mobile payments as well. Today, PayPal is releasing an Ipsos Public Affairs reports that shows that incorporating the seamless payment offering has helped online merchants increase sales.
Braintree's Bryan Johnson will answer your questions in the comments section. In 2003, Bryan Johnson (right) was hired for a commission-only job selling credit card services to businesses. "I was broke," says Johnson. "The job was brutal.
Bootstrapped, Profitable, & Proud: Braintree