Modulaire
Home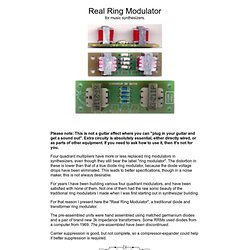 Ken Stone's Modular Synthesizer
Real Ring Modulator for music synthesizers.
Yusynth Modules
ACQ-PRK4 + QM12i A combination of Roland's compact 4-channel Pro Recorder Edirol R-44 and Line Audio eminent QM12i-microphone allows you to make crystal clear recordings in 4-channel surround sound! A complete solution for multichannel recording of up to 8 analog channels at the same time of which 6 can be microphones. The system includes an Acer laptop with 17" display, MOTU UltraLitemk3 and recording software Adobe Audition.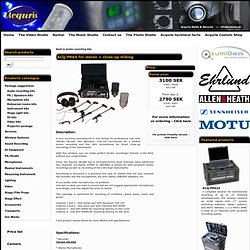 ACQ-PRK6 for stereo + close-up miking - Sound, Light, Rental, Event, Media, Studio - Acquris IT HB
I Dream Of Wires on Vimeo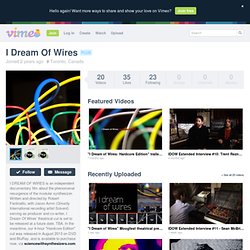 I DREAM OF WIRES is an independent documentary film about the phenomenal resurgence of the modular synthesizer. Written and directed by Robert Fantinatto, with Jason Amm (Ghostly International recording artist Solvent) serving as producer and co-writer, I Dream Of Wires' theatrical cut is set to be released at a future date, TBA. In the meantime, our 4-hour "Hardcore Edition" cut was released in August 2013 on DVD and BluRay, and is available to purchase now, via sciencewithsynthesizers.com. About "I Dream Of Wires: Hardcore Edition" : I DREAM OF WIRES: HARDCORE EDITION is a companion to the forthcoming feature-length documentary, I DREAM OF WIRES.
"I Dream of Wires: Hardcore Edition" 2013 official trailer on Vimeo
Feisty Little One
Welcome to the Lunar Experience
Ken Stone's Modular Synthesizer
Sub Oscillator for music synthesizers.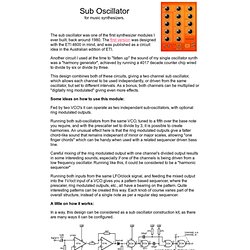 Analogue Solutions BD78 – CR78 BassDrum
Metasonix R-51 -
Tiptop Audio - Welcome
synthesizers
synthesizers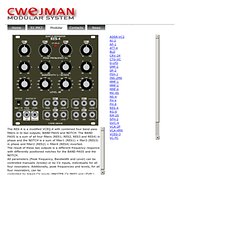 The RES-4 is a modified VCEQ-4 with combined four band pass filters in to two outputs; BAND PASS and NOTCH. The BAND PASS is a sum of all four filters (RES1, RES2, RES3 and RES4) in phase and the NOTCH is a sum of filter1 (RES1) + fiter3 (RES3) in phase and filter2 (RES2) + filter4 (RES4) inverted. The result of these two outputs is a different frequency responce with differently positioned notches for the BAND PASS and the NOTCH.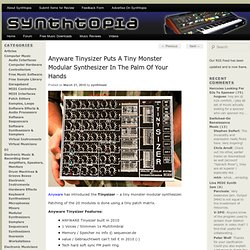 Anywhere Tinysizer Puts A Tiny Monster Modular Synthesizer In The Palm Of Your Hands
Anyware has introduced the Tinysizer – a tiny monster modular synthesizer. Patching of the 20 modules is done using a tiny patch matrix. Anyware Tinysizer Features:
ANYWARE-INSTRUMENTS ANALOG MINI MODULAR SYNTHESIZER TINYSIZER! Maybe the smallest vintage mini synthesizer analog modular system for classic sound design and analogue electronic music.
Tom Oberheim.com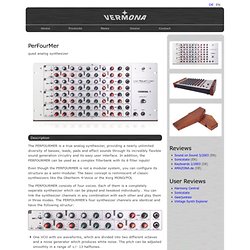 PerFourMer - Vermona
The PERFOURMER is a true analog synthesizer, providing a nearly unlimited diversity of basses, leads, pads and effect sounds through its incredibly flexible sound generation circuitry and its easy user interface.
Modcan Synthesizers Main Page
here's a modulae and a cat, ok. but this one is matesonix and it fits into a standard moog size rack like dotcom, motm etc. and it has "burn your fingers here" on it. this is the right way to do it, but it is still yellow. if you want more of this have a look at deviant synth (like t he names says). http://www.deviantsynth.com/ which focusses on "weird" stuff and no synthesizers and claims to be something like the opposite of blogs like matrixsynth, music thing etc., he's right and I found this module shot there.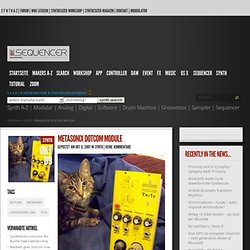 Metasonix DotCom Module
Signal Arts Home
Cwejman synthesizers
Eventide Pitch Factor
Make Noise
Google Traduction
Afficher le sujet - Combien de fabricants de modules Eurorack ?
Ringer DotCom Modular
Livewire Why always think of the good, old days, if you're looking for juicy analog sounds? Why put up with our rickedy old favourits from the houses Moog, Sequential Circuits, Oberheim, Roland or Korg?
Blog | Analogue Solutions Red Square
EBBE UND FLUT
Modules & Features: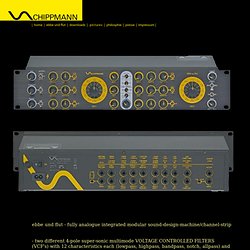 Not Found
Every synthesizer system contains modules which provide the functions needed to create complex sounds.
Modules - Modular Analog Synthesizer for Electronic Music
WELCOME TO CLUB OF THE KNOBS - ANALOG MODULAR SYNTHESIZER
mini modulo a base de dark energy
Document sans titre
Papareil Synth Labs
:: Somatic Circuits :: Scientific Synthesizer Systems ::
Prototype to Production PCB supplier from China -
1.
musicsynthesizer.com
This document is intended for A-100 users who want to learn a little bit about the technical details of the A-100.
A-100 do it yourself page
Electronic Sound-House
This site describes some of the work I've done designing and building electronic music synthesizers and controllers.
Browse
http://i255.photobucket.com/albums/hh122/soundxplorer/CP252.jpg