Surgery
Deep Brain Stimulation Improves Parkinson's Symptoms Long-Term
By Steven Reinberg HealthDay Reporter MONDAY, Aug. 8 (HealthDay News) -- The benefit of deep brain stimulation in controlling tremors and improving motor function for those with Parkinson's disease appears to last at least 10 years, according to a small new study by Canadian researchers. Parkinson's disease is one of several conditions called motor system disorders, which are caused by the loss of dopamine-producing brain cells. The main symptoms of Parkinson's disease are tremors or trembling in hands, arms, legs, jaw and face; rigidity or stiffness of the limbs and trunk; slowed movement; and impaired balance and coordination. As the disease progresses, patients can have difficulty walking, talking or doing other simple tasks, according to the U.S.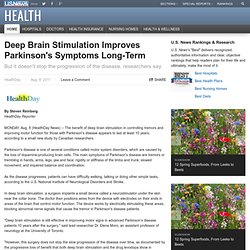 Expert Consensus on Deep Brain Stimulation in Parkinson's Published
Deep brain stimulation
Deep brain stimulation ( DBS ) is a surgical treatment involving the implantation of a medical device called a brain pacemaker , which sends electrical impulses to specific parts of the brain . DBS in select brain regions has provided therapeutic benefits for otherwise treatment-resistant movement and affective disorders such as chronic pain , Parkinson's disease , tremor and dystonia . [ 1 ] Despite the long history of DBS, [ 2 ] its underlying principles and mechanisms are still not clear. DBS directly changes brain activity in a controlled manner, its effects are reversible (unlike those of lesioning techniques) and is one of only a few neurosurgical methods that allows blinded studies . The Food and Drug Administration (FDA) approved DBS as a treatment for essential tremor in 1997, for Parkinson's disease in 2002, [ 3 ] and dystonia in 2003. [ 4 ] DBS is also routinely used to treat chronic pain and has been used to treat various affective disorders, including major depression .