Papers & Research
www.uoc.edu/digithum/7/dt/esp/borges.pdf
www.uis.unesco.org/Library/Documents/ICTguide09_es.pdf
Consorcio Nacional de Recursos de Información Científica y Tecnológica
ICT Standards for Initial Teacher Training: A Public Policy in the Chilean Context | Silva Quiroz | education policy analysis archives
The PDF file you selected should load here if your Web browser has a PDF reader plug-in installed (for example, a recent version of Adobe Acrobat Reader ). Alternatively, you can also download the PDF file directly to your computer, from where it can be opened using a PDF reader. To download the PDF, click the Download link below. If you would like more information about how to print, save, and work with PDFs, Highwire Press provides a helpful Frequently Asked Questions about PDFs .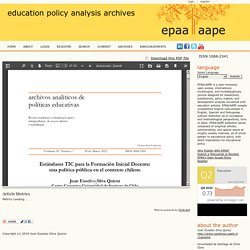 7 de marzo de 2012 Producido por el Consejo Internacional de Ciencias Sociales (CICS) y publicado por el CICS y la UNESCO, este Informe ofrece, por primera vez desde hace más de un decenio, una panorámica global de las ciencias sociales. Centenares de científicos sociales del mundo entero han contribuido con sus conocimientos especializados a esta publicación. En la presentación oficial del Informe el 25 de junio 2010, estarán presentes, entre otros, los siguientes especialistas: Gudmund Hernes, Presidente del CICS, Adebayo Olukoshi, director del Instituto Africano para el Desarrollo y la Planificación (IDEP), Hebe Vessuri, directora del Departamento Estudio de la Ciencia del Instituto Venezolano de Investigaciones Científicas (IVIC), y François Héran, Director de Investigación del Instituto Nacional de Estudios Demográficos (INED) de Francia.
Boletín de ciencia marzo 2012 Organización de Estados Iberoamericanos para la Educación, la Ciencia y la Cultura OEI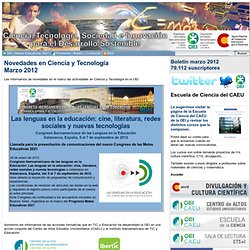 Roger Wimmer received his Ph.D. in mass media research from Bowling Green State University in Ohio in 1976, although he has been involved in mass media research since 1972. His expansive experience includes serving as a sales representative at KLSS and KSMN, Mason City, Iowa, instructor at the University of Wisconsin-Whitewater, assistant professor at the University of Mississippi, associate professor at the University of Georgia, and manager of research for Cox Broadcasting in Atlanta, Ga. Prior to founding Wimmer Research, Dr. Wimmer was co-founder of Wimmer-Hudson Research & Development, president/CEO/co-founder of The Eagle Group, president/general partner/co-founder of Paragon Research, and president of Surrey Research. He has extensive radio industry experience as well as all areas of research for the television and cable television industries, including stations, networks, and programming production.
Mass Media Research: An Introduction - Roger D. Wimmer, Joseph R. Dominick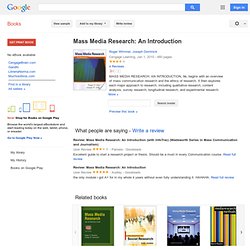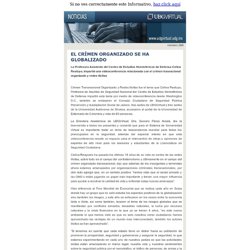 La Profesora Asistente del Centro de Estudios Hemisféricos de Defensa Celina Realuyo, impartió una videoconferencia relacionada con el crimen trasnacional organizado y redes ilícitas Crimen Transnacional Organizado y Redes ilícitas fue el tema que Celina Realuyo, Profesora de Asuntos de Seguridad Nacional del Centro de Estudios Hemisféricos de Defensa impartió esta tarde por medio de videoconferencia desde Washington D.C., también se enlazaron el Consejo Ciudadano de Seguridad Pública Prevención y readaptación Social de Jalisco, tres sedes de UDGVirtual y tres sedes de la Universidad Autónoma de Sinaloa, accesaron al portal de la Universidad de Externado de Colombia y más de 60 personas. La Directora Académica de UDGVirtual, Dra.
Informativo - UDGVIRTUAL
Una critica a esta propuesta fue la realizada por Luehrmann (1981). Consideró que la alfabetización en un lenguaje significa la destreza para leer y escribir, esto es, de hacer algo con el lenguaje y no simplemente reconocer que está compuesto por palabras o ser capaz de identificar una letra del alfabeto. Indicó Luehrmann que, por analogía, "alfabetización informática" debía significar también la adquisición de destrezas para hacer cálculos y resolver problemas con ordenador y no solamente reconocer e identificar partes del ordenador.
REVISTA PIXEL-BIT.NÚMERO 2. JUNIO 1994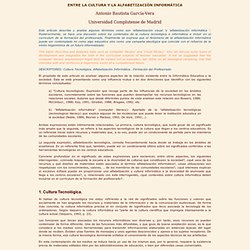 RED DIGITAL - Home- Enero 2002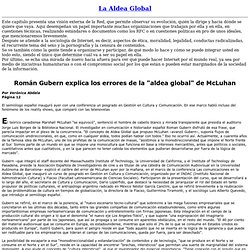 La Aldea Global
Este capítulo presenta una visión externa de la Red, que permite observar su evolución, quién la dirige y hacia dónde se quiere que vaya. Aquí desempeñan un papel importante muchas organizaciones que trabajan por ella y en ella, en cuestiones técnicas, realizando estándares o documentos como los RFC o en cuestiones políticas en pro de unos ideales, que mencionaremos brevemente. Después se atiende a la sociología de Internet, es decir, aspectos de ética, moralidad, legalidad, conductas radicalizadas, el recurrente tema del sexo y la pornografía y la censura de contenidos.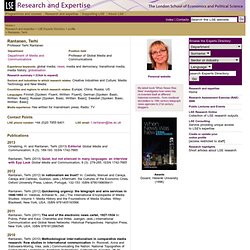 Ornebring, H. and Rantanen, Terhi (2013) EditorialGlobal Media and Communication, 9 (3). 189-193. ISSN 1742-7665 Rantanen, Terhi (2013) Quiet, but not silenced in many languages: an interview with Epp LaukGlobal Media and Communication, 9 (3). 279-285. ISSN 1742-7665
Professor Terhi Rantanen
Dirección: Manuel Esteban Albert.- Director científico Miguel Zapata Ros.- Director de edición Consejo Científico: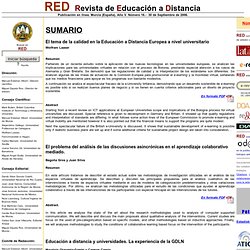 RED num. 16 - Septiembre 2006
REDIE > Vol. 13, Núm. 1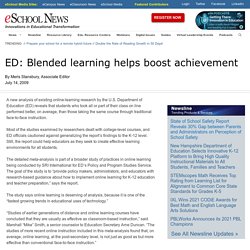 ED: Blended learning helps boost achievement
Meta-study concludes students can benefit greatly from online learning -- and blended learning environments appear most effective By Meris Stansbury, Associate Editor Read more by Meris Stansbury A new analysis of existing online-learning research by the U.S. Department of Education (ED) reveals that students who took all or part of their class on line performed better, on average, than those taking the same course through traditional face-to-face instruction.
www.sav.us.es/pixelbit/pixelbit/articulos/n23/PIXEL_BIT_23.pdf
Números anteriores
Edutec-e. Revista Electrónica de Tecnología Educativa
Existe actualmente una corriente que apuesta por el uso de aplicaciones de software libre y/o la creación de contenidos abiertos en las instituciones universitarias. En base a un estudio anterior sobre el estado software libre en la Educación Superior, se exponen en este trabajo los principales resultados encontrados, así como algunas consideraciones en relación a los desafíos que debe afrontar la universidad en el uso de programas abiertos y ante la denominada cultura participativa. Universidad, Software Libre, participación, cultura, contenidos Nowadays there is a trend towards using Open Source software to create Open Content at universities. Based on a previous study of the state of Open Source in Higher Education, this paper presents the results of and some considerations regarding the challenges facing universities in using Open Source programs in the so-called participatory culture.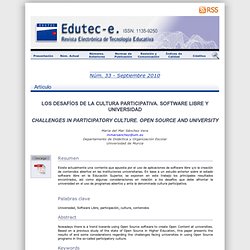 PIXEL BIT
RIED. Revista Iberoamericana de Educaci n a Distancia - Analisis de una experiencia
www.uoc.edu/rusc/2/2/dt/esp/puente.pdf
www.utpl.edu.ec/ried/images/pdfs/volumen6-1.pdf
Inicio
In contexts in which we are, in which the "Information and Communication Technology' (ICT), become an element of development and empowerment of our schools and training institutions. Pixel-Bit, Journal of Media and Education, aims to provide a platform for the exchange of ideas, experiences and research on the application of ICT, regardless of the format in which they are submitted and training contexts in which they develop, whether these formal, non-formal or informal, and educational level. Pixel-Bit, Journal of Media and Education, aims to be a channel of distribution and exchange of ideas and information between researchers in different countries and communities concerned about the introduction, improvement and understanding of ICT in training processes.
proyectosinvestigacion - home
s databases Bookmarks on Delicious
s tesis Bookmarks on Delicious
Agenda Setting Theory
the creation of what the public thinks is important History and Orientation Agenda setting describes a very powerful influence of the media – the ability to tell us what issues are important. As far back as 1922, the newspaper columnist Walter Lippman was concerned that the media had the power to present images to the public. McCombs and Shaw investigated presidential campaigns in 1968, 1972 and 1976.
Educación a Distancia
eLearn Center Research Paper Series
Journal promoted by eLearn Center of UOC. eLC Research Paper Series promotes research in e-learning from the educational sciences, computer science, economics and multi-focused approach. Each issue of eLC Research Paper Series includes original researches in the field of e-learning. Issue 7 (November 2013). PhD research papers dealing with time issues II Table of Contents Introduction
Programa de investigación - eLearn Center - Universitat Oberta de Catalunya (UOC)
Tony Bates - Cómo gestionar el cambio tecnológico ...
Presentación: EDU-DOC, es un centro de documentación, a cargo del Departamento de Educación y Valores (DEVA) del Instituto Tecnológico de Estudios Superiores de Occidente (ITESO), que ofrece acceso sistematizado a reportes de investigación, tesis, ensayos, proyectos, ponencias y otros trabajos inéditos sobre el campo educativo, realizados por profesores, investigadores, estudiantes y profesionales de lo educativo. Su propósito es propiciar la vinculación entre la producción académica sobre los temas educativos y los actores de la educación; brindar orientaciones y propuestas prácticas de aplicación en el quehacer cotidiano; y fomentar el debate de los temas de actualidad educativa para promover la circulación de las ideas y enriquecer la discusión teórica y práctica. Entrar a Edu-Doc
Edudoc