Animaux
Animaux 3D. Chouette. The first kit of the new year is this deceivingly simple looking little owl to expand the bird-population in 3EyedBear's universe.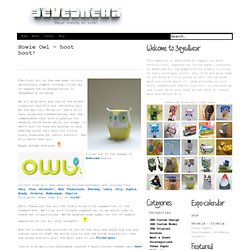 We all know owls are one of the wisest creatures and this one certainly will be one day too. Thing is: she's still very young and inexperienced, but she compensates that with a passion for reading thick books while you sleep. It don't hurt to have her posted in your bedroom since owls hunt for little scary creatures by inborn instinct. Angry birds.
Après avoir cartonné sur votre mobile, les Angry Birds débarquent dans la vraie vie !!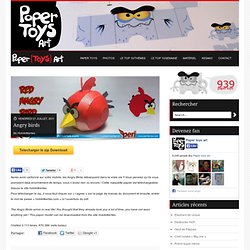 Vous pensiez qu'ils vous prenaient déjà énormément de temps, vous n'aviez rien vu encore ! Cette maquette papier est téléchargeable depuis le site hobikitkertas. Pour télécharger le zip, il vous faut cliquer sur « I agree » sur la page de license du document et ensuite, entrer le mot de passe « hobikitkertas.com » à l'ouverture du pdf. The Angry Birds arrive in real life! You thought that they already took you a lot of time, you have not seen anything yet ! Twitter Bird. Have you ever wished the twitter bird could come alive… sit on your window sill and watch you as you tweet away your afternoon?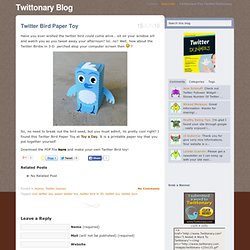 Lol…no? Well, how about the Twitter Birdie in 3-D perched atop your computer screen then So, no need to break out the bird seed, but you must admit, its pretty cool right? I found this Twitter Bird Paper Toy at Toy a Day. Tux.
---