Panoramic photography
Panodigg: Your daily Dose of Fresh VR Panoramas / Published News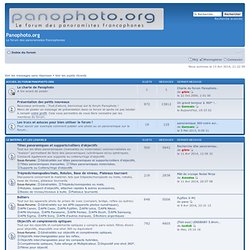 Page d'index • Panophoto.org
Nous sommes le 13 Avr 2014, 21:22 09 Voir les messages sans réponses • Voir les sujets récents Généralités, préparation et réglages Généralités sur la technique de réalisation des panoramiques et des images haute définition avec tutoriaux généraux, Préparation du matériel nécessaire, Détermination du point nodal (pupille d'entrée) d'un objectif, Choix de l'angle de vue et de la focale, Réglage de l'horizontalité 192 Sujets 2351 Messages Dernier message Votre tête panoramique es… de Patrick le Hier, 13:16 32 Prise de vues Des questions sur le nombre de photos à prendre, l'inclinaison de l'appareil, la balance des blancs ...?
My Autopano Pro forum
VRMag - issue 31 Olympic Games Beijing Gisele Bünchen Iphone 3G Rio Tahiti Polynesia Megaliths Cracow PangeaVR New York Rubik Cube Munich Falkirk Wheel Multimedia Postcard Panobrella Panoramalampe ... in Fullscreen QT Flash Panoramas Virtual Tours
ArounderMag ArounderMag is a VRWAY Communication publication available for iPad which enables its readers to interactively travel around the most beautiful destinations in the world. Our editorial team will regularly offer you a "best of" a destination has to offer. The virtual magazine proposes a combination of interactive panoramic images and services (reportage and interviews) to show what a locality is really like.