Palettes
Découvrez la recyclage des palettes AU JARDIN, plein de conseils et d'idées ....N'hésitez pas à faire équipe pour l'enrichir et partager vos trouvailles et perles rares !! potaginfo Oct 2
Be Palettø: Danish Pavilion Of Recycled Shipping Pallets
Images: Be Palettø We've sung the praises of the humble shipping pallet as an amazingly versatile building component before (take a look at Lloyd's comprehensive roundup). Now a group of eleven students at Denmark's Aarhus School of Architecture have come up with a lovely outdoor pavilion that shows once again what is possible with the pallet. Dubbed Be Palettø, the temporary structure features 420 strategically-stacked pallets which give a dynamic twist to an otherwise traditional-looking public square. More images and a time-lapse video of how it was done: Be Palleto!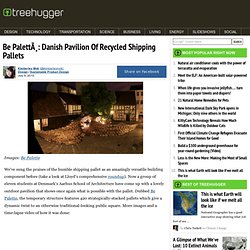 architecture recyclage palette
Des palettes bâtissent un quartier | CCA Actions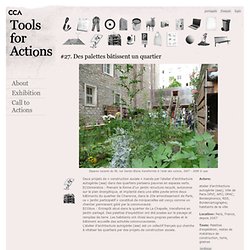 Deux projets de « construction sociale » menés par l'atelier d'architecture autogérée (aaa) dans des quartiers parisiens pauvres en espaces verts. ECOinterstice : Prenant la forme d'un jardin-structure recyclé, autonome sur le plan énergétique, et implanté dans une allée pavée entre deux bâtiments du quartier de Charonne, dans le 20e arrondissement de Paris, ce « jardin participatif » constitué de miniparcelles est conçu comme un chantier permanent géré par la communauté. ECObox : Entrepôt situé dans le quartier de La Chapelle, transformé en jardin partagé. Des palettes d'expédition ont été posées sur le pavage et remplies de terre.