Typo
Keyword:century gothic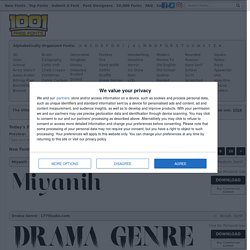 1001 Free Fonts first opened its doors in December 1998 and has since grown to become the most popular free fonts archive online. We receive more than 50,000 visitors daily and have received 150,000,000 visitors since 1998. Over 3,000,000,000 free fonts have been downloaded since 1998. We would like to thank you all for your continued support and hope you return shortly.
Free Font Download - Showtime font
Par j0k le vendredi 01 avril 2005, 00:00 dans webdesign - 19318 vues Il se prenomme WhatTheFonts et vous trouve n'importe quelle police provenant d'une image. Vous uploadez une image ou lui donné un lien de celle-ci sur internet, l'application extrait les caractères qu'elle reconnait facilement. Si besoin est, vous pouvez même spécifié tel ou tel caractères (si il s'est trompé).
Trouver une police à partir d'une image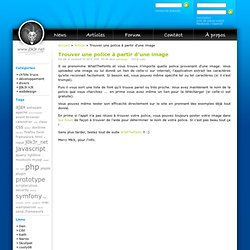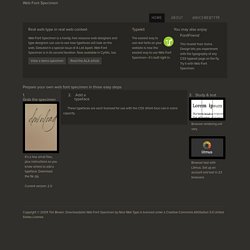 Web Font Specimen Real web type in real web context Web Font Specimen is a handy, free resource web designers and type designers can use to see how typefaces will look on the web. Debuted in a special issue of A List Apart, Web Font Specimen is in its second iteration. Now available in Cyrillic, too. View a demo specimenRead the ALA article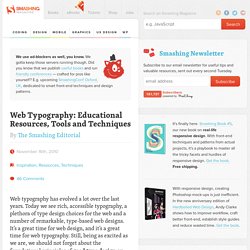 Advertisement Web typography has evolved a lot over the last years. Today we see rich, accessible typography, a plethora of type design choices for the web and a number of remarkable, type-based web designs. It's a great time for web design, and it's a great time for web typography.
The Great Typekit Table – Sleepover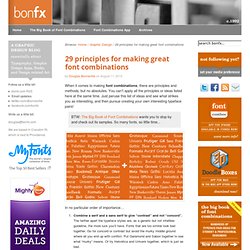 By Douglas Bonneville on August 11, 2010 When it comes to making font combinations, there are principles and methods, but no absolutes. You can't apply all the principles or ideas listed here at the same time.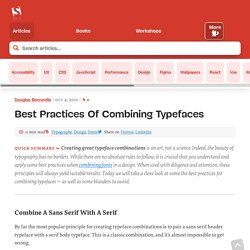 Advertisement Creating great typeface combinations is an art, not a science. Indeed, the beauty of typography has no borders. While there are no absolute rules to follow, it is crucial that you understand and apply some best practices when combining fonts in a design. When used with diligence and attention, these principles will always yield suitable results. Today we will take a close look at some the best practices for combining typefaces — as well as some blunders to avoid.