Google
Keywords are what people search for on Google. Your ad appears beside relevant search results. You create your ads You create ads and choose keywords, which are words or phrases related to your business. Get keyword ideas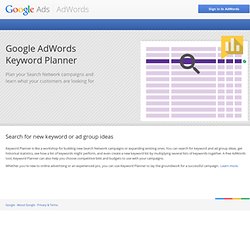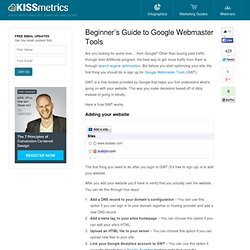 Beginner's Guide to Google Webmaster Tools
Are you looking for some love… from Google? Other than buying paid traffic through their AdWords program, the best way to get more traffic from them is through search engine optimization. But before you start optimizing your site, the first thing you should do is sign up for Google Webmaster Tools (GWT). GWT is a free toolset provided by Google that helps you first understand what's going on with your website.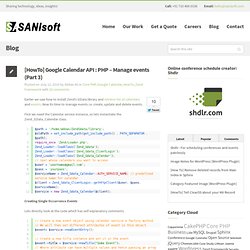 [HowTo] Google Calendar API : PHP – Manage events (Part 3) at SANIsoft – PHP for E Biz
Earlier we saw how to install Zend's GData library and retrieve list of calendars and events. Now its time to manage events i.e. create, update and delete events. First we need the Calendar service instance, so lets instantiate the Zend_GData_Calendar class.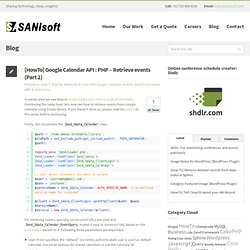 [HowTo] Google Calendar API : PHP – Retrieve events (Part 2) at SANIsoft – PHP for E Biz
In earlier post we saw how to install GData and retrieve a list of calendars. Continuing the same topic lets now see how to retrieve events from Google calendar using GData library. If you haven't done so, please read the part 1 of this series before continuing. Firstly, lets instantiate the Zend_Gdata_Calendar class.
[HowTo] Google Calendar API : PHP (Part 1) at SANIsoft – PHP for E Biz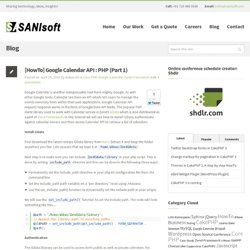 Google Calendar is another indispensable tool from mighty Google. As with other Google tools, Calendar too have an API which lets users to manage the events remotely from within their web applications. Google Calendar API request/response works in the form of Google Data API feeds. The popular PHP client library used to work with Calendar service is Zend's GData which is also distributed as a part of Zend Framework. In this tutorial we will see how to install GData, authenticate against calendar servers and then access Calendar API to retrieve a list of calendars. Install GData