Firefox
WindowShopper - Automatic Price Comparison Addon for Firefox :: Modules pour Firefox
Privacy Policy This privacy policy describes our current practices for the gathering and use of information from visitors to our own web site and the Window Shopper browser add-on. If we decide to change our privacy policy, we will post those changes to this privacy statement, the homepage, and other places we deem appropriate so that you are aware of what information we collect, how we use it, and under what circumstances, if any, we may disclose it.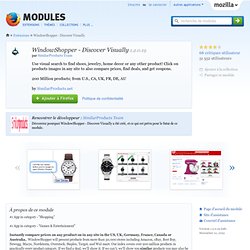 eLert Blog :: Modules pour Firefox
SmoothWheel :: Modules pour Firefox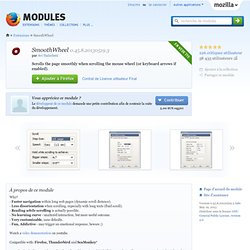 Why?- Faster navigation within long web pages (dynamic scroll distance).- Less disorientation when scrolling, especially with long texts (fluid scroll).- Reading while scrolling is actually possible.- No learning curve - unaltered interaction, but more useful outcome.- Very customizable, sane defaults.- Fun, Addictive - may trigger an emotional response, beware ;) Watch a video demonstration on youtube. Compatible with: Firefox, Thunderbird and SeaMonkey* SmoothWheel offers an enhanced and configurable version of the built in smooth-scroll. It uses some unique algorithms for smoothness and adaptive behavior (scrolls fast or slow by trying to anticipate the intention of the user).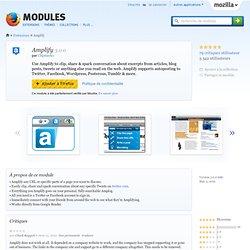 Privacy PolicyClipmarks, LLC Privacy Policy Your privacy is critically important to us. Clipmarks, LLC ("Clipmarks") operates several websites including amplify.com, and clipmarks.com.
Amplify :: Modules pour Firefox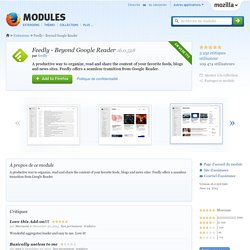 == Feedly Digest Question: What part of the feedly information gets shared with other users. Answer:1.
End User License Agreement Thank you for downloading our toolbar. PLEASE READ CAREFULLY BEFORE USING THIS SOFTWARE PRODUCT: By downloading, installing and/or using the software product (the "Software"), you hereby consent and accept the terms of this End-User License Agreement ("EULA"). If you do not agree with the terms of this EULA, please exit the installation process and do not install copy or use the Software. If you use the Software on behalf of a company or other legal entity, then by clicking the "I Accept" button you represent and warrant that you have full power and authority to bind that entity and to accept this EULA on its behalf. The term "you" in this Agreement refers to you, an individual, and/or to the entity on whose behalf you authorized this EULA.
The Official BlogTV Toolbar :: Modules pour Firefox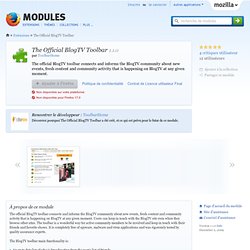 Ever had one of those "oh $*#@" moments when you realize you've just lost half an hour of your life because something went wrong while you were entering stuff into a web form and there doesn't seem to be any way to recover it? If so, you need Lazarus. If not, install it anyway, before disaster strikes!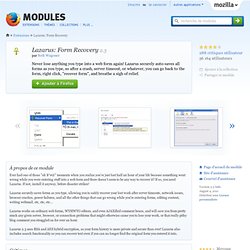 Lazarus: Form Recovery :: Modules pour Firefox