Outils twitter
10 Top Twitter Tools Suggested By the Pros. Yes, there are a ton of great Twitter Tools out there for you, but which ones should you pick?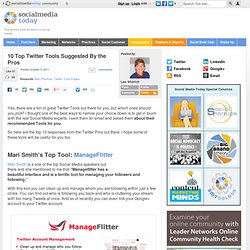 I thought one of the best ways to narrow your choice down is to get in touch with the real Social Media experts. I sent them an email and asked them about their recommended Tools for you. So here are the top 10 responses from the Twitter Pros out there. I hope some of these tools will be useful for you too: Mari Smith's Top Tool: ManageFlitter. TwentyFeet - Social Media Monitoring & Ego tracking. How To Backup Your Twitter Archive. With the Twitter fail whale popping up all the time, you never know when something tragic might happen.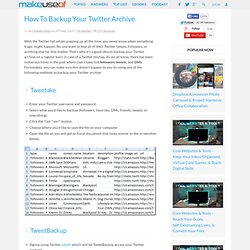 No one want to lose all of their Twitter tweets, followers, or anything else for that matter. That's why it's a good idea to backup your Twitter archive on a regular basis in case of a Twitter mishap. As we all know, there has been numerous times in the past where users have lost followers, tweets, and DMs. Sign Up. Twitter spam is a drag.
What if you could know for sure that your followers are truly human, and not some bot? TrueTwit is designed to help you: Verify people from robots Avoid Twitter spam Save time managing your followers There are two versions: TrueTwit Premium TrueTwit Premium builds on the follower management in TrueTwit Basic by doing an in-depth, automated analysis of your followers and their tweets, and has the following features: No direct messaging of new followers.
Access to our Follower Analysis page which summarizes the status of your followers. Free 30-day, no obligation trial. After that, a subscription is only $20.00 per year. Thoughtpick | The Learn Social Media by Example e-Magazine. Search Twitter users by Location and Bio and Create Twitter Lists: LocaFollow. Search and filter options allowing you to find people to follow depending on location, influence, number of followers, how active users are on Twitter and many more!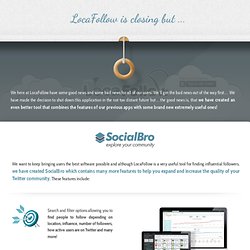 Find the most beneficial people to target so that you can grow and increase the quality of your Twitter community. Find out your best time to tweet, discover the interests of a custom sample of users and endless extra features! To find out more about our product. Twitter Search, Directory, & Yellow Pages. Follower Wonk: Twitter analytics, follower segmentation, social graph tracking, and more. Analyzing the connections between friends and followers. Twitterlist. Twitter relationship manager. The lists you requested... - FlockChart: Twitter List Statistics and Chartification. Programmez vos tweets avec amour | Clocktweets.com. UseQwitter.
Buffer is a smarter way to Tweet. Shorten & Share | bitly | shorten, share and track your links. Crowdbooster: Social Media Marketing Analytics and Optimization. Socialomate | Your Social Media Assistant. Formulists. Cotweet.com. HootSuite. Twitter Adder – Professional Twitter Marketing Tools – Automatic Twitter Software – Automate Twitter Posts, Auto Twitter Follow, Automate Unfollow, Mass Tweets, Twitter Search, more .. Twitterfeed.com : feed your blog to twitter.
Twuffer. Tweepi v2.0 :: a geekier, faster way to bulk add quality followers. SocialBro - Explore your Twitter community. Tweriod - Get to know when your Twitter followers are online the most. TweetWhen. Mirror.me. Paper.li - Vous êtes le red-en-chef. TweetMeme - Search and Retweet the Hottest Stories on Twitter.
Docteur Tweety - Moteur de recherche. Twitter's Global Resonance Ranking. What Hashtag. Twitter tool to find any existing hashtag. Snap Bird - search twitter's history. List Manager.
---