Outils de collaboration
SDC Learning and Networking - SDC KM Tools
The aim of this page is to help people in getting familiar with a variety of methods and tools for planning and reflection of their own activities, for drawing lessons and for sharing insights and applying them. It features a selection of more than 20 methods and tools for knowledge sharing and learning, from basic to more advanced tools, applicable at personal, team and organisational level. See the table below for the different tools and methods. The links lead you to a short individual description as well as links to additional documents. For the SDC KM toolkit in German, French, English and Spanish see the publications section below. Individual Descriptions of the Tools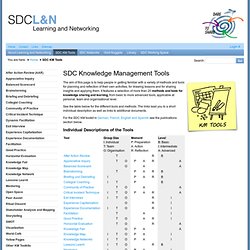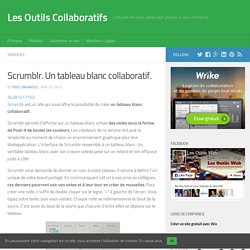 Scrumblr est un site qui vous offre la possibilité de créer un tableau blanc collaboratif. Scrumblr permet d'afficher sur un tableau blanc virtuel des notes sous la forme de Post-it de toutes les couleurs . Les créateurs de ce service ont joué la simplicité au moment de choisir un environnement graphique pour leur Webapplication. L'interface de Scrumblr ressemble à un tableau blanc. Un veritable tableau blanc avec son crayon veleda posé sur un rebord et son effaceur juste à côté. Scrumblr vous demande de donner un nom à votre tableau.
Here's an idea. How about we just forget about all the Microsoft programs like Word and Excel and even PowerPoint and just rely on free online programs that do pretty much the same thing? As more and more people get high speed connections to the internet it's becoming possible for people to use complex software right through the internet. Normally you would install a program like Word onto your computer and save your work on that individual computer.
Online Word Processors - 180 Technology Tips #168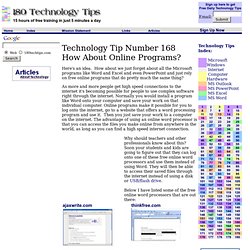 By: Naeem Noor – CMS – Last Updated: February 3, 2012 Ever wanted to create your own wiki cms? Now you can easily make one with using one of these 14 free content management systems for wiki. 1.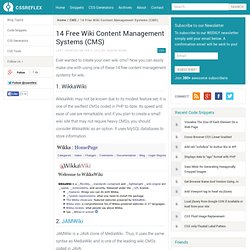 14 Free Wiki Content Management Systems (CMS)
AndBang. Outil collaboratif pour le suivi et la gestion des taches en equipe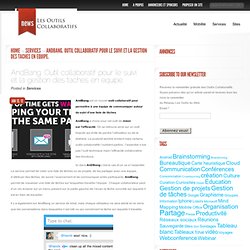 AndBang est un nouvel outil collaboratif pour permettre à une équipe de communiquer autour du suivi d'une liste de tâches . AndBang a choisi pour cet outil de miser sur l'efficacité . On se retrouve ainsi sur un outil limpide qui évité de perdre l'utilisateur ou de le distraire.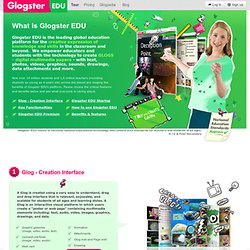 Benefits Expand Digital Literacy Glogster EDU creates a digital learning environment, where teachers and students learn technology in an easy to use and scalable format that simplifies the educational process and produces assessable multi-modal results across the curriculum spectrum. Enable Standards Mastery Glogster EDU enables public or private schools, districts, states, and education institutions of all kinds, to meet and exceed educational technology and content area standards for creativity and innovation, communication and collaboration, research and information fluency, critical thinking, problem solving and decision making, and digital citizenship. Promote Independent Problem Solving Glogster EDU creates an adaptable and innovative learning environment for all learners, regardless of age, gender, culture or learning style. Students are encouraged to be independent, inventive problem solving and lifelong learners.