Outils d'évaluation des apprentissages
iSpring | Get a Free Trial License
Fonctionnalités de Questions-Réponses, logiciel pour créer des questionnaires, quiz, examens et jeux multimédias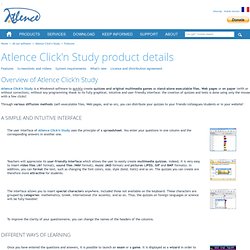 FeaturesScreenshots and videosSystem requirementsWhat's newLicense and distribution agreement Overview of Atlence Click'n Study Atlence Click'n Study is a Windows® software to quickly create quizzes and original multimedia games as stand-alone executable files, Web pages or on paper (with or without correction), without any programming thank to its fully graphical, intuitive and user-friendly interface: the creation of quizzes and tests is done using only the mouse, with a few clicks! Through various diffusion methods (self-executable files, Web pages, and so on), you can distribute your quizzes to your friends/colleagues/students or in your website! A simple and intuitive interface Different ways of learning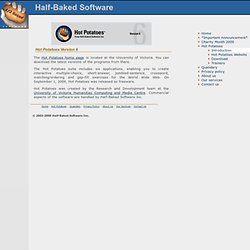 The Hot Potatoes home page is located at the University of Victoria. You can download the latest versions of the programs from there. The Hot Potatoes suite includes six applications, enabling you to create interactive multiple-choice, short-answer, jumbled-sentence, crossword, matching/ordering and gap-fill exercises for the World Wide Web. On September 1, 2009, Hot Potatoes was released as freeware. Hot Potatoes was created by the Research and Development team at the University of Victoria Humanities Computing and Media Centre.
Online test brings a lot of benefits to assessment: time-saving, flexibility and economical. For test-takers, they can take the online test at their own preferred time – great flexibility. For trainers/teachers, it spares the time to mark the test because the test is graded automatically – big time-saving. For organizations, it saves a lot of cost to employ instructor designers and print millions of test papers – more economical. As the times progress and society advances, online test will become more and more prevalent in the future assessment work.
8 Ways to Create Online Test | Training & E-Learning Zone for Quizzes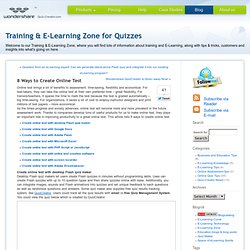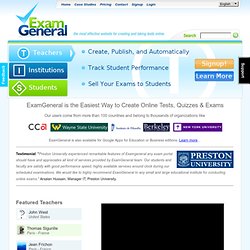 ExamGeneral is the Easiest Way to Create Online Tests, Quizzes & Exams Our users come from more than 100 countries and belong to thousands of organizations like ExamGeneral is also available for Google Apps for Education or Business editions. Learn more... Testimonial: "Preston University experienced remarkable features of Examgeneral any exam portal should have and appreciates all kind of services provided by ExamGeneral team.
ExamGeneral.com
Create Your Own Exam
CopyTracker : The free plagiarism detection tool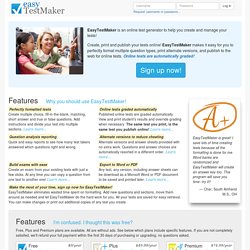 Perfectly formatted tests Create multiple choice, fill-in-the-blank, matching, short answer and true or false questions. Add instructions and divide your test into multiple sections. Learn more... Alternate versions helps reduce cheating
Quibblo Quiz Contest #37 It's Grammy time! The Grammy Awards are this weekend! Take a look at this year's list of nominees and create a cool survey, scored quiz, or personality quiz on any musicians or categories from this list... or heck, anything related to music at all! Give it a descriptive title (not "Quibblo's Contest," "QC," or similar), tag it with QC37, and share it with all your friends, both on and off Quibblo.