IRC
#Transmedia on IRC - Deus Ex Machinatio - Deus Ex Machinatio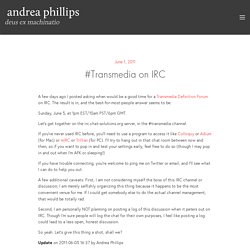 A few days ago I posted asking when would be a good time for a Transmedia Definition Forum on IRC. The result is in, and the best-for-most-people answer seems to be: Sunday, June 5, at 1pm EST/10am PST/6pm GMT. Let's get together on the irc.chat-solutions.org server, in the #transmedia channel. If you've never used IRC before, you'll need to use a program to access it like Colloquy or Adium (for Mac) or mIRC or Trillian (for PC). I'll try to hang out in that chat room between now and then, so if you want to pop in and test your settings early, feel free to do so (though I may pop in and out when I'm AFK or sleeping!)
Traditionally, chat clients on the Mac have been anything but glamorous. Colloquy is an advanced IRC, SILC & ICB client which aims to fill this void. By adhering to Mac OS X interface conventions, Colloquy has the look and feel of a quality Mac application.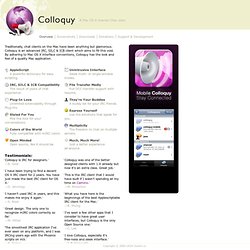 Colloquy: IRC, SILC & ICB Client
Your conversations come with you. Start a chat on your iPad at the breakfast table. Continue chatting on your phone as you take the train to work. Wrap things up when you sit down in front of your desktop. Trillian automatically keeps all of your devices synchronized throughout the day, ensuring you're always able to access conversation wherever you are.