Isolation tanks
Notre Expérience
An isolation tank is a lightless, soundproof tank inside which subjects float in salt water at skin temperature.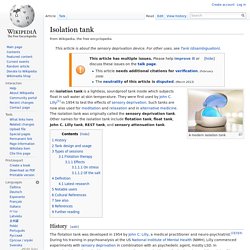 Isolation tank
sensory deprivation tank
sensory deprivation
Samadhi Tank Co., Inc. manufacturer isolation tank
John Cunningham Lilly (January 6, 1915 – September 30, 2001) was an American physician, neuroscientist, psychoanalyst, psychonaut, philosopher and writer. He was a researcher of the nature of consciousness using mainly isolation tanks,[1] dolphin communication, and psychedelic drugs, sometimes in combination. Early life and education[edit]
John C. Lilly - Early Isolation tank researcher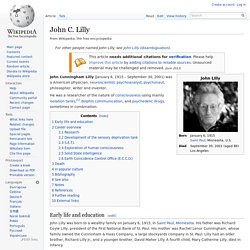 Tanks for the Memories: Floatation Tank Talks (Consciousness Classics) (9780895560711): Faustin Bray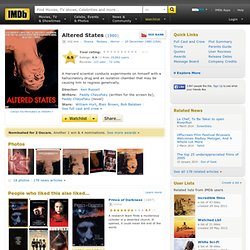 Altered States (1980
Quotes Eddie Jessup: Memory is energy!
First Isolation Tank Trip
The first sound I heard when I walked into the waiting room was the soothing sound of pumps grinding away.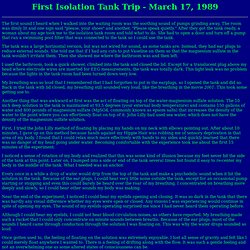 About fifteen years ago, when I was living in Madison, Wisconsin, a flotation tank center opened, right in my neighborhood. I had heard of flotation tanks, but had never actually experienced one.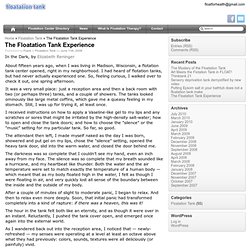 Floatation Tank | Sensory Deprivation Tank | Isolation Tank » Blog Archive » The Floatation Tank Experience
first Floatation Tank Experience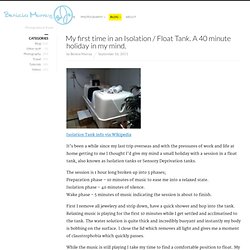 My first time in an Isolation / Float Tank. A 40 minute holiday in my mind. | Benicio Murray
Isolation Tank info via Wikipedia It's been a while since my last trip overseas and with the pressures of work and life at home getting to me I thought I'd give my mind a small holiday with a session in a float tank, also known as Isolation tanks or Sensory Deprivation tanks.