Others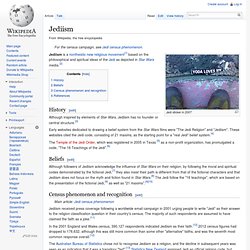 Jedi sticker in 2007 Jediism is a nontheistic new religious movement[1] based on the philosophical and spiritual ideas of the Jedi as depicted in Star Wars media.[2]
Jediism
Unitarian Universalism
Unitarian Universalism, or Unitarianism,[2][3][4] is a liberal religion characterized by a "free and responsible search for truth and meaning".[5] Unitarian Universalists do not share a creed, but are unified by their shared search for spiritual growth.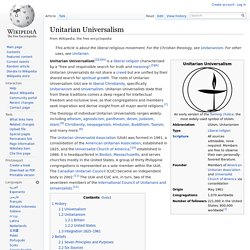 The philosophy or life stance of secular humanism (alternatively known by some adherents as Humanism, specifically with a capital H to distinguish it from other forms of humanism) embraces human reason, ethics, social justice and philosophical naturalism, while specifically rejecting religious dogma, supernaturalism, pseudoscience or superstition as the basis of morality and decision making.[1][2][3]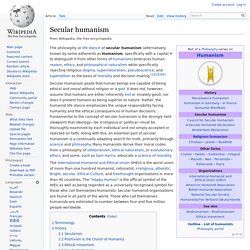 Universal Life Church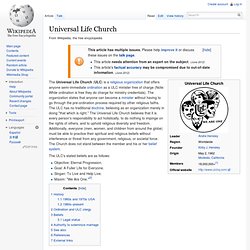 The ULC's stated beliefs are as follows: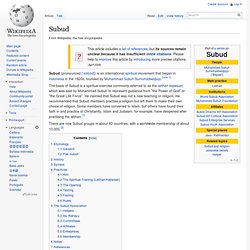 Subud
Subud (pronounced [ˈsʊbʊd]) is an international spiritual movement that began in Indonesia in the 1920s, founded by Muhammad Subuh Sumohadiwidjojo.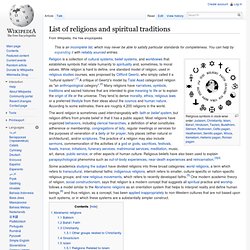 Religious symbols in clock-wise order: Judaism, Christianity, Islam, Baha'i, Taoism, Hinduism, Buddhism, Sikhism, Philippine mythology, Rodnoveri, Celtic pagan, Heathenism, Semitic pagan, Wicca, Kemetism, Hellenic pagan, Roman pagan.
Scientology is a body of beliefs and related practices created by science fiction writer L. Ron Hubbard (1911–1986), beginning in 1952 as a successor to his earlier self-help system, Dianetics.[6] Hubbard characterized Scientology as a religion, and in 1953 incorporated the Church of Scientology in Camden, New Jersey.[7][8]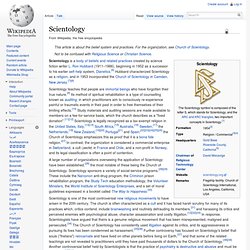 Pantheism is the belief that the universe (or nature as the totality of everything) is identical with divinity,[1] or that everything composes an all-encompassing, immanent God.[2] Pantheists thus do not believe in a distinct personal or anthropomorphic god.[3] Some religions have highlighted the importance of pantheism, most notably Hinduism and Taoism.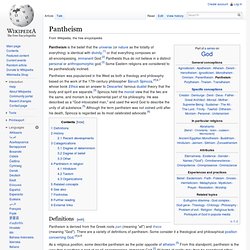 Naturalistic pantheism
Naturalistic pantheism is a form of Pantheism that identifies God or divinity with all concrete things,[1] all finite beings,[2] the substance of the Universe,[3] or Nature.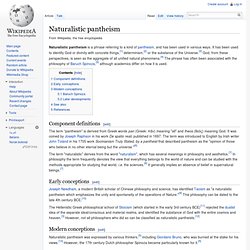 Meher Baba
Meher Baba (25 February 1894 – 31 January 1969), born Merwan Sheriar Irani, was an Indian spiritual master who said he was the Avatar,[1] God in human form.[2] Merwan Sheriar Irani was born in 1894 in Pune, India to Zoroastrian parents. At the age of 19, he began a seven-year spiritual transformation.[3][4] During this time he contacted five spiritual masters before beginning his own mission and gathering his own disciples in early 1922, at the age of 27.[5][6]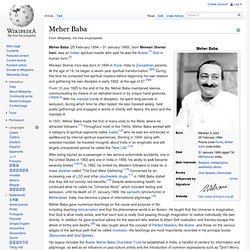 The Juche Idea, sometimes spelled Chuch'e (Chosŏn'gŭl: 주체; hancha: 主體; Korean pronunciation: [tɕutɕʰe]), is a political thesis formed by Kim Il-sung that states that the Korean masses are the masters of the country's development.
Juche
Jediism
Background[edit] Before the word was associated with secularism, German historian and philologist Georg Voigt used humanism in 1856 to describe the movement that flourished in the Italian Renaissance to revive classical learning; this definition won wide acceptance.[2] During the Renaissance period in Western Europe, humanist movements attempted to demonstrate the benefit of gaining learning from classical, pre-Christian sources in and of themselves, or for secular ends such as political science and rhetoric. The word "humanist" derives from the 15th-century Italian term umanista describing a teacher or scholar of classical Greek and Latin literature and the ethical philosophy behind it, including the approach to the humanities.[3][4]
Fourth Way
According to this system, the chief difference between the three traditional schools, or ways, and the fourth way is that "they are permanent forms which have survived throughout history mostly unchanged, and are based on religion.
Ethical movement
The Ethical movement, also referred to as the Ethical Culture movement or simply Ethical Culture, is an ethical, educational, and religious movement that is usually traced back to Felix Adler (1851-1933).[1] Individual chapter organizations are generically referred to as "Ethical Societies", though their names may include "Ethical Society," "Ethical Culture Society," "Society for Ethical Culture," "Ethical Humanist Society," or other variations on the theme of "Ethical."
The Eckankar "EK" symbol Temple of ECK, Chanhassen, Minnesota Eckankar was organized as a religious movement by Paul Twitchell in 1965.
Eckankar