Other similar projects
Get flash to fully experience Pearltrees
The researchers' solar-powered, emergency communications system would provide continuous, uninterrupted service during natural disasters, such as the tornado that hit Joplin in 2011. Engineering researchers at the University of Arkansas are developing an emergency communications network that will maintain operation during natural disasters and provide critical warnings and geographic information to people affected by the disasters. The researchers are honing and testing the system now and expect to deploy a pilot network at the end of 2012. The system, which the researchers call an emergency "mesh," is self-sustainable and solar-powered, which means it would provide continuous, uninterrupted service even when the power grid or wireless communication systems are out of commission. Users would receive critical information on popular devices such as mobile phones, personal digital assistants, tablets and laptops.
Last night I got to attend a talk given by Robin Chase, Founder and Former CEO of Zipcar. Her talk was titled "Sustainable Transportation and Accessibility Research & Transformation", where she discussed how to decrease the impact of transportation on the environment and also using new transportation paradigms (such as shared car ownership) as a vehicle for bringing out mesh networks. Mesh networks are simple: everything is a sensor and can connect to other sensors. She referred to it as "Ad Hoc Wireless networking", but I think that confuses the issue, because then people start thinking it just means WiFi everywhere.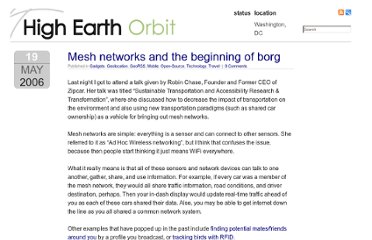 Today is a day for thinking about the future of the web. By virtue of being the author of this blog, that gets back to the future of communications infrastructure, and especially wifi. Apologies in advance if I wax poetic, Wikipedia , Craigslist , and Reddit are all down today in protest of SOPA/PIPA. In recent years there's been a lot of chatter about the nature of technological convergence and the future of global telecommunications infrastructure.
By Jeffrey R. Young Washington Computer networks proved their organizing power during the recent uprisings in the Middle East, in which Facebook pages amplified street protests that toppled dictators. But those same networks showed their weaknesses as well, such as when the Egyptian government walled off most of its citizens from the Internet in an attempt to silence protesters. That has led scholars and activists increasingly to consider the Internet's wiring as a disputed political frontier.
Professor Eben Moglen makes speeches. He gives talks every few weeks, across the globe, to critics and the like-minded, in large groups and small. Moglen, who serves as director of the Software Freedom Law Center, does many other things, too—he organizes legal and financial support for programmers; he creates community groups to advance the rights of free software projects—but if you ask people in tech-legal circles what stands out most about Moglen, it is the speeches everyone cites. And if you ask them to name one speech in particular, they will point to the talk he gave to the Internet Society in February of 2010. There, Moglen introduced the world to an idea he had been mulling over for some time.