Anders B Breivik
Norway attacks Israel again on JPost op-ed page. Norway attacks Israel again on JPost op-ed page I am having difficulty deciding what the story is here: Is it that Norway is continuing its self-righteous attacks on Israel in the hope of suppressing any criticism, or is it that the Jerusalem Post, Israel's only English-language (only) daily insists on continuing to publish these attacks on its pages.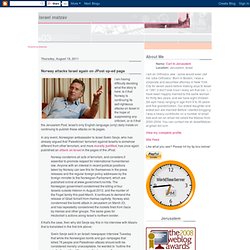 In any event, Norwegian ambassador to Israel Svein Sevje, who has already argued that 'Palestinian' terrorism against Israelis is somehow different from other terrorism, and more morally justified, has once again published an attack on Israel in the pages of the JPost. Norway condemns all acts of terrorism, and considers it essential to promote respect for international humanitarian law.
Teenage Hacker Breaks Into Norway Shooter's Email. DanonNewsNet: RT @ketilbstensrud: Norweg... Norway killer refuses to discuss associates: police. The biggest threat to Western values. The paranoid style in politics often imagines unlikely alliances that coalesce into an overwhelming threat that must be countered by all necessary means.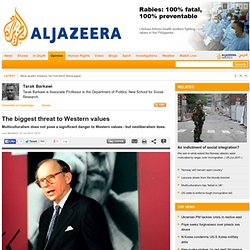 In Clash of Civilizations, Samuel Huntington conjured an amalgamated East - an alliance between "Confucian" and "Islamic" powers - that would challenge the West for world dominance. Many jihadis fear the Crusader alliance between Jews and Christians. They forget that until recently, historically speaking, populations professing the latter were the chief persecutors of the former. Anders Behring Breivik's Twitter Account Hacked. The Twitter account belonging to Anders Behring Breivik, the man who murdered over 90 people in Norway in twin attacks over a week ago, appears to have been hacked.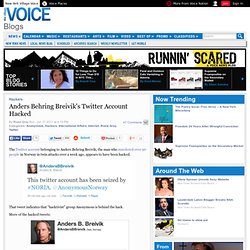 That tweet indicates that "hacktivist" group Anonymous is behind the hack. More of the hacked tweets: The Region: The Oslo Syndrome - JPost - Opinion - Columnists. Norway's PM Jens Stoltenberg talks to reporters.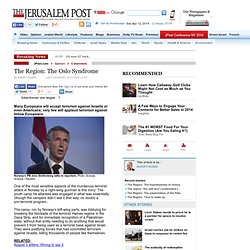 Photo: Scanpix Scanpix / Reuters One of the most sensitive aspects of the murderous terrorist attack in Norway by a right-wing gunman is this irony: The youth camp he attacked was engaged in what was essentially (though the campers didn't see it that way, no doubt) a pro-terrorist program. The camp, run by Norway's left-wing party, was lobbying for breaking the blockade of the terrorist Hamas regime in the Gaza Strip, and for immediate recognition of a Palestinian state, without that entity needing to do anything that would prevent it from being used as a terrorist base against Israel.
The Norway attacks. Norway Police: Our pilots were on vacation - And they call us conspiracy theorists. As Anders Breivik continued his now-infamous assault on Utoya Island that eventually left dozens dead in Oslo last week, the gunman expected armed police to attack him at any moment and halt his brutal rampage, according to a lawyer.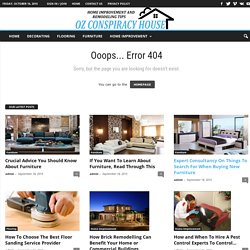 However, it took police about 90 minutes to reach the scene of the mayhem because they had no access to a helicopter — officers able to fly the aircraft were all on summer vacation. Then, as police attempted to reach the island where youth campers had gathered, their boat broke down and they had to be rescued by a civilian craft. According to Breivik's lawyer, he was surprised that he had even managed to get to the island, let alone left with so much time to open fire with his assault rifle and handgun. Oslo police under fire for slow reaction. Oslo police under fire for slow reaction Deputy Chief of Oslo Police Sveinung Sponheim (L) and Oslo Police Chief of Staff Johan Fredriksen during a press conference at the police headquarters in Oslo on July 26 Norway's special forces are under heavy criticism for their slow response to the last week's bombing and shooting attacks that killed at least 76 people.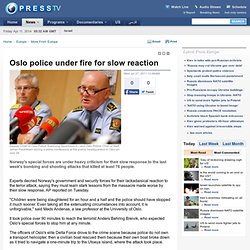 (34) Twitter / Home. Norway attacks: Anders Behring Breivik appears insane, says his lawyer | World news. The lawyer defending Anders Behring Breivik, the suspect behind Norway's terror attacks, said on Tuesday he had concluded his client was most likely "insane" and he was baffled that he had asked him to represent him.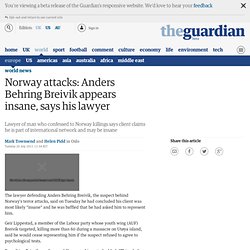 Geir Lippestad, a member of the Labour party whose youth wing (AUF) Breivik targeted, killing more than 60 during a massacre on Utøya island, said he would cease representing him if the suspect refused to agree to psychological tests. Describing Brievik as a "very cold" person, Lippestad added: "This whole case has indicated that he is insane. " Norway shooting: killer 'confirms Gro Harlem Brundtland was main target'
Aftermath of the tragedy. Norway killer's manifesto praises Australian conservatives. Jeremy Thompson Updated Tue 26 Jul 2011, 8:35pm AEST Accused Norwegian mass murderer Anders Behring Breivik praised four Australian conservative leaders - including former prime minister John Howard - in his 1,500-page manifesto.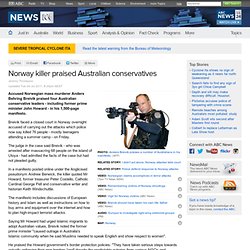 Breivik faced a closed court in Norway overnight accused of carrying out the attacks which police now say killed 76 people - mostly teenagers attending a summer camp - on Friday. The judge in the case said Breivik - who was arrested after massacring 68 people on the island of Utoya - had admitted the facts of the case but had not pleaded guilty. Norway killer Anders Behring Breivik had extensive links to English Defence League. Breivik skal ha hentet aluminium i Sverige - Nyheter - Innenriks - Aftenposten.no. Den terrorsiktede Anders Behring Breivik hentet personlig 150 kilo aluminium på Schenkers terminal i Karlstad, skriver Göteborgs-Posten.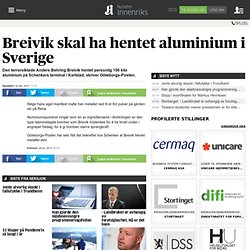 Oppdatert: Ifølge hans eget manifest malte han metallet ned til et fint pulver på gården sin på Rena. Vil vurdere å sikte Breivik for forbrytelser mot menneskeheten - Nyheter - Innenriks - Aftenposten.no. Samleside: Alle våre saker om tragedien Nordmenn provosert av Fox News' terrordekningVerden sørget med Norge Se bildene: Et hav av folk og blomster fylte gatene Den omhandler forbrytelser mot menneskeheten, herunder forfølgelse av en gruppe basert på politisk grunnlag, og har en strafferamme på 30 års fengsel.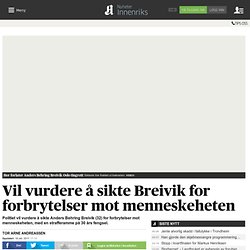 Norway Terrorist Is A Global Warming Denier. Although Breivik's conspiracy theories are insane, they are in line with mainstream opinion among American conservatives. He cites Christopher Monckton's speech before the Minnesota Free Market Institute in 2009, accusing President Obama of trying to cede United States sovereignty to the United Nations through climate treaties. Monckton — a rabid conspiracy theorist who claims his opponents are Nazis — was a Republican witness before Congress on global warming in 2010. Breivik also believed that the "Climategate" hacking incident "revealed how top scientists conspired to falsify data in the face of declining global temperatures in order to prop up the premise that man-made factors are driving climate change." One of his sources for this delusional claim is right-wing climate conspiracy theorist James Delingpole, who regularly appears on Fox News, including Glenn Beck's now defunct show.
The Breivik manifesto and the Monckton connection. Conspiracy theorists can easily be dismissed or even laughed off as unthinking, sometimes paranoid ideologues with a tainted view on society. Their language is often wrapped around power and freedom and speaks of global threats to undermine "our" way of life. Some outspoken deniers of the risk the world faces from human-caused climate change will often evoke such rhetoric, claiming efforts to legislate to cut emissions of greenhouse gases are socialist or communist plots to redistribute wealth. But most who believe this rhetoric would never think of turning to force.
Anders Behring Breivik did. The 32-year-old Norwegian Christian fundamentalist is facing trial for the massacre of 76 people in a shooting and bombing attack in Oslo. Breivik: 80 more terror cells in Europe. Norwegian terrorist Anders Behring Breivik says there are tens of far-right terror cells ready to overthrow European governments that tolerate Islam. Breivik, who claimed responsibility for the recent terrorist violence in Norway, has stated he is only one of about 80 like-minded extremist cells throughout the west of Europe, which are ready to carry out similar violent attacks, a Press TV correspondent reported Tuesday. He made the remarks in a 1,500-page handbook he emailed to some 5,700 people just hours before the twin attacks that left at least 76 people dead in Norway.
The title of the handbook is "2083: A European Declaration of Independence. " Harboring a deep grudge against Muslims, he claimed that he had carried out the deadly attacks to save Europe from what he called the "Islamization" of the continent. In the handbook, he similarly slams multiculturalism and outlines his views and conceptions of a Europe without Muslims. Norway shootings: Anders Behring Breivik's YouTube video posted hours before killings. Norway killer: Anders Behring Breivik was a 'mummy's boy' Bruce Bawer: Inside the Mind of the Oslo Murderer. Norway attacks aftermath. Just before the judge began speaking, we were listening to a joint news conference between the UK and Spanish prime ministers in London. Here is what Spain's Mr Zapatero had to say about Norway: "This isn't just another event.
This is something extremely serious that requires a response, a European response, a shared response to defend freedom, to defend democracy, calling on people to rise up and fight radicalism, to respond against xenophobia. " Home. Norway killer Anders Behring Breivik called Gordon Brown and Prince Charles 'traitors' Gordon Brown's picture appears alongside that of Hitler in a gallery of "war criminals" who have failed to halt the spread of Islam, and Breivik says Gordon Brown was "colluding with" Islamic terror groups by making "London the global centre of Islamic banking".
He adds: "Brown is giving Muslims more influence over our lives yet knows that terrorists are organising to go to war with us. " Jack Straw and Tony Blair are named because they "'dishonestly' concealed a plan to allow in more immigrants and make Britain more multicultural". Mr Blair is "a worse appeaser than Chamberlain ever was". Manifesto reveals killer's meticulous planning. Suspect in Norway attacks wanted Muslims out of Europe; killing was 'marketing' for manifesto - Page 2. What Pushed Anders Behring Breivik Over the Edge? | Oz Conspiracy House.
Suspect in Norway attacks wanted Muslims out of Europe; killing was 'marketing' for manifesto. The news coverage of the Norway mass-killings was fact-free conjecture | Charlie Brooker. Dan Murphy: JP: When jihadis attack, y... Arab world outraged by Norway attack allegations. Norway grieving after Anders Behring Breivik accused of murdering 93 people. Was the Massacre in Norway a reaction to BDS? From Pamela Geller to Anders Behring Breivik — how Islamophobia turned deadly in Norway. APNewsBreak: Doc: Dum-dum bullets used in Norway. Police scour farm for clues to Norway attacks.
Anders Breivik | Jih@d. Anders Behring Breivik | 2083 A European Declaration of Independence | Manifesto | Kevin I. Slaughter. Google Translate. [HTML] Anders Behring Breivik's comments with Document.no. Alleged Anders Writings. Extra! Sionistisk frimurare gripen för terrordådet i Oslo | Nationell.nu. Walid al-Kubaisi. Walid al-Kubaisi. Pågrepet 32-åring kalte seg selv nasjonalistisk. Det imperfektes politikk « minerva. AndersBBreivik. Anders Breivik From Document No. Anders B Breivik Suspect #Oslo #Utoya.
Anders Behring Breivik (32) pågrepet for bomben i Oslo og massedrap på Utøya. Muslim Blog. Tax. Behring & Kerner Marketing When (979846967) - Nettavisen Informa. Good Guys: Anders Breivik is an Excellent Buyer. Breivik Geofarm - Property Rena - 90087334. Anders Behring Breivik (32) - Role of Bedriftsdatabasen.no. Breivik Geofarm. Breivik Geofarm - 994089269 - Firmapresentasjon. Behring Breivik Anders - Nettavisen Informa. Tax Lists 2009 - tax list - tax - Aftenposten.no.
---